(ATF) The National Aeronautics and Space Administration (NASA) of the US has selected four private companies to mine the moon and turn over samples to the space agency for a small fee. In one case, a Colorado-based robotics firm called Lunar Outpost bid $1 for the work.
NASA will use the moon rocks to test and develop in-situ resource utilisation (ISRU) capabilities for its Artemis programme, it said in a statement last Friday. The Artemis programme aims to send the next man and a woman to the moon by 2024.
ISRU refers to the use of resources in space to sustain human life and fuel rockets instead of hauling them from Earth. In other words, the moon is potentially a gas station in space that could help explorers reach farther into the solar system, such as to Mars.
The other winning bidders are Ispace Japan and Europe, which would each charge $5,000 for the material; and Masten Space Systems of California, which would charge $15,000.
The effort would not violate the 1967 Outer Space Treaty, NASA officials have said, which prohibits nations from claiming sovereignty over a celestial body. 
Not about the money
Nasa is only paying for the collection of the rocky material (regolith), not any of the companies' development or transport costs. The four companies all have rides booked on future commercial lunar lander missions.
But a $1 fee is so low that it hardly serves as a financial incentive.
While there would be scientific benefits to the mission, Nasa is also trying to establish a business model and legal precedents, allowing companies to practice extracting resources from the lunar surface and then selling them.
Moreover, the agency is using this as a demonstration of what kinds of efficiencies it can realise by piggybacking on private industry while serving its needs. 
"Companies will collect a small amount of lunar regolith from any location on the Moon and provide imagery to NASA of the collection and the collected material, along with data that identifies the collection location," NASA said in a statement.
After receiving such imagery and data, the ownership of the Moon materials will be transferred "in-place" to NASA in a transaction blessed by the US government. In 2015, then-President Barack Obama signed a law that allowed private companies the right to own the resources they mine in space.
The four companies will reportedly be tasked to collect lunar regolith between 50g and 500g in weight.
Moon rocks are displayed at the Johnson Space Center in Houston in May 2019. They are often grey in colour and look rather nondescript, but for NASA planetary scientist Samuel Lawrence, they are the "most precious materials on Earth." What is certain is that the lunar samples first gathered by Apollo 11's Neil Armstrong nearly 50 years ago have helped transform our understanding of the cosmos. Photo: Chris Lefkow / AFP
Moon rush
Besides pursuits of prestige and glory, many countries and private companies are interested in a trip to the moon for prospecting potentially valuable lunar resources.
Water ice reserves could be harvested into propellant that makes travel through deep space vastly less expensive. 
Helium-3, extremely rare on Earth, could help power future spacecraft, and "solve humanity's energy demand for around 10,000 years at least," according to Professor Ouyang Ziyuan, the chief scientist of the Chinese Lunar Exploration Programme.
Rare earth metals that are important for manufacturing electronic devices, electric vehicle batteries and military equipment could be more easily accessible on the moon than anywhere on Earth. They could also be materials for future human space bases.
The space agency's announcement on Friday comes as China conducts its own lunar sample collection mission.
The Chinese Chang'e-5 unmanned lunar spacecraft is currently on its way back to Earth with 2 kilograms of moon rocks from the moon, and is expected to land in Inner Mongolia in mid-December.
If successful, this will be the first time a spacecraft brings back samples from the moon in over 40 years.
Between 1969 and 1972, the US brought back a total of 382 kilograms of lunar soil through seven Apollo manned spacecraft missions, six of which succeeded. The former Soviet Union used unmanned probes to take 301 grams of moon soil samples between 1970 and 1976.
The next few years will see the launch of more than a dozen different lunar missions, including India's Chandrayaan-3 and Russia's Luna 25 mission plans next year, Japan's SLIM (Smart Lander for Investigating Moon) in 2022, and South Korea's KPLO (Korean Pathfinder Lunar Orbiter), also in 2022, according to a report by MIT Technology Review.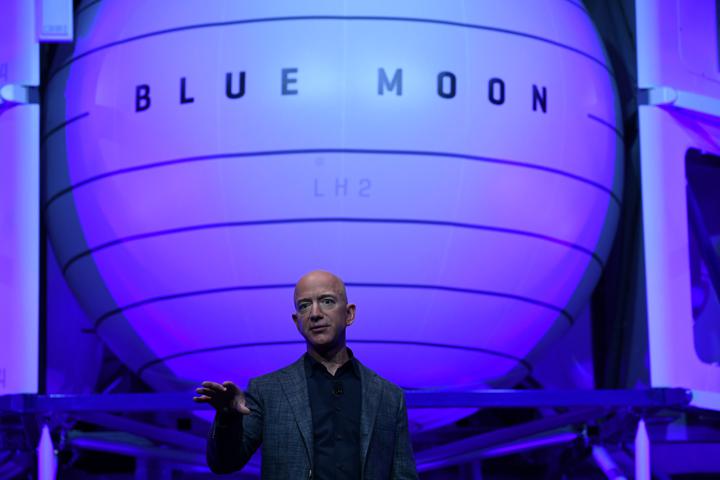 Amazon boss Jeff Bezos unveils his space company Blue Origin's space exploration lunar lander rocket, called Blue Moon, in Washington in May 2019. (Clodagh Kilcoyne/ Reuters).
Bezos to fly first woman to moon
Meanwhile, Jeff Bezos' space company Blue Origin will take the first woman to the moon, the billionaire said on Friday December 6, as NASA nears a decision to pick its first privately built lunar landers capable of sending astronauts to the moon by 2024.
"This (BE-7) is the engine that will take the first woman to the surface of the Moon," Bezos said in a post on Instagram with a video of the engine test this week at NASA Marshall Space Flight Center in Huntsville, Alabama.
The BE-7 engine, which Blue Origin has been developing for years, has tallied 1,245 seconds of test-fire time and will power the company's National Team Human Landing System lunar lander.
Blue Origin leads a "national team" as the prime contractor that it assembled in 2019 to help build its Blue Moon lander. That team includes Lockheed Martin Corp, Northrop Grumman Corp and Draper.
Blue Origin has vied for lucrative government contracts in recent years and is competing with rival billionaire Elon Musk's SpaceX and Dynetics, owned by Leidos Holdings Inc, to win a contract to build NASA's next human lunar landing system to ferry humans to the moon in the next decade.
In April, NASA awarded a lunar lander development contract to Blue Origin's team worth $579 million (430.87 million pounds), as well as two other companies: SpaceX which received $135 million to help develop its Starship system and Leidos-owned Dynetics which won $253 million.
NASA is poised to pick two of the three companies "in early March" 2021 to continue building their lander prototypes for crewed missions to the moon beginning in 2024, an agency spokeswoman has said.
But slim funds for the landing systems made available to NASA by Congress, as well as uncertainty over the incoming Biden administration's views on space exploration, have threatened to delay NASA's decision to advance the lunar lander contracts.
With reporting by Reuters
ALSO SEE: