Pakistan's authorities announced an indefinite internet shutdown across the country on Wednesday, news channel Geo TV reported, in the aftermath of violent nationwide protests over the arrest of former prime minister Imran Khan.
Pakistan's anti-corruption agency arrested Khan at Islamabad High Court on Tuesday, sparking clashes between his supporters and police.
The Pakistan Telecommunication Authority (PTA) said mobile data services were being suspended on interior ministry orders, with the shutdown being in effect for a second day.
Netblocks, a global internet monitor, said access to Twitter, Facebook and YouTube had also been restricted across the country of 220 million.
The decision followed the spread of video clips of violent protests on social media, Geo TV reported, as security forces tried to restore order after violence saw at least one person killed late on Tuesday.
Police in Pakistan arrested hundreds of supporters of the ousted PM for violence on Wednesday, deepening a political crisis in the nuclear-armed country.
Authorities in three of Pakistan's four provinces have imposed an emergency order banning all gatherings after Khan's supporters clashed with police.
Economy in already peril
Tuesday's arrest of the former cricket hero, and Pakistan's most popular politician according to opinion polls, came at a precarious time for the country.
Pakistanis are reeling from the worst economic crisis in decades, with record high inflation and anaemic growth.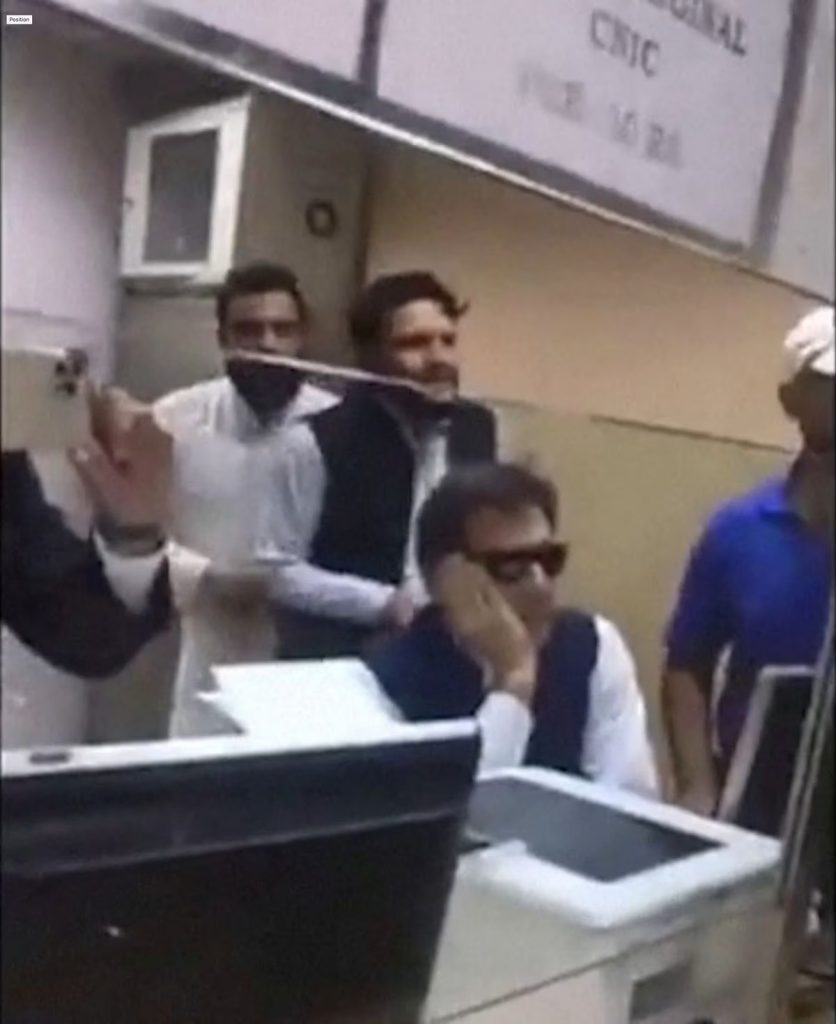 An International Monetary Fund bailout package has been delayed for months even though foreign exchange reserves are barely enough to cover a month's imports.
On Wednesday, the Pakistani rupee, fell 1.3% to a record-low of 288.5 against the US dollar. The 100-index of the Pakistan Stock Exchange also dropped 0.7% in early trading before recouping its losses.
Protests have disrupted business in several cities. In Peshawar, chicken seller Malagul Khan said his shop and others were destroyed in the clashes.
Raja Imran, 25, also a Peshawar resident, said, "There is total chaos across the country… There are exams going on and school children will suffer".
'Shut down Pakistan'
On Tuesday, Khan's Pakistan Tehreek-e-Insaf (PTI) party called on supporters to "shut down Pakistan" over his arrest. "It's your time, people of Pakistan. Khan has always stood for you, now its time to stand for him," the party wrote on Twitter.
Hundreds of Khan supporters blocked streets in cities and major highways across the country, including in Khan's home town of Lahore and in northwestern Khyber-Pakhtunkhwa province where police went on high alert and banned public gatherings.
Protesters also blocked major roads in the port city of Karachi and police fired tear gas at protesters in the capital Islamabad, witnesses reported.
The government said Khan's supporters had attacked important state buildings and damaged private and public vehicles. Police said 945 of Khan's supporters had been arrested in Punjab province after 25 police vehicles and more than 14 government buildings were set on fire.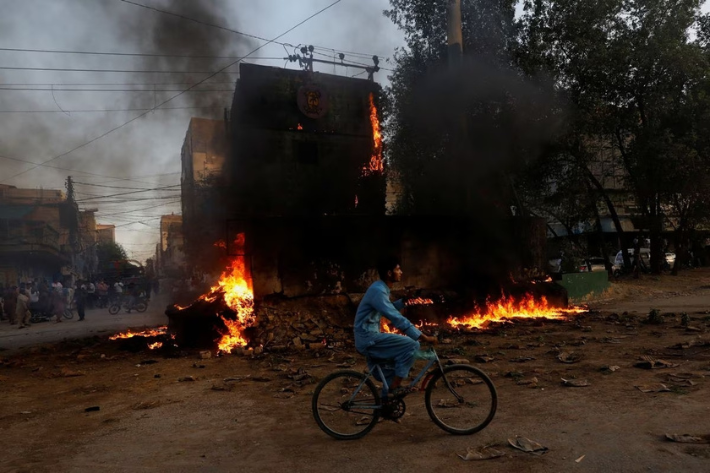 Graft cases
Khan was due to appear for two hearings on Wednesday, Geo News reported, including for a corruption case related to property and another case that alleges Khan unlawfully sold state gifts during his 2018-22 tenure as premier. Khan has denied wrongdoing.
Police said a court hearing would take place at the police guest house where he was being held in the Islamabad police lines area.
Interior Minister Rana Sanaullah said Khan and his wife were accused of having received, when he was still prime minister, land worth up to 7 billion rupees ($24.7 million) from a property developer who had been charged in Britain with money laundering.
The corruption case is one of more than 100 registered against Khan since his ouster after four years in power. In most of the cases, Khan faces being barred from holding public office if convicted, with a national election scheduled for November.
Anger against Pakistani military
Khan's arrest came a day after the powerful military rebuked him for repeatedly accusing a senior military officer of trying to engineer his assassination and the former armed forces chief of being behind his removal from power last year.
The military has denied Khan's allegations.
Pakistan's Dawn newspaper said in an editorial that "the nature and locus of the protests that broke out following Mr Khan's arrest yesterday signal that public anger is also directed at the military".
Political infighting is common in Pakistan, where no prime minister has yet fulfilled a full term and where the military has ruled for nearly half of the country's history.
The armed forces remain Pakistan's most powerful institution, having ruled the South Asian nation directly for close to half its 75-year history through three coups. Despite its major influence, it recently said it was no longer interfering in politics.
Reuters, with additional editing by Vishakha Saxena
Also read: