(ATF) Sichuan Province will issue 16 special bonds to raise 8.23 billion yuan for cultural tourism, according to Sichuan Online News. The Ministry of Culture is playing a stronger role in bond projects, and both are becoming more prominent, as reported by ATF.
"Cultural tourism" is now a new major domestic theme, and apart from tidying up spots of natural beauty this includes propaganda museums and political monuments.
Around 3 trillion yuan of local government special bonds will be issued nationwide this year. These bonds have become one of the main sources of funds for local governments.
Sichuan was the the first province to issue special bonds for cultural tourism in China,  officials have said. The southwestern province issued special bonds for cultural tourism such as the "8 · 8" Jiuzhaigou Earthquake Recovery and Reconstruction Bond in Sichuan in 2018.
As of March 2020, a total of 23 local government special bonds had been issued in the field of culture and tourism, raising some 13.259 billion yuan, and 16 of these were for cultural tourism in Sichuan province.
Yu Yue, general manager of the institutional customer department at the China Merchants Bank head office, said Sichuan was leading the country in doing this mainly because it has good tourism resources, with historical culture and natural landscapes. He said Sichuan started utilising special bonds earlier, so it has a relatively mature special bond issuance mechanism.
The Provincial Department of Culture and Tourism said state banks had set up a system under which local areas and cultural tourism enterprises could bid to raise funds at quarterly "docking" events.
The Ministry of Culture and Tourism would link up with provincial financial institutions and advisors to go to the grassroots level to provide a package of financial solutions for the development of local cultural tourism.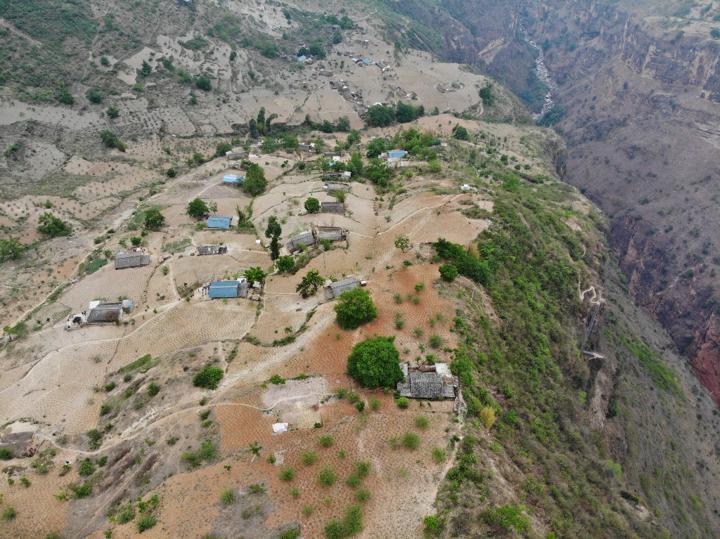 An aerial view of Atulieer, a cliff village in Zhaojue county, in southwest China's Sichuan province, taken on 13 May 2020. To get there, people use climbers and a 2000-step ladder, to see a village where residents had little contact with the outside world. Pic: ImagineChina via AFP
Also read: Ministry of Culture seeks bigger slice of govt bond spending