Several Chinese bond mutual funds have plunged significantly in recent weeks as the debt woes of Evergrande Group, Modern Land, and Kaisa Group Holdings batter Chinese real estate companies' bonds.
One of them, managed by Minsheng Royal Fund Management, has declined as much as 22% over the past month.
Four bonds of Minsheng Royal have declined more than 5% in their net value over the past month, according to data from Eastmoney.com. Three of them have large holdings of real estate company bonds and one has a large weight of bonds of construction and steel manufacturing companies, according to the funds' respective disclosure documents for the third quarter.
All four funds started a steep decline from October 29, following reports that Modern Land defaulted on a $250 million dollar bond that was due on October 25. The sharp decline has pushed the year-to-date performance of each fund to the bottom 5% of funds of the same category.
"Why is the decline so large? Are all positions in real estate bonds? It shouldn't have fallen so sharply even if all positions were in real estate bonds," an investor commented on a bulletin board for Mingsheng Royal Tianxin Pure Bond, which has declined by 21.58% over the past month.
"Even a pure bond fund would lose so badly!" a user commented to a post on Weibo, a Twitter-like social media platform.
'Difficult To Sell'
Wang Yuan, an investment advisor from Huatai Securities, told Asia Financial the fund has most likely been hit by the plunge of real estate sector bonds. "At present, the real estate companies' bonds are extremely difficult to sell," she added.
A Q3 disclosure document of the fund shows that it held large portions of corporate bonds and medium-term notes – 56.4% and 33.5% respectively – which usually have higher interest rates but are riskier than government bonds. The fund has 7% of its money invested in financial bonds but has no position in government bonds.
As of the end of Q3, three of the fund's top five holdings were real estate companies' bonds, including a bond of Powerlong Real Estate Holdings with a weight of 7.7%, a medium-term note of Huayuan Property with a weight of 6.9%, and a bond of Times Group with a weight of 6.8%.
These bonds have all declined significantly since the China Evergrande crisis triggered market panic in mid-September.
Powerlong's 20 Baolong 02 bond closed at 88 yuan ($13.8) and Times Group's 20 Shidai 09 closed at 66 yuan ($10.3) on Wednesday.
Investors have been worried about wider contagion from the property sector, which has seen a string of missed offshore debt payments and sell-offs in shares and bonds as China Evergrande, the world's most indebted developer, repeatedly lurches to the brink of default.
The defaults by Funtasia Holdings, Sinic Holdings and Modern Land of their dollar bonds last month as well as the more recently-reported debt strains of Yango Group and Kaisa Group have battered Chinese real estate companies' bonds.
Several bonds of China Aoyuan Group and Yango Group have fallen below 30 yuan ($4.70), which is less than half of their par value of 100 yuan ($15.7).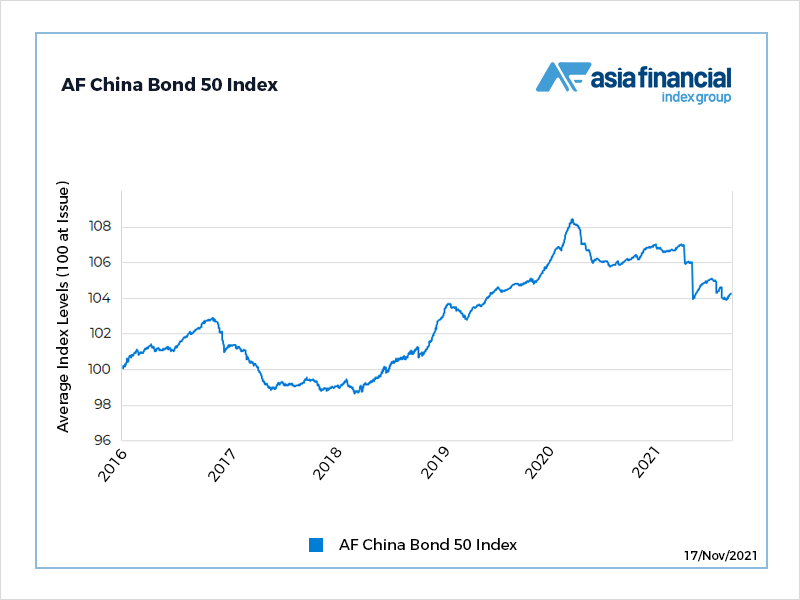 The AF China Bond 50 Index, above, is though showing resilience amid the Evergrande crisis. It is nonetheless down 2.3% since July, when the giant developer's troubles resurfaced.
After abrupt declines in Minsheng Royal Tianxin's net value in the first two days of this month, the fund stopped accepting new subscriptions on November 3. The fund now has 288 million yuan ($45 million) under management.
Last week, shares and bonds surged on state media reports of regulatory easing but analysts cautioned that it's unlikely policies to rein in sky-high house prices will be significantly changed.
• Iris Hong
ALSO SEE:
WATCH: