Sri Lanka's government bonds fell heavily on Friday after the United States urged the country's government to make "difficult but necessary choices" regarding its ties with China.
Worries that this year's Covid-19 crisis could see the country struggle to pay its debts have already seen its bonds slump almost 40% this year.
On Friday its 2021 and 2022 dollar-denominated bonds dropped 5 cents or more, according to Tradeweb data. Meanwhile, its 2025 and 2026 bonds dropped below the 60 cents on the dollar threshold.
"We encourage Sri Lanka to review the options we offer for transparent and sustainable economic development in contrast to discriminatory and opaque practises," US State Department official Dean Thompson told reporters ahead of Secretary of State Mike Pompeo's visit to Sri Lanka and other parts of Asia next week.
"We urge Sri Lanka to make difficult but necessary decisions to secure its economic independence for long-term prosperity," Thompson added.
US bullying countries, China says
China's foreign ministry spokesman dismissed the comments as showing a "Cold War mentality" and said the US was bullying countries to pick sides over their ties.
Sri Lanka's finances were fragile long before the coronavirus blow, but unless the country can win support from its allies it runs the risk of having to default.
All the tell-tale crisis signs are there: a tumbling currency, credit rating downgrades, bonds at half their face value, debt-to-GDP levels nearing 100% and almost 70% of government revenues being spent on interest payments alone.
Sri Lanka's central bank has repeatedly vowed, however, that the country will "honour all its debt service obligations".
External debt payments between now and December amount to $3.2 billion. Other costs could bring that up to $6.5 billion in the next 12 months, analysts estimate, while its FX reserves of just $7.4 billion leave it barely covered.
Rajapaksa government wants FTA with Beijing
The Sri Lankan government, headed by President Gotabaya Rajapaksa, said recently it plans to restart discussions with Beijing on a free-trade agreement, following a high-level meeting between the two countries.
Seen as close to Beijing, Rajapaksa has appointed several members of his family to top cabinet positions since his party won a commanding majority in August's parliamentary elections, including his brother Mahinda, who previously also served as president.
Negotiations on a free-trade agreement were last held in 2017. 
China has been making increasing inroads into South Asia with its Belt and Road Initiative, aimed at financing critical infrastructure in dozens of countries across the world. 
In 2017, Sri Lanka signed over control of Hambantota, a Chinese-financed port, and land around it to Beijing after incurring heavy losses, to the alarm of the United States and regional power India. 
Rajapaksa rejected accusations a week ago that China wanted to trap Sri Lanka into mounting debt with the port deal.
"Many geo-political analysis interprets this project as a 'debt trap' set up by China to gain control over Sri Lankan affairs," Rajapaksa told the Chinese delegation, led by Yang Jiechi, China's top diplomat. 
"I want to prove that it is not the case and that this large-scale project will help improve the living standards of the people," he added. 
The countries also agreed to deepen ties in the agriculture, education, tourism, water supply and healthcare sectors, according to a summary of the meeting released by Rajapaksa's office.
The Chinese visit comes as Sri Lanka faces mounting worries over the state of its finances, with rating agencies warning that a coronavirus-induced shock will significantly weaken its "already fragile funding and external positions".
Rajapaksa said on the country's trade deficit with China is too high and called on Beijing to increase the volume of goods purchased from Sri Lanka to bring it down.
Pompeo flying to Delhi Sunday, Colombo after
Meanwhile, US Secretary of State of Mike Pompeo is flying to India on Sunday to boost strategic ties with a nation that is locked in a military standoff with China.
As part of an intensifying pushback against China's economic and military power in the region, Pompeo will also travel to Sri Lanka and the Maldives, two Indian Ocean countries struggling with a mountain of Chinese debt incurred to finance big infrastructure projects. 
Pompeo will conclude his trip, which comes in the final week before the US election, in Indonesia, which is also locked in territorial disputes with China in the South China Sea.
"We're looking forward to strengthening critical relationships with our friends and partners, emphasizing our deep commitment to the Indo-Pacific and advancing our vision for long-term partnership and prosperity in the region," said Dean Thompson, principal deputy assistant secretary at the State Department's Bureau of South and Central Asian Affairs.
Washington has been ramping up diplomatic pressure on China, and President Donald Trump has made being tough on Beijing a key part of his campaign to secure a second term. 
Pompeo led a meeting of foreign ministers from India, Japan and Australia this month in Tokyo, a grouping that could be a bulwark against China's growing assertiveness in the region. 
Next month, India hosts 'Malabar', the biggest naval wargames in years, with the United States, Japan and Australia – an exercise that China has in the past opposed.
Beijing said this month that US accusations against China showed a "Cold War mentality".
Defense Secretary Mark Esper is expected to join him, as India is due to sign an agreement that will give it access to sensitive US satellite data to help improve targeting of missiles and drones, Indian officials said.
"There is great further potential in our defence cooperation," an Indian official said. 
It will be the first visit by a US Secretary of State to Sri Lanka in over a decade, and Pompeo has said he would convey support for a "strong, independent and democratic Sri Lanka," Thompson said.
He will urge Sri Lankan leaders to scale back dependence on China, which has invested billions of dollars building ports and highways but left the island nation deeply in debt.
The island is a key part of Chinese President Xi Jinping's Belt and Road Initiative but the government has in recent years sought to improve ties with India, United States and Japan.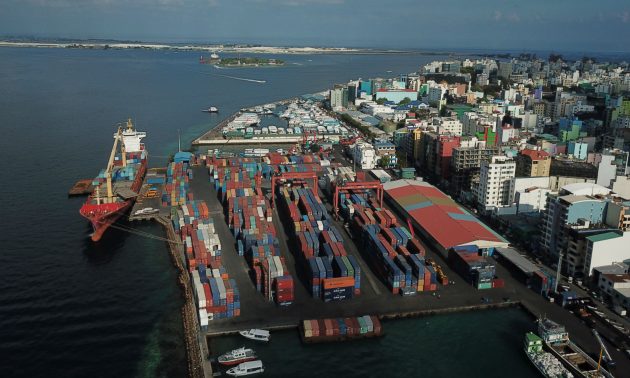 Male, the capital of the Maldives. AFP photo.
Pompeo to visit Maldives, Indonesia also
Similar efforts are under way to push back against Chinese influence in the Maldives, tropical islands that lie on key shipping lanes.
Maldives is a small country with only about 420,000 people living on roughly 300 square kilometers of land, but it is strategically located close to India's Lakshadsweep islands – and the major US military base at Diego Garcia.
"Expected discussions … include the global battle against the Covid-19 pandemic as well as ongoing and future collaboration," the Maldives government said in a statement.
Pompeo's visit to Indonesia comes amid an escalating US-China rivalry in the South China Sea, which China claims as almost entirely its own territory. The claim is opposed by many states in the region, including Indonesia.
The State Department this week approved the potential sale of three weapons systems to Taiwan, including sensors, missiles and artillery that could have a total value of $1.8 billion.
Taiwan, which China says is a renegade province, also claims large parts of the South China Sea.
Jakarta 'rejects land rights' for surveillance planes
Washington asked Indonesia in July and August to grant landing and refuelling rights to its P-8 surveillance planes, which monitor Chinese military activity in the resource-rich waterway.
The request was rebuffed by President Joko Widodo, according to four senior officials. 
Indonesia has long followed a neutral foreign policy and has never allowed its territory to be used as a staging ground for foreign military operations.
"There are commercial issues, security issues and diplomatic issues where the United States has already improved the relationship between the countries," Pompeo said this week. "But there's more that we can do."
Reporting Marc Jones, Waruna Karunatilake and Sanjeev Miglani for Reuters