US Senator Marco Rubio has questioned Ford Motor's tie-up with Chinese battery company CATL, saying the Biden administration must review the $3.5-billion battery plant deal.
Rubio, the senior Republican on the Senate Intelligence Committee, said on Tuesday he has written to three top Biden officials to press for an immediate check by the Committee on Foreign Investment in the United States (CFIUS) of the licensing agreement between Ford and CATL.
Rubio said the deal "will only deepen US reliance on the Chinese Communist Party for battery tech, and is likely designed to make the factory eligible for Inflation Reduction Act (IRA) tax credits," in a statement posted on his website.
Ford is looking to use technology from Chinese battery company CATL as part of its plan to spend $3.5 billion to build a battery plant in Michigan.
The $430 billion IRA imposes restrictions on battery sourcing and is designed to wean the US off the Chinese supply chain for electric vehicles (EVs). The IRA will eventually bar credits if any EV battery components were manufactured by a "foreign entity of concern," in a provision aimed at China.
Rubio said on Monday he sent his request to Treasury Secretary Janet Yellen, Energy Secretary Jennifer Granholm and Transportation Secretary Pete Buttigieg.
CFIUS is an interagency panel led by the US Treasury that reviews proposed transactions to ensure they do not harm national security.
ALSO SEE: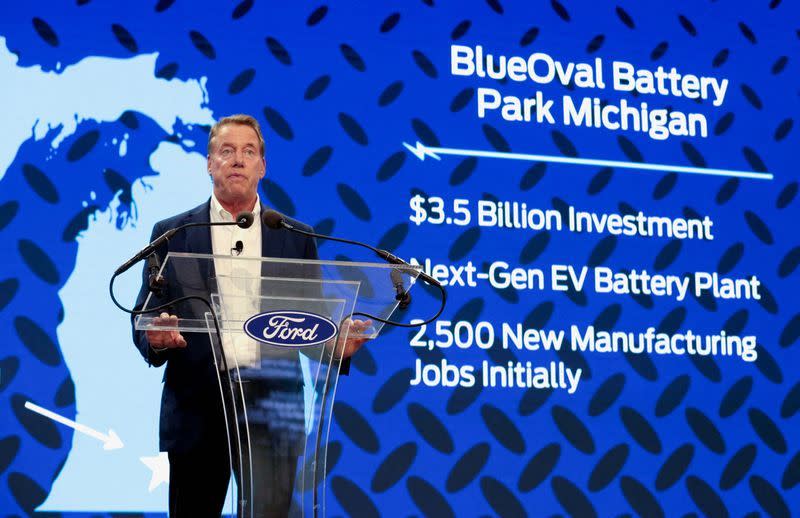 Granholm touts jobs, tech enhancement
Treasury declined to comment, but Granholm said on Twitter on Monday that "bringing advanced manufacturing capabilities from overseas to the United States is key to our competitiveness, will stimulate our economy, and create good-paying American jobs."
Ford said the plant would create 2,500 jobs and begin producing lower cost and faster recharging lithium-iron-phosphate batteries in 2026.
The car giant said it would own and control the facility with no foreign investment or US tax dollars going to CATL.
Ford executive chairman Bill Ford said on Monday that the technology agreement with CATL would "help us get up to speed so we can build these batteries ourselves – batteries made here in Michigan and built for America."
Rubio said he wanted to ensure that no US funds go to CATL "especially not when American F-22s are being deployed in real time to shoot down Chinese spy balloons."
China says the balloon shot down on February 4 was a civilian weather-monitoring aircraft, but the incident has deepened the diplomatic rift between the countries.
Republican House Majority Leader Steve Scalise tweeted criticism of the Ford deal, while Republican Virginia Governor Glenn Youngkin said last month that his state had withdrawn from the competition to attract the Ford plant over concern's about China's potential involvement.
'Lower-cost' lithium-iron phosphate batteries
Ford is betting that making the batteries in the United States will help it and CATL attract US customers to embrace a lower-cost technology pioneered in China.
Ford's plan to build the battery plant near Marshall, Michigan, hinges on a judgment that lower cost and faster recharging will attract many customers, including commercial fleet buyers, to accept the limitations of lithium-iron-phosphate, or LFP batteries.
Ford is also counting on its decision to manufacture LFP batteries in the United States at the wholly-owned plant to take the political risk out of relying on a Chinese technology partner.
"Manufacturing in America will bring us closer to battery independence," Ford chairman Bill Ford said during an event in Romulus, Michigan, to announce the investment.
Building LFP batteries in Michigan also gives Ford a shot at significant US battery manufacturing subsidies that could help it hit a goal of 8% profit margins on its EV operations by 2026.
Reuters with additional editing by Jim Pollard
NOTE: Further details (about LFP batteries) were added to this report on February 15, 2023.
ALSO SEE: