The United States on Monday rejected China's claim that the country flew high-altitude balloons over its airspace, while US Secretary of State Antony Blinken considered meeting top Chinese diplomat Wang Yi for the first time since the spying saga began.
"Any claim that the US government operates surveillance balloons over the PRC (People's Republic of China) is false," National Security Council spokeswoman Adrienne Watson said.
"It is China that has a high altitude surveillance balloon program for intelligence collection, connected to the People's Liberation Army, that it has used to violate the sovereignty of the United States and over 40 countries across five continents," she added.
Watson's comments followed China's claims on Monday that US high-altitude balloons had flown over its airspace without permission more than 10 times since the beginning of 2022.
US national security spokesman John Kirby also rejected China's claim. "Just absolutely not true. We are not flying balloons over China," Kirby told MSNBC in an interview.
'US open to dialogue'
Meanwhile, sources said US Secretary of State Antony Blinken was considering meeting top Chinese diplomat Wang Yi at the Munich Security Conference starting this week.
It would be their first face-to-face talks since the Chinese spy balloon saga began.
One US official said on condition of anonymity that a meeting between Blinken and Wang was possible at the conference which runs from February 17-19. A second source also said it was possible but that nothing had been confirmed.
At a news conference with her Japanese and South Korean counterparts, US Deputy Secretary of State Wendy Sherman said she had nothing to announce about a potential Blinken-Wang Yi meeting in Munich. But she did not rule it out.
"As Secretary Blinken has said consistently, and as he has said to Wang Yi – as have all said to the PRC – we are open to dialogue when it is in our interest to do so and we believe the conditions are right," Sherman said.
"I know there's been a report about a potential meeting in Munich, but I have nothing to announce today."
State Department spokesperson Ned Price also told a regular news briefing Washington was "always assessing options for diplomacy."
"I'll have to let the PRC speak to Wang Yi's potential travel. We'll have an opportunity to speak to Secretary Blinken's potential travel, but I can tell you at the moment there's no meeting on the books between Secretary Blinken and a senior PRC official," he said.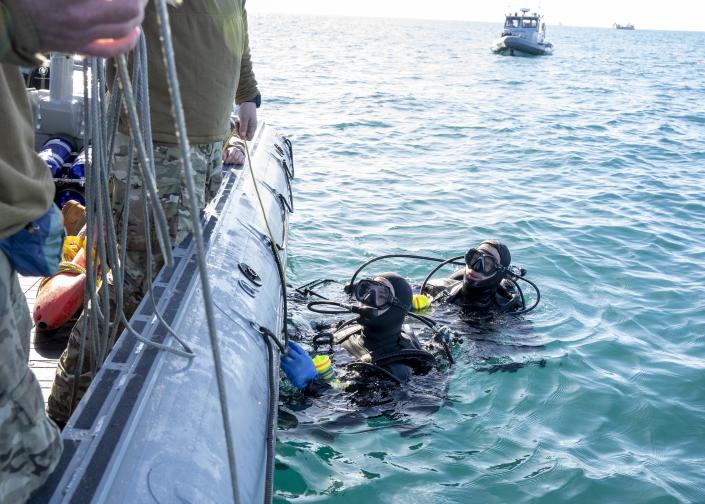 US-China talks 'badly-needed'
China's Washington embassy referred to a Chinese foreign ministry briefing at which Wang's plan to attend the Munich conference was announced but no mention was made of any plan to meet Blinken.
Blinken had postponed his planned trip to Beijing earlier this month following the discovery of the balloon. He called it an unacceptable violation of US sovereignty and airspace.
US national security adviser Jake Sullivan noted last week that Blinken had only delayed the meet and not sworn off future high-level communication with China.
Daniel Russel, the top US diplomat for East Asia under former President Barack Obama, called Munich "an obvious venue for a badly-needed in-person senior-level discussion."
"No doubt the two sides are quietly exploring this," he said. "But neither side wants to handle scheduling in the glare of media attention, and both sides are dealing with the uncertainty of balloon-related drama."
Officials and analysts say the March G-20 Foreign Ministers meeting in India would be another opportunity. Both Blinken and Chinese Foreign Minister Qin Gang are likely to be there.
'Key sensors' recovered from China spy balloon
The US military said on Monday it had recovered critical electronics from the downed suspected Chinese spy balloon, including key sensors presumably used for intelligence gathering.
"Crews have been able to recover significant debris from the site, including all of the priority sensor and electronics pieces identified as well as large sections of the structure," the US military's Northern Command said in a statement.
Following the discovery of the Chinese spy balloon, US military scoured the skies for other objects that were not being captured by radar. That led to an unprecedented three shootdowns in the three days between Friday and Sunday. One also occurred over the Yukon in Canada.
US officials have declined to connect the incidents. However, Canadian Prime Minister Justin Trudeau said on Monday that the four aerial objects shot down in recent days were somehow connected, without elaborating.
Meanwhile, US Defence Secretary Lloyd Austin said the objects "do not present a military threat to anyone on the ground."
"They do, however, present a risk to civil aviation and potentially an intelligence collection threat."
Reuters, with additional editing by Vishakha Saxena
NOTE: The subhead of this report was amended on February 14, 2023.
Also on AF: