(ATF) China's corporate and municipal bonds went into the final trading weeks of the year in decline as investors grow fearful over credit risks among the nation's indebted companies.
With few domestic cues due in the holiday-shortened coming week, traders are likely to be firmly watching developments as the US struggles to agree a new stimulus package before committing further to riskier Chinese assets.
The focus is likely also to remain in the West even as the People's Bank of China meets to set short and medium-term loan prime rates, with analysts broadly expecting policy makers to keep the key benchmarks unchanged.
The ATF China Bond Index closed 0.09% lower last week after the measure slid 0.06% on Friday. That followed a 0.09% decline on Wednesday, the biggest drop in two months.
Also on ATF News
Investors have become wary of Chinese credits as a slew of high-profile defaults among highly rated companies cast doubt on the strength of the 4 trillion yuan market. It's also thrown a shadow over domestic credit ratings companies, one of which is being investigated on suspicion of corruption.
The Enterprise and Local Government sub-indexes have taken the brunt of the selloff. The state-owned-enterprise (SOE)-laden Enterprise gauge fell 0.01% last week resuming a selloff started last month that had petered out when officials indicated they would take measures to strengthening bond issuance rules.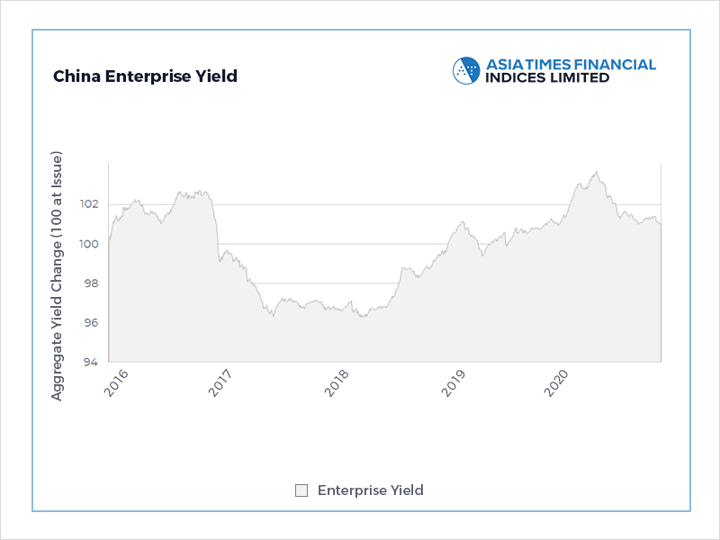 Local Governments were worst hit, however, sliding 0.25% for the week following a 0.19% plunge on Friday, the steepest drop since late September.
Local governments are the most indebted of China's issuing bodies, with Hainan province racking up more defaults than any other. They have been susceptible also to weakness in the Financials sub-index, which slid 0.05% in the week.
Banks have been the conduit for billions of yuan of coronavirus redevelopment money this year. But a slowdown in government stimulus has added to a liquidity squeeze among lenders, and that's worried municipal debt investors who had been hoping their holdings would benefit from new infrastructure projects.