Manas Fuloria is losing hope. He needs to fill 4,000 tech positions to meet orders at his New Delhi-based digital product engineering firm Nagarro, and he's struggling to attract even a third of the workers he needs.
The Frankfurt-listed digital solutions developer, with 11,000 employees in 26 countries and annual sales of almost $500 million, is not alone. India's tech sector is booming as it emerges from the ravages of the Covid-19 pandemic, sending companies on a hiring spree and wages through the roof.
The pent-up demand that's been unleashed as the pandemic wanes is causing an unprecedented squeeze on labour, slashing the growth potential of thousands of companies like Nagarro. Fuloria says the crunch is so severe that it's compressing profit margins, slicing as much as $50 million off potential annual sales.
"We don't see light at the end of the tunnel," Fuloria says. "This shortage of tech talent is quite unprecedented and has emerged as the number one challenge, and risk, for us."
Rising Demand and Vacancies a Threat to IT Sector Growth in India
A robust recovery in India's tech sector highlights the problems facing recruiters across the country.
Technology service providers have seen a 30% surge in digital deals, an 80% jump in cloud spending and a 15% rise in customer experience spending since the Covid outbreak, according to the National Association of Software and Service Companies (Nasscom), the country's leading IT trade body.
That's helped spark a massive hunt for talent as companies loosen their purse-strings to fill their ranks with skilled people.
"The talent crunch for us started about six months back and it continues to be challenging. There's a shortage across skills and experience levels," says a global delivery head of Infosys, one of India's top IT services companies, requesting anonymity as he is not the company spokesperson.
Scramble For Indian IT Talent
Technology company executives say the quality of India's IT workers is not the main problem – the scarcity of them and the high cost of hiring them is more troubling.
In July, there were 231,000 active technology sector job openings across India, the highest in 18 months, according to Xpheno, a technology staffing firm in Bengaluru. Vacancies in IT services — a sector that saw massive retrenchments right after the Covid-induced lockdowns between April and September last year – exceeded 100,000 for the first time.
"All technology employers who put their hiring on hold in the early days of the pandemic started hiring from June this year and are fishing in the same pond – hiring digital skills," says Kamal Karanth, Xpheno's co-founder.
Overall, start-ups created 28,000 additional jobs in the past year. About 80% of the overall active jobs in July 2021 were in the technology sector, Xpheno's research shows.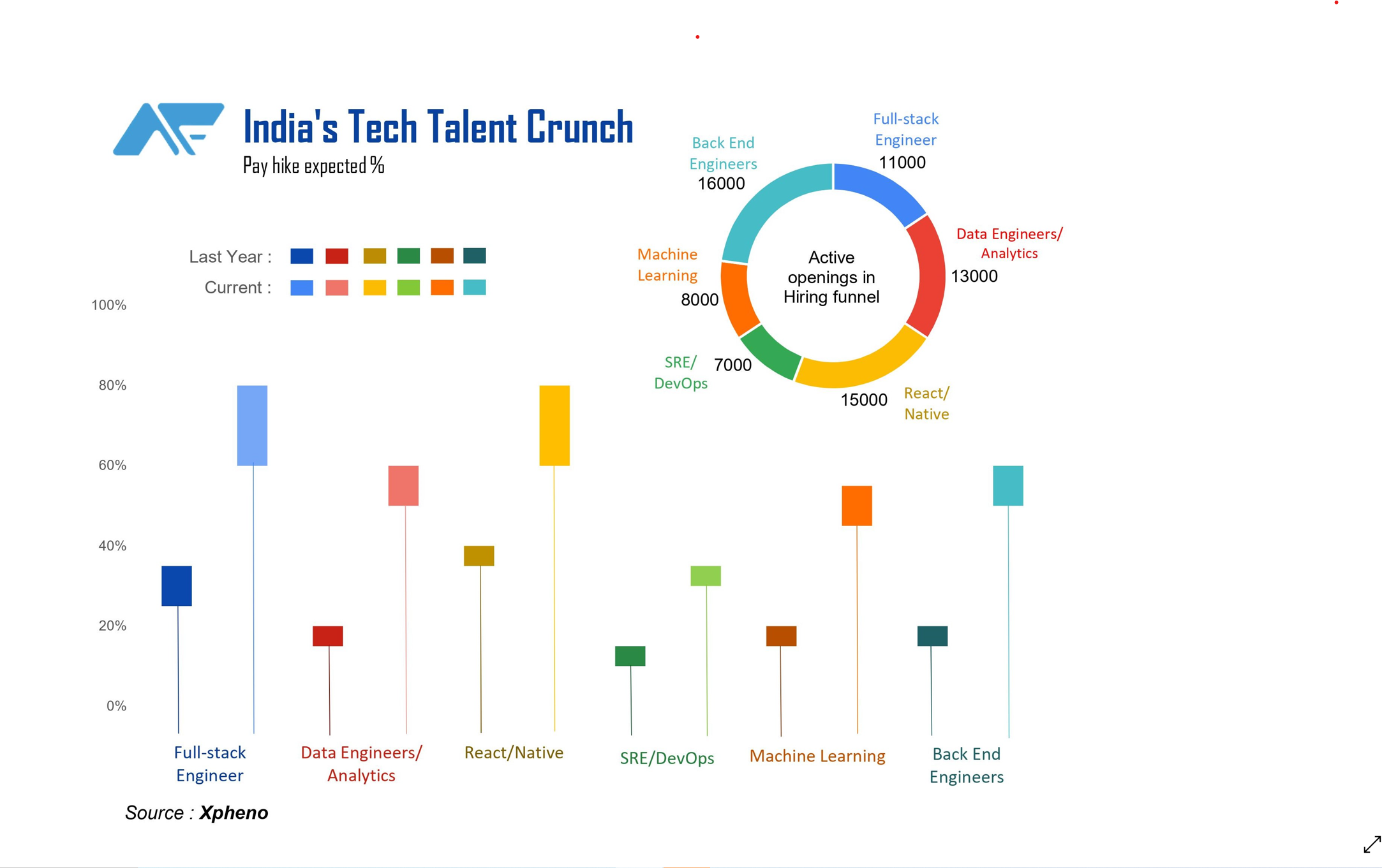 Looking beyond India
With $19 billion of fresh funding so far this year, compared to $16 billion for the whole of 2020, "tech start-ups have loosened their purse strings to grab the right talent," says Karanth.
While big organisations and start-ups flush with venture capital funding are driving up wages, paying more for qualified candidates, the talent squeeze is hurting especially medium and small businesses.
Some companies such as Nagarro are looking beyond India. "We are using all sorts of innovations to attract talent in India, we have [also] started ramping up talent acquisition at our other locations like China, Romania, Mexico and Sri Lanka, and even added subcontractors from Jordan," says Fuloria.
Nagarro is on track to post 20% growth for 2021 despite the pandemic, adds Fuloria.
Some companies, such as homegrown payments company BharatPe, are even wooing IT talent by offering luxury cars and high-end gadgets as perks.
Others offer more vacation time and gender-neutral parental leave. And a fintech firm in Bengaluru is saying new employees can work a three-day week and get 80% pay. The founder of Slice, Rajan Bajaj, says both employer and worker win in such a set-up because workers are free to pursue other passions, or jobs, while he provides them with a steady wage and benefits.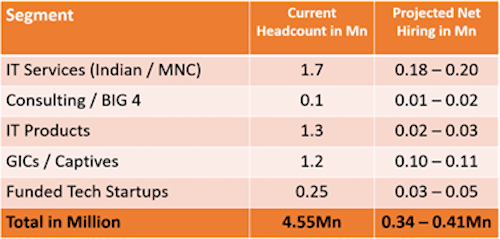 Gaping Hole In Talent Pool
India's 4.55 million-strong IT sector, which added another 140,000 workers in the year ended in March, could see a threefold rise in vacancies in the current fiscal year amid buoyancy in business and pent-up demand, with an expected 30% to 60% shortage across skill sets, Nasscom forecasts.
For niche skills in cybersecurity, data science, cryptocurrencies/blockchain and augmented/virtual reality, the gap could widen to as much as 70%, according to Nasscom.
Local hiring by captive IT operations of global companies such as Accenture, Capgemini, Microsoft, Oracle, IKEA, Levi's and Workday, among others, is projected to hit an all-time high of up to 120,000 this year, it estimates.
The top-five largest local IT firms — Tata Consultancy Services, Infosys, HCL Technologies, Wipro and Redington India — are expected to hire another 96,000 employees, both freshers and skilled talent, this year.
"The whole digital transformation thing is playing out in full force. Everyone wants to go digital and they want to hire digital talent, but the supply of skills has remained stagnant, which is driving the crunch and squeeze," says Hitesh Oberoi, chief executive and co-founder of Noida-based Naukri.com, India's leading job portal.
With an average of four offers chasing each job-seeker, "salaries are going through the roof," says Oberoi. "For the same role, there is a 30% to 100% salary increase over 2019."
Nagarro's Fuloria said: "India's spiralling talent costs feed into the general global wage inflation in this sector. Many traditional companies are finding it hard to compete with the deep-pocketed tech giants or well-funded startups, or even services companies."
What's Behind The Crisis?
More worrying is an expectation that the talent crunch is here to stay, at least for the next four-to-six quarters. And that could be the industry's undoing, according to Xpheno's Karanth.
He says the seeds of the current crisis were sown in 2018 when the industry moved away from training new staff as it focused on automation as its primary business model. Before then, it had built talent from scratch. Covid has exacerbated the problem.
Now, the tech sector needs to hire more than 200,000 fresh engineers to avoid being caught on the wrong foot next year, says Karanth.
A senior executive at Infosys says the company is devising newer training and skills-development programmes.
"Infosys has been tackling that challenge through reskilling, adopting aggressive retention efforts, and hiring freshers to train them for meeting the medium-term demand," said the source, who requested anonymity.
Typically, 30% of talent who could be deployed to generate revenue in India comes from hiring freshers and making them "industry-ready," Karanth says. But there has been a marked slowdown since the industry switched its focus to automation.
Consequently, less than 12% of the available talent possess the required skills to handle demand for digital transformation, according to a recent report by Amazon Web Services (AWS).
It estimates the number of workers in India requiring digital skills must increase ninefold by 2025, from about 59 million in February. Additionally, the average worker will need to develop seven new digital skills to keep up with the rapid advances in technology and demand, it added.
• By Indrajit Basu
This report was updated on Oct. 14 with further material and a video.
ALSO SEE: