(ATF)
The ATF indexes remained broadly steady on Thursday, as the People's Bank of China (PBoC) injected 140 billion yuan ($21 billion) via a seven-day reverse-repo in an effort to maintain adequate liquidity in the banking system. 
The seven-day reverse repo is a short-term loan used by the PBoC to increase liquidity and influence other rates in the banking system. 
"The People's Bank of China (PBoC) has committed to keep liquidity reasonably abundant while avoiding 'flooding' the economy with excess cash," Standard Chartered economists Shuang Ding and Hunter Chan said in a research note. 
The PBoC is likely to require net injections totalling only around 350 billion yuan ($52 billion) in Q4 to achieve M2 growth of 10.5%, the economists stated. This is mainly because of a probable acceleration in fiscal spending and a wider fiscal deficit.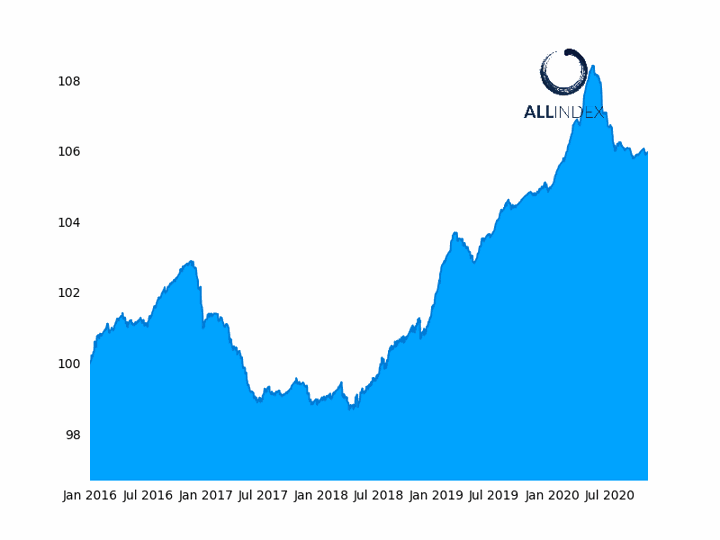 The benchmark China Bond 50 index (seen here), plus the ATF ALLINDEX Financial and the ATF ALLINDEX Local Governments gauges inched up 0.01%, while the ATF ALLINDEX Corporates and Enterprise rose 0.02% each.
Financial and industrial paper extended Wednesday's gains with bonds of Xi'An Hi-tech and Hangzhou Qianjiang New City, constituents of the ATF ALLINDEX Enterprise),  rising 0.02% (for a yield decline of 0.05%) and 0.01% (for a yield decline of 0.07%) respectively. The bonds each traded last on 23 October and 7 July.
Meanwhile, the bonds of Everbright Financial Leasing rose 0.01%, for a yield decline of 0.06%. The bond last traded on 23 October.