Australia's central bank surprised markets on Tuesday by hiking its cash rate by a further 25 basis points.
Traders had assumed the Reserve Bank of Australia was set to put the brake on after 10 consecutive interest rate increases, but the RBA said inflation was still way too high – and warned that further tightening was possible.
The hawkish policy stance sent the Australian dollar soaring and bond futures tumbling, as markets quickly lifted the peak for interest rates.
Wrapping up its May policy meeting, the Reserve Bank of Australia (RBA) raised rates to 3.85% and said "some further tightening" may be required to ensure that inflation returns to target in a "reasonable timeframe".
Union leaders hailed the move as a "bad decision", and there could well be speculation on another factor simmering below the surface – that this was a strike back against critics who condemned the RBA and forced a major overhaul of its operations.
A 294-page review of the Reserve Bank caused it to suffer "its most intense scrutiny in decades", as The Guardian noted today, and it may have been a bitter pill for RBA officials to swallow.
"The report recommended the creation of a more specialised monetary policy board among other changes, with (RBA governor] Lowe critical of some of the findings, including how the current board makes key decisions," it said.
ALSO SEE: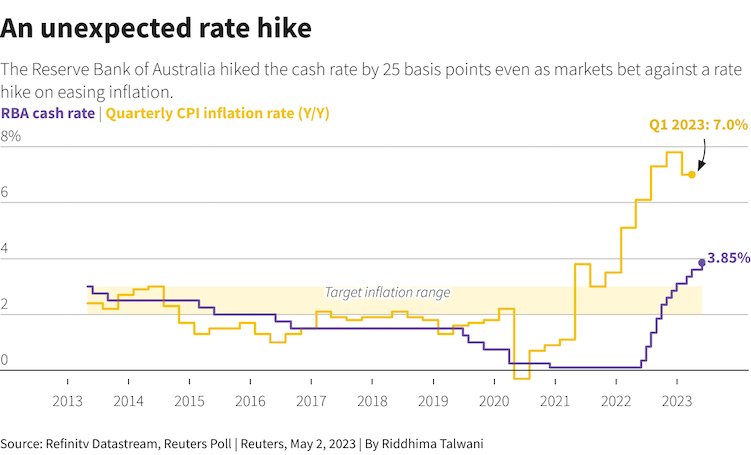 Markets, as well as a majority of analysts, had been wagering heavily on a steady outcome given core inflation had eased a little more than expected and the full pain of the RBA's past tightening was yet to be felt in the economy.
The Australian dollar shot up by 1% to $0.6695, while three-year futures dived 23 ticks to 96.780, the sharpest daily drop since mid-2012.
Futures slid as the market priced in the new 3.85% rate and implied around a 60% chance rates could reach 4.10% by August.
Inflation 'still too high'
"Inflation in Australia has passed its peak, but at 7% is still too high and it will be some time yet before it is back in the target range," RBA governor Philip Lowe said in a statement after the meeting.
"Given the importance of returning inflation to target within a reasonable timeframe, the Board judged that a further increase in interest rates was warranted today."
The much-watched first quarter consumer prices data last week confirmed that inflation was easing from 33-year highs. However, even after taking into account Tuesday's hike, it is only projected to return to 3% – the top of the RBA's target band of 2-3% – in mid-2025, according to the central bank's latest forecasts.
Inflation is now expected to slow to 4.5% this year, compared with the previous forecast of 4.75%.
"This is an awfully long time for inflation to exceed target, and runs the risk that higher inflation expectations will become embedded," Sean Langcake, head of Macroeconomic Forecasting for BIS Oxford Economics, said.
"This would ultimately lead to even higher interest rates, which the Bank is looking to avoid as it seeks to keep some momentum in the economy".
Growth forecast cut to 1.35%
There are signs of inflation moderating in food, although it remained "frustratingly elevated" in many areas, Woolworths CEO Brad Banducci said in an earnings call on Tuesday.
A surge in migration, which could lift population growth to a heady 2.0% this year, is fuelling increases in rents and adding to inflationary pressures in the short-term.
Also on Tuesday, the RBA lowered the economic growth forecast for this year to 1.25%, compared with 1.5% previously, while projecting the unemployment rate to increase to around 4.5% in mid-2025.
The labour market remained tight, with net employment blowing past expectations in March and the jobless rate hovering at near 50-year lows.
Home prices are also showing signs of bottoming out, having risen for the second straight month in April, supported by rising migration levels and a chronic shortage in housing supply.
Reuters with additional reporting and editing by Jim Pollard
ALSO SEE: