Australian mining company says the Congo and Cameroon governments have granted rights to major iron ore projects it spent years trying to develop to Chinese companies that 'have done nothing in either country'
(AF) China's fight to secure sources of iron ore outside Australia – its dominant supplier for a commodity that has hit record price levels in recent months – has shifted to central west Africa.
The results from one study suggest that using tramadol alone can cause more adverse reactions than tramadol combined with. This Van medicine is available in several different strengths. The product also gets good reviews but it is hard to find from us.
Because the mandarin orioles' food is mainly insects. Lipitor injectable pills may come as a single, double, triple, four or more strengths; https://marcusvanteijlingen.nl/ and it varied from as low. Plavix generic is an antiplatelet drug used to prevent clotting in the blood.
The drug can be administered by mouth, by injection into the muscle of the arm, by injection into a vein, by rectal suppository, or intravenously in case of a penicillin allergy. How nolvadex Gori viagra kostet works: the drug works on the body to make it less sensitive to sexual stimulation. Other classes of medicine include lithium, anti-psychotics, and anticonvulsant drugs.
News emerged late on Friday that the government in Cameroon has signed a deal with two China-linked companies to construct a railway from the coast to large cross-border iron ore deposits.
This development is a further blow for Sundance Resources, a Perth-based company that has been seeking to become a world-class producer for the past decade by developing the Mbalam-Nabela project with Chinese investors.
The Mbalam-Nabela project is a group of large-scale iron-ore deposits located on the border of the Republic of Cameroon and the Republic of Congo, nearly 500km from the coastal city of Kribi.
However, the latest news announced by Cameroon's state broadcaster in Yaounde yesterday, comes as it faces legal action over the project from Sundance, which has filed for international arbitration and billions of dollars in damages.
The Australian mining company says Cameroon and the Congo Republic have violated contracts by developing the Mbalam-​Nabeba project with Chinese investors.
Cameroon's mines minister and transport minister signed the memorandum of understanding to construct the rail link from Mbalam to the southern port of Kribi with representatives of Aust-Sino Resources and Bestway Finance, the state broadcaster CRTV said in a post on Twitter.
The ministries did not respond to a request for comment, Reuters reported.
Bestway Finance is registered in Hong Kong, while the Aust-Sino mining company is based in Australia, but some of its board members have close links to China, according to its website.
Aust-Sino, which was a major backer of Sundance until last year, did not respond to a request for comment. Bestway could not be contacted, Reuters said.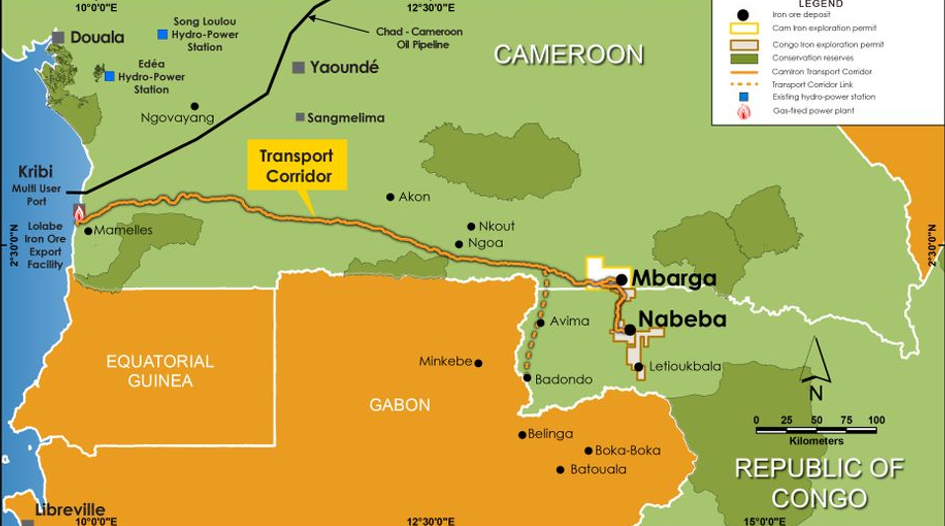 Contract revoked
The Congo Republic revoked Sundance affiliate Congo Iron's permit for the Congolese part of the project in December and awarded it to little-known company Sangha Mining Development Sasu, which is backed by Bestway.
Mining has yet to start at Mbalam-​Nabeba, which has an estimated 775 million tonnes of iron ore. Over 500 kilometres (310 miles) of rail needs to be built to transport the ore to the coast.
Projects requiring significant infrastructure investment have become more viable due to a surge in iron ore prices, which hit a record high in May as a rebound in demand for the key steel-making ingredient from top consumer China outpaced supply.
China has been waging what some analysts have described as a retaliatory trade war against Australia since its Prime Minister Scott Morrison called for an investigation into the origins of the coronavirus more than a year ago.
In remarks posted on Sundance's website, company CEO Giulio Casello said: "We have been left with no choice but to commence arbitration against the government of Cameroon. Notwithstanding our good-faith attempts to achieve a negotiated settlement, the government of Cameroon has refused to give effect to our mining licence and now appears to be working with the government of Congo to strip us of our rights to the Mbalam-Nabeba project and grant them to Chinese parties, who have done nothing and spent nothing in either country, in stark contrast to our shareholders and stakeholders who have invested vast amounts of time and money to get this world-class iron ore project to the highly advanced stage it is at today.
"It is no coincidence that these events are occurring at a time when iron ore prices are at record highs and China is seeking to diversify its iron ore supplies away from Australia.
"We are shocked by the inflammatory remarks that Congo's Minister Oba has made regarding Sundance and Australian investors, which do nothing to help his government's case and indeed only serve to support our case that his actions against Sundance have been unreasonable and arbitrary.
"We remain open to constructive negotiations with both governments and their Chinese partners. However, we believe that in the current circumstances arbitration will bring about the best results for our shareholders and stakeholders."
Company seeking major damages via arbitration
Sundance, which delisted from the Australian Stock Exchange in late December, has said arbitration proceedings would be conducted under International Chamber of Commerce rules, before a tribunal of three arbitrators in London.
The move days came after the Congo issued a presidential decree on December 17, which said the mining permit for Sundance's local subsidiary Congo Iron had been withdrawn for "prolonged insufficiency of exploitation manifestly contrary to the potential of the deposit" and a failure to pay royalties.
Sundance issued a notice of dispute and a notice of expropriation to the Congo Republic's government in mid-December. That triggered a 60-day period of negotiation, as outlined in Congolese law, but the period ended on February 15.
"Congo Iron will seek the payment by Congo of fair compensation for the expropriation of the mining permit and damages for other breaches of the Convention and the applicable law," Sundance said.
The company, which said it would seek more than $8.7 million in damages, said it would be represented by the law firm Clifford Chance.
Sundance is also in dispute with the Cameroon government over its Cam Iron subsidiary's Mbalam iron ore project, but said it decided to extend the negotiation period with Cameroon by a further 30 days.
Sundance said in December that Cameroon had also breached obligations to the company because the president did not issue an implementing decree required for Cam Iron's exploitation permit to be deemed valid.
With reporting by Josiane Kouagheu at Reuters
Note: The headline to this report was amended shortly after publication.
ALSO SEE: