China lodged a diplomatic complaint with the US Embassy in Beijing on Sunday after Biden officials ordered a Chinese surveillance balloon to be shot down on Saturday.
The US Navy is seeking to recover the balloon and items on the airship to gain an insight into Chinese spying capabilities, officials said on the weekend, when claims emerged of other spy balloon flights over the US during the Trump Administration, as well as over Central and South America.
After initially expressing regret about the balloon, China went on the front foot after the airship was brought down by an air-to-air missile.
Vice Foreign Affairs minister Xie Feng lodged "solemn representations" to US representatives after US forces "attacked" the civilian airship, the Foreign Ministry said in a statement issued on Monday, according to the South China Morning Post.
"What the US has done has seriously affected and damaged both sides' efforts and progress in stabilising China-US relations since the Bali meeting," Xie said, referring to talks between President Xi Jinping meet his US counterpart Joe Biden during the G20 summit in November, it said.
Beijing condemned the US military's move to shoot the balloon down on Saturday, four days after it flew over the US land mass, as a "clear over-reaction and a serious violation of international practice", the Foreign Ministry was quoted as saying.
"China strongly disapproves of and protests against the US attack on a civilian unmanned airship by force," it said in the statement on Sunday morning, adding that it reserves the right to make "further responses that are necessary."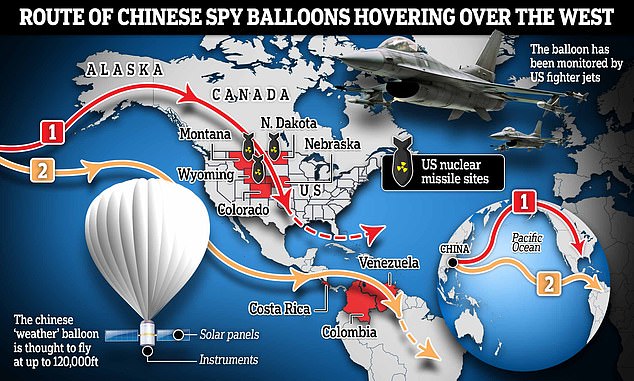 The high-altitude balloon first entered US airspace on January 28, before travelling over western Canada and down over Idaho in the US on January 31.
Beijing confirmed on Friday that the balloon was Chinese but claimed it was primarily used for meteorological research and had been blown off course.
"The Chinese side regrets the unintended entry of the airship into US airspace due to force majeure," a ministry spokesperson said.
But US officials said the balloon surveilled "strategic sites" such as ballistic missile bases in Montana and other areas, and that caused Secretary of State Antony Blinken to postpone his trip to Beijing on Friday.
"We have noted the [People's Republic of China] statement of regret, but the presence of this balloon in our airspace is a clear violation of our sovereignty as well as international law, and it is unacceptable that this has occurred," a senior State Department official said.
The Chinese Foreign Ministry hit back on Saturday, saying some politicians and the media had "hyped" up the incident to "attack and smear China."
Biden told reporters he wanted it shot down when he learned it entered US airspace last week, but the US military waited till Saturday afternoon to shoot down the balloon when it was off the coast of South Carolina, due to concern that debris from the airship could harm people or property.
Officials said later they were working to recover material from the airship.
'Four other spy balloons trips'
Meanwhile, a senior US defence official said during a briefing on Saturday that balloons similar to the one shot down off South Carolina flew over the US on at least four other occasions in over the last six years.
"PRC [People's Republic of China] government surveillance balloons transited the continental United States briefly at least three times during the prior administration and once that we know of at the beginning of this administration but never for this duration of time," a senior defence official was quoted as saying by The Hill.
"We spoke directly with Chinese officials through multiple channels, but rather than address their intrusion into our airspace, the PRC put out an explanation that lacked any credibility."
Officials said the latest balloon travelled "near many potential sensitive sites" and noted that other balloons had been spotted over Central America and South America.
Former president Donald Trump later dismissed reports of earlier spy balloons as "disinformation".
ALSO SEE: