US Secretary of State Antony Blinken has postponed a visit to China this weekend after a Chinese 'spy balloon' was tracked flying across the northeast of the country, a Washington official confirmed on Friday.
Mr Blinken said in a statement on Friday that the Chinese balloon was "a violation of our sovereignty".
"This is an unacceptable as well as an irresponsible action," he said. "It's even more irresponsible coming on the eve of a long-planned visit."
ABC News cited a US official as saying Blinken did not want to blow the situation out of proportion by canceling his visit, but also did not want the balloon incident to dominate his meetings with Chinese officials.
America's top diplomat was set to visit Beijing from 5 to 6 February to hold talks on a wide range of issues, including China's support for Russia in its war with Ukraine, Taiwan and concern over China's apparent lack of effort to minimize the amount of fentanyl reaching the US.
Ties between the superpowers have frayed over the past few years and sank to their worst in decades last August, when then-US House Speaker Nancy Pelosi visited Taiwan, prompting unprecedented Chinese military drills near the self-ruled island.
President Joe Biden's administration has said since then that it hoped to build a "floor for the relationship" and ensure that rivalry does not spiral into conflict. Biden met with Chinese President Xi Jinping in November with that goal in mind and both leaders pledged more frequent communications.
But now the 'spy balloon' incident, which saw some in the States call for it to be shot out of the sky, could set relations between the superpowers back again.
ALSO SEE:
High-altitude balloon
It emerged on Thursday that the Pentagon had been tracking the suspected Chinese spy balloon flying over the United States for a few days.
The path of the balloon was close to Montana, where the US has underground fields of Minuteman III intercontinental ballistic missile silos, which could have been a potential target for Chinese espionage.
US officials said that Chinese spy satellites in low Earth orbit are capable of offering similar or better intelligence, limiting the value of whatever Beijing can glean from the high-altitude balloon, which is the size of three buses, according to another defence official.
The balloon appears to have big solar panels on either side of an instrumentation panel, according to an Australian security analyst, who said the balloon was probably "intended to intercept radio transmissions, analyse them and send them back to China" and noted that sending a military intelligence-gathering asset across the US was "quite provocative".
Military officials had advised President Joe Biden not to shoot it down due to fear the debris could pose a safety threat to people on the ground, according to reports on Friday.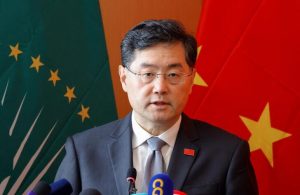 A spokesperson for China's Foreign Ministry, Mao Ning, told a press conference on Friday they were trying to understand the circumstances and verify the details of the situation. "China is a responsible country. We act in accordance with international law. We have no intention in violating other countries' airspace. We hope relevant parties would handle the matter in a cool-headed way."
Later, China expressed regret for the incident and said the balloon was a civilian airship used for meteorological purposes that drifted off course because of bad weather.
However, the US stood by its assessment that the balloon was being used for surveillance. A State Department official said another trip would be arranged for Mr Blinken to travel to China "at the earliest opportunity", and Washington would maintain "open lines of communication" over the incident.
Goal: Avoiding a crisis
Another reason for the tension between the two countries is the intensified US regulatory onslaught focused on China, including export controls that could hobble its chip manufacturing industry.
With a new US-Philippines agreement to grant the United States greater access to military bases and a likely Taiwan visit by new House Speaker Kevin McCarthy, analysts had seen Blinken's main task during the now cancelled February 5-6 meetings as ensuring both countries can avoid a crisis.
"Moving forward with this weekend's itinerary could have created the appearance of a Biden White House allowing China to act with impunity," analysts at Eurasia Group said late on Friday.
"China has claimed that the vessel is an errant weather balloon, but it does not appear to have addressed with US counterparts the balloon's presence in US airspace prior to public reports, lending weight to the possibility that it was intended as an aggressive political signal ahead of talks," Clayton Allen and associates at Eurasia Group said.
Now, relations between the two countries look to have been sent backwards again.
China focus on economy
However, China is keen for a stable US relationship so it can focus on its economy, battered by the now abandoned zero-Covid policy and neglected by foreign investors alarmed by what they see as a return of state intervention in the market.
In recent months Xi has met with world leaders, seeking to reestablish ties and settle disagreements, including with Australia, which will resume coal exports to China after a three-year hiatus. He has also sidelined some of his "wolf warrior" diplomats whose strident rhetoric alienated many of China's trade partners.
Despite such pragmatic rhetoric, China's actions – especially its military activity around Taiwan and in the South China Sea – have not moderated, analysts said.
Blinken's visit to China would have been the first by a secretary of state since October 2018 when Mike Pompeo, in the administration of Donald Trump, met then-foreign minister Wang Yi in Beijing, with the two dignitaries exchanging pointed remarks amid a worsening trade war.
Deputy Secretary of State Wendy Sherman had been due to accompany Blinken on this visit.
Reuters with additional reporting and editing by Jim Pollard. Further details (Australian analyst's comments) were added to this report on February 3, 2023.
This story was updated and the headline amended at 1600 GMT by Sean O'Meara. Further details were added after Blinken cancelled his trip late on Friday US time.
ALSO SEE: