Beijing expressed concern on Malaysian oil and gas activities in the South China Sea, Malaysian Prime Minister Anwar Ibrahim said on Tuesday.
But Anwar – who has just returned from a four-day trip to China, which business groups lauded as successful – said operations by state energy firm Petronas were in waters that Kuala Lumpur believes are part of its territory.
Anwar's remarks come after the new Southeast Asian leader opened the door for negotiations with China earlier this week, in a sign of mounting pressure on Malaysia's energy operations in waters that Beijing also claims, controversially, as its own.
China claims sovereignty over almost the entire South China Sea, through which about $3 trillion worth of ship-borne trade passes annually.
Malaysia is one of five neighbouring states – the others are Brunei, the Philippines, Vietnam and Taiwan (which Beijing claims as part of China) – that have overlapping claims.
China's moves to prevent oil and gas projects being launched in waters it claims in recent years have upset officials in Vietnam and the Philippines, but Kuala Lumpur has often preferred to play down intimidatory actions by Chinese vessels or aircraft, observers say.
ALSO SEE:
KL 'open to talks'
Petronas operates oil and gas fields within Malaysia's 200-mile exclusive economic zone (EEZ) and has in recent years had several encounters with Chinese vessels.
China was worried that "Petronas has carried out a major activity at an area that is also claimed by China," Anwar said, responding to a parliamentary question about his discussions on the South China Sea during his visit to China last week.
"I stressed… that Malaysia sees the area as Malaysian territory, therefore Petronas will continue its exploration activities there," Anwar said, without specifying an offshore project or a location.
But Malaysia is open for negotiations "if China feels this is their right", Anwar said, adding the Association of Southeast Asian Nations bloc feels that overlapping claims should be resolved by negotiations.
China reiterated its call for talks on a protocol to manage territorial disputes in the South China Sea, however analysts say talks between Beijing and the Association of Southeast Asian Nations (ASEAN) on a code of conduct have dragged on for more than 20 years with little sign of a breakthrough.
China sought "integrated development" with Malaysia in areas ranging from supply chains, big data and agriculture, to education and media, new Premier Li Qiang told Anwar during their meeting on Saturday, according to the South China Morning Post.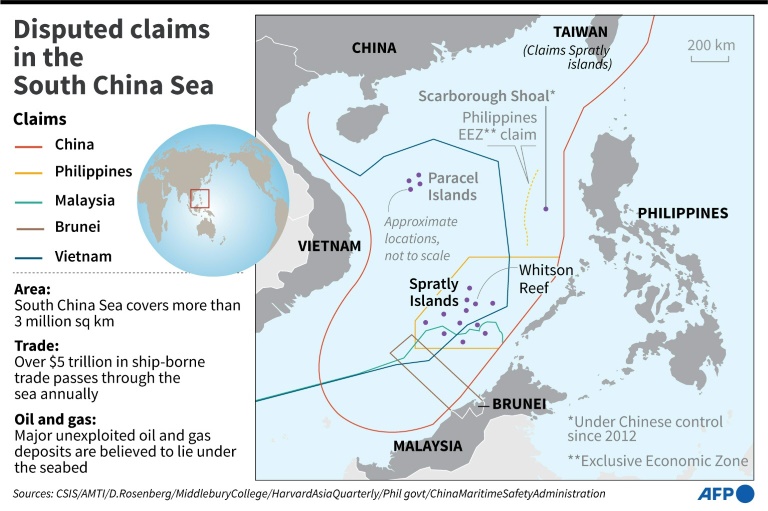 Global court rejected '9-dash line' claim
China claims its territory via a "nine-dash line" on its maps, which cuts into the EEZs of Vietnam, the Philippines, Malaysia, Brunei and Indonesia.
The Permanent Court of Arbitration, however, ruled in 2016 that the nine-dash line, which stretches as far as 1,500km off its coastline, has no legal basis.
US think tank, the Asia Maritime Transparency Initiative (AMTI), last week said a Chinese coast guard vessel was for the past month operating near Petronas' Kasawari gas development off Malaysia's Sarawak state, and came as close as 1.5 miles of the project. A Malaysian navy ship was in the area, AMTI said.
The Kasawari field, just northwest of Borneo Island, south of waters claimed by Brunei, holds an estimated 3 trillion cubic feet of gas reserves and is expected to start production this year.
China foreign ministry on Monday said they were not aware of the specific incident but said the conduct of the China coast guard is beyond reproach.
Petronas declined to comment and the Chinese embassy in Kuala Lumpur was not immediately available for comment.
Anwar, in his parliamentary comments, said China believes its ships were in international waters.
Malaysia's foreign ministry will issue a protest note if there were "collisions" between Malaysian and Chinese vessels there, Anwar said.
Reuters with additional reporting and editing by Jim Pollard
ALSO SEE: