A little-known start-up is eclipsing established brands in China's crowded electric vehicle market and big-name local investors are convinced its rural strategy has legs.
Hozon New Energy Automobile, an eight-year-old Zhejiang-based electric vehicle maker, startled industry watchers by growing sales of its affordable, spacious SUVs more than fourfold in the first two months of the year, outpacing big-name competitors such as XPeng, Nio and Tesla.
Two of its three models – the Hozon V and the Hozon U – made it to February's top 10 bestselling SUVs list headed by BYD and Tesla, based on data from the China Passenger Car Association (CPCA).
Sales have risen steadily since the company's first car, a hatchback called Neta, rolled off the production line in July 2018 and crossed 11,000 units in January. Although February sales slipped by about a third due to the Lunar New Year holidays, Hozon still outsold XPeng and Nio.
"It's come from nowhere to become the new darling of investors," said Zhao Manli, a senior analyst with China Construction Bank's (CCB) investment banking arm. "If you missed the boat on BYD's IPO, watch Hozon in 2022."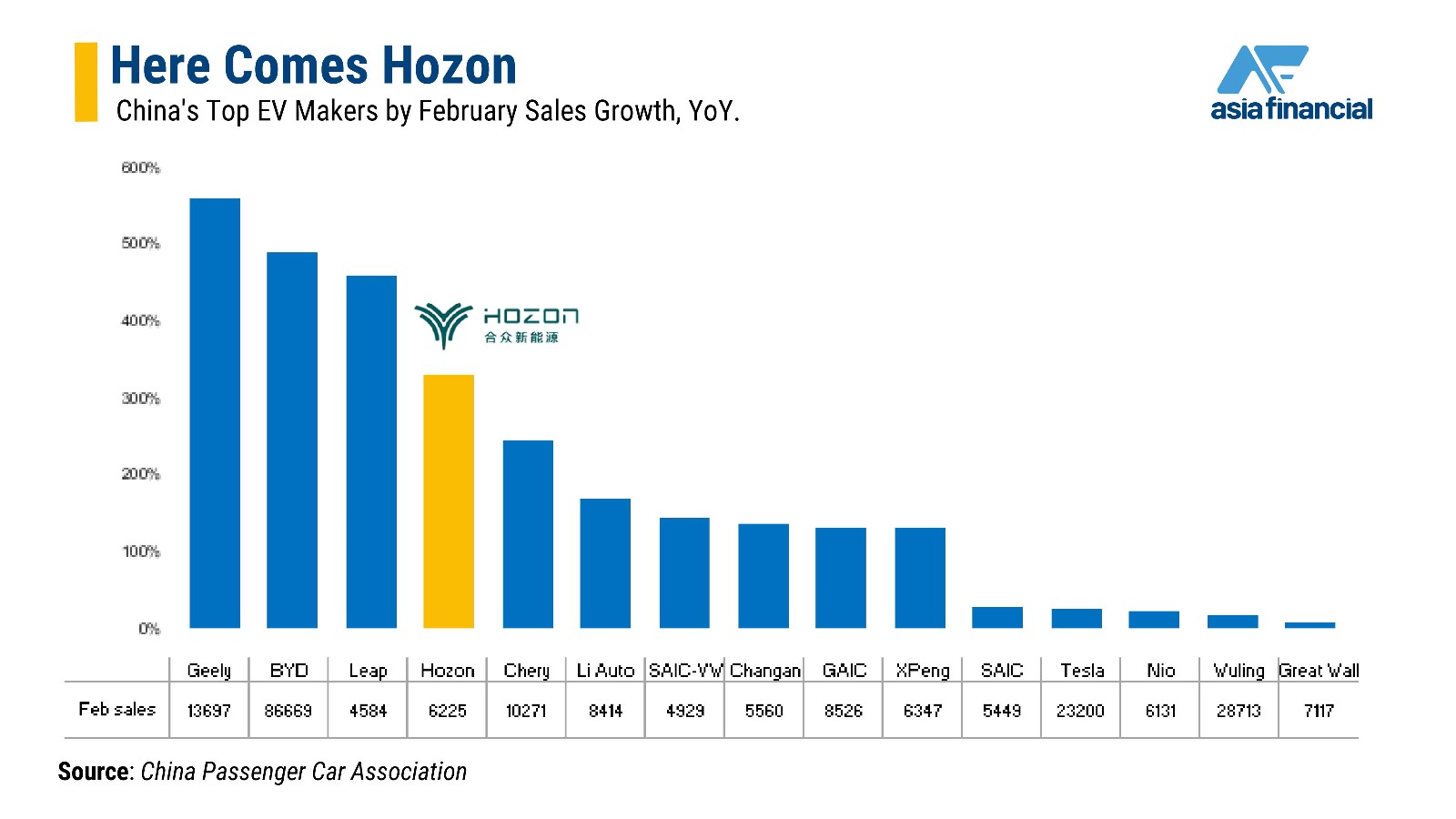 It's got big-name backers, too. In December, Hozon became the first-ever downstream investment for Contemporary Amperex Technology Co (CATL), the world's biggest maker of electric vehicle batteries, the single most expensive component for such cars.
The amount wasn't disclosed but the Economic Observer said in December it is about a billion yuan. Tech giant Qihu 360 pumped in almost 3 billion yuan last year and at least three local governments, including Tongxiang in Zhejiang province where Hozon has its plant, have acquired equity stakes in the company by providing loans, cheap land and purchase deals.
"With CATL coming on board, Hozon may get supply guarantees and better prices than peers for improved cost control," Zhao said. That could help the company against rivals like XPeng, which is embroiled in a row with CATL over battery prices and supplies.
Hozon's stripped-down SUVs are priced below 100,000 yuan for the under-served rural and small-town market. By comparison, similar vehicles from Tesla, Nio, Li Auto and BYD cost above 200,000 yuan.
The company is mired in losses though, which have swelled partly due to its strategy of undercutting the competition. It reported a net loss of 693 million yuan in the first half of 2021 and CEO Zhang Yong said that since its EVs are pitched at price-sensitive buyers, it will have to sell three times more cars than Nio and Tesla to turn a decent profit.
Still, its backers are behind its pricing strategy to build sales and market share, Zhao said.
Hozon targets sales of 150,000 EVs this year, its founder and president Fang Yunzhou told reporters when he attended the National People's Congress this month. That's more than twice the 69,674 units it sold in 2021.
ALSO ON AF: China EV Stocks Plummet as Perfect Storm Batters Industry
Darkening Industry Outlook
Hozon's success comes against a darkening outlook for China's EV industry. Asia Financial's China Electric Vehicles index has slumped about 26% this year and the gauge of 14 leading China EV makers is down about 13% in March.
Supply-chain disruptions, rocketing inputs costs, and the partial removal of government subsidies for China EV manufacturers drove the selloff, along with uncertainty over the possible delisting from US exchanges of some EV makers.
The selloff came despite a 153% surge in EV sales in the first two months of 2022 and a 157% leap last year.
The soaring price of lithium, which has almost doubled this year and is up almost 500% over the past year, prompted Great Wall Motors to stop taking orders for its Ora brand EVs this month because one of its models is losing 10,000 yuan on each sale, CEO says. The hit from the rising price of lithium batteries came just as the government slashed subsidies on new EV purchases by 30% in January; remaining subsidies are scheduled to end this year.
China's EV industry is the world's largest by sales and Beijing's attempts to nurture it have drawn dozens of entrants each year.  The country has around 300 EV makers, state-run Xinhua News Agency reported last year. China has "too many" electric vehicle makers and the government will encourage consolidation, Industry and Information Technology Minister Xiao Yaqing said in September.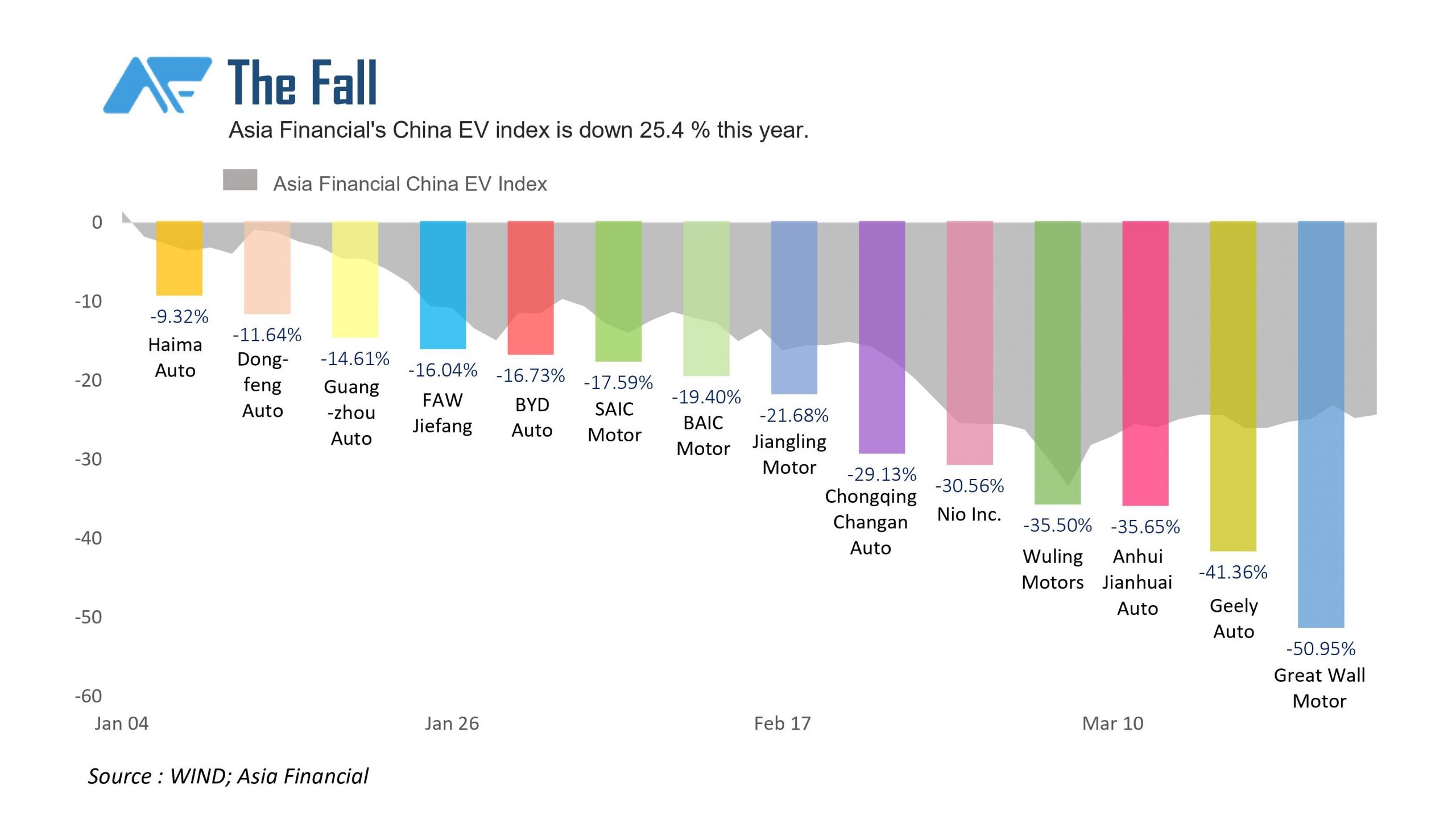 Rural Strategy
Hozon is absent from major cities including Beijing, Guangzhou, Shanghai and Shenzhen, but it has a head start in rural areas and lower-tier cities, which are often overlooked by major EV brands.
The cheapest Hozon SUV is priced at 62,900 yuan after subsidies and has a sleek look with touchscreen controls, no physical buttons, and ample room to seat up to six, suiting rural families that tend to be larger.
"The entry-level electric SUV segment is far less crowded than the mid-range and higher-end tiers," said a sales agent for the company in Tongxiang county near Shanghai in Zhejiang province. "There is not much to choose from if you want a big e-SUV that doesn't look cheap with a small budget of 100,000 yuan. This is where Hozon's EVs come in."
More than 60% of EVs and conventional cars sold across China in 2020 belonged to the no-frills category selling for less than 150,000-yuan, according to CPCA data. A majority of buyers came from lower-tier cities and counties.
Still, questions remain about whether Hozon can maintain its growth pace, especially as costs rise due to inflationary pressures even as the training wheels come off.
Government subsidies given to EV makers based on their sales have been cut by 30% this year and will be phased out completely by year-end. That may dampen sales of budget EVs in particular.
Hong Kong IPO
Still, there's growing talk of an IPO in Hong Kong later this year for Hozon, and its series D funding round in February drew 2 billion yuan from state-owned venture capital firm Shenzhen Capital Group and giant rolling stock manufacturer CRRC.
According to auto news portal China EV Guild, SoftBank, Abu Dhabi Investment Authority and Singapore's Government Investment Corp were also interested in stakes but talks with Hozon failed to conclude in time. The firm has secured financing lines worth 5 billion and 2 billion yuan each from CITIC Bank and Bank of Shanghai.
Zhao estimates total funding since 2017 at 13 billion yuan.
Morgan Stanley, CITIC Securities and China International Capital Corp are tipped to be sponsors for Hozon's Hong Kong IPO, likely in the second half, the state-backed Economic Daily reported last month. The paper added that Hozon was targeting pre-IPO fundraising of $500 million, driving overall valuation past $7 billion.
•By Frank Chen
 
ALSO ON AF: