(ATF) China National Petroleum Corporation (CNPC) expects to ramp up its domestic energy production to offset increases in consumption as the state-run behemoth said its Changqing oil and gas field, the country's largest, will set new record high production levels in 2020.
As of December 27, the field had produced 24.5 million tonnes of crude oil and 44.5 billion cubic metres (bcm) of natural gas, which is equivalent to about 35.5 million tonnes of crude oil. It's the first oilfield in China to pass the 60 million-tonne-mark in annual oil and gas output – no small feat given that the field has been in production since 1975.
The field provides gas to more than 50 cities and provinces in north and northwest China, including Shaanxi, Gansu, Shanxi, and the Ningxia Hui and Inner Mongolia autonomous regions. Northern China, for its part, sees the country's highest gas demand during cold winter months.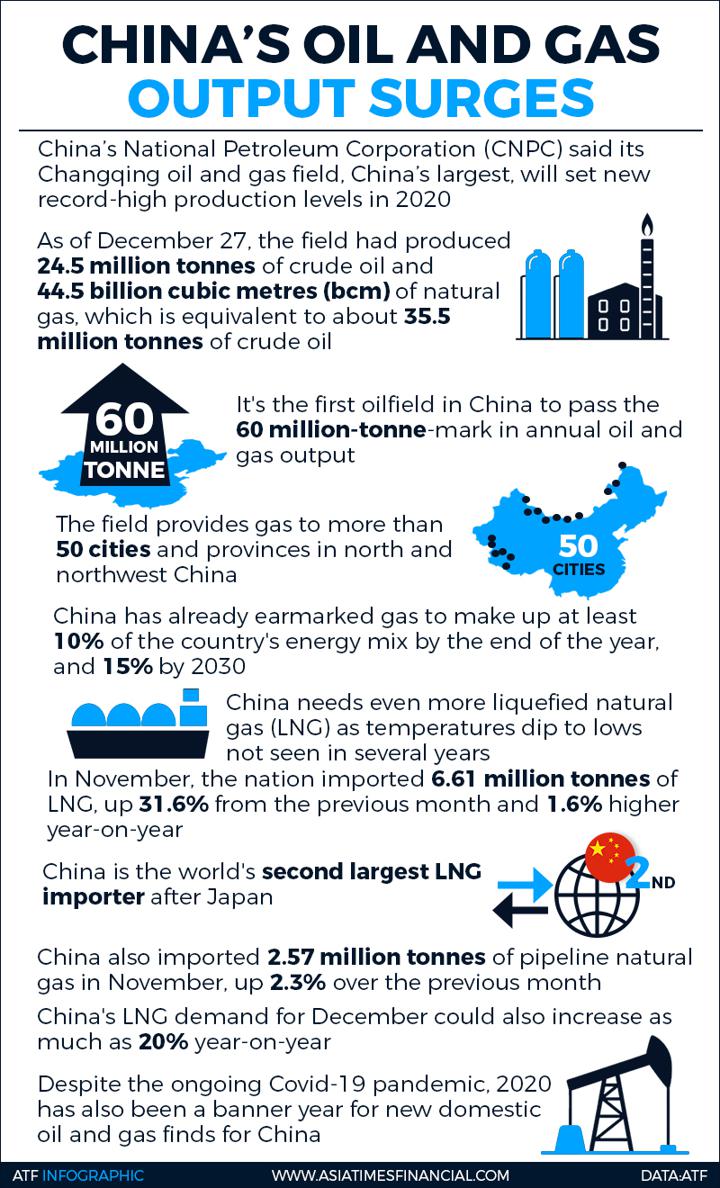 The Changqing field is also helping take pressure off of other fuel sources, including dirtier burning coal, needed for both industrial usage and home heating. Wu Zheng, manager of Changqing's gas development division, said that the field has so far produced 468.6 bcm of gas, the equivalent of replacing 562 million tonnes of coal, thereby reducing carbon emissions by 1.53 billion tonnes.
Changing mix
China has already earmarked that gas make up at least 10% of the country's energy mix by the end of the year, and 15% by 2030, with earmarks set after that.
The quandary for China is that its coal usage makes up more than 60% of the country's electricity mix, followed by hydropower, wind, solar, gas and nuclear, according to the US Energy Information Administration's most recent analysis of China's energy sector.
However, given Chinese President Xi Jinping's pledge in September that China would become carbon neutral before 2060, the country needs to slow the growth of new coal plants recently approved earlier this year to help numerous provincial governments overcome economic headwinds from the Covid-19 pandemic.
Beijing also needs an enhanced policy program to close more thermal coal-fired power plants. With the closure of more coal fired plants, a recent slowdown in coal to gas switching can be reversed.
Winter gas crunch
So far this winter, China needs even more liquefied natural gas (LNG) as temperatures dip to lows not seen in several years, stoking increased demand from both residential and industrial end-users.
Colder temperatures and increased industrial demand due to China's early success at containing the coronavirus is also causing electricity shortages in several parts of the country, sending local energy planners looking for answers, including more coal and LNG usage.
In November, China imported 6.61 million tonnes of LNG, up 31.6% from the previous month and 1.6% higher year-on-year. China is the world's second largest LNG importer after Japan, bypassing South Korea in 2017 for the second top slot and poised to bypass legacy importer Japan around 2022 or 2023. China also imported 2.57 million tonnes of pipeline natural gas in November, up 2.3% over the previous month, but down 13% on the year, according to customs data released this month.
China's LNG demand for December could also increase as much as 20% year-on-year, also from colder temperatures and more industrial demand, trade sources said. In fiscal year 2020-21, China will be the only G20 country to recover from the coronavirus by posting economic growth, and could also report an economic expansion of 7.9% in the following year, a World Bank report said last week.
Sharper focus
Both reserves and output growth in China hit a record high in 2019, with investment in oil and gas exploration reaching US$49.6 billion, up 25.7 % year-on-year. Despite the ongoing Covid-19 pandemic, 2020 has also been a banner year for new domestic oil and gas finds.
PetroChina, CNPC's listed arm, and Asia's largest oil and gas producer, this month struck a large natural gas discovery in the Xinjiang region with an initial estimated reserve more than 100 bcm, according to a report by state news agency Xinhua. A similar-sized discovery was found at the country's Tarim basin in September last year.
In June, state-run China National Offshore Oil Corporation made what it claimed to be a significant oil and gas discovery of Huizhou 26-6 in the Eastern South China Sea. The company said the field is the first mid-to-large sized condensate oil and gas field in the shallow water area of the Pearl River delta.