(ATF) Qualcomm has launched its latest 5G flagship mobile platform chip, the "Snapdragon 888", which was officially unveiled at the 2020 Snapdragon Technology Summit this week. The new chip has been met with great acclaim by Chinese phone brands, except Huawei, which is not permitted to use it.
As Qualcomm's most powerful 5G mobile-phone chip, the Snapdragon 888 is being made by Samsung Electronics for generally high-end Android smartphones. It uses the latest 5-nanometer process technology and an eight-core design, which integrates Qualcomm's third-generation 5G modem and radio frequency system.
This is the reportedly the first time that Samsung has made Qualcomm's top chip on a 5nm process for smartphones. Apple's iPhones also have a 5nm chip but they are thought to be made by TSMC, the leading Taiwanese conglomerate.
Qualcomm skipped its usual chip naming process (which would have made it 875) to go straight to 888, which is a Chinese lucky number, thought to bring happiness, wealth and other benefits. This appears to have been a brilliant marketing ploy, because Chinese phone makers seem delighted and are queuing up for the powerful chip.
At the same time the Snapdragon 888 was unveiled, Qualcomm also announced that many manufacturers – Xiaomi, OPPO, vivo, OnePlus, Realme, Lenovo, Motorola, ZTE, Asus, Black Shark, Meizu, LG, Nubia, Sharp, and others – are all are developing smart phones based on the Snapdragon 888.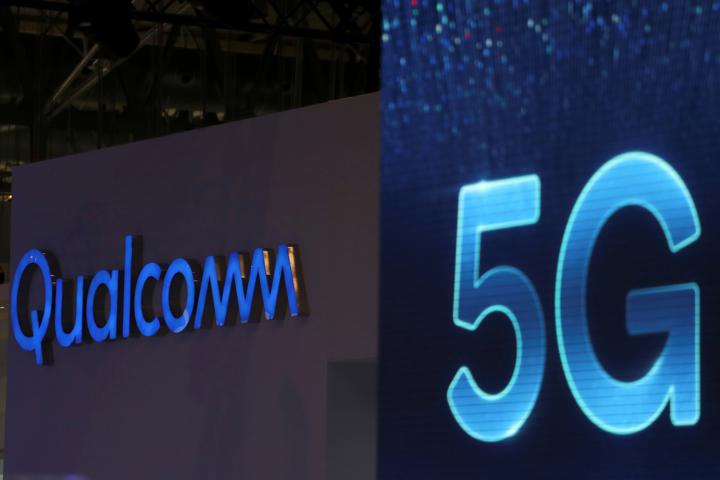 Qualcomm and 5G logos are seen at the Mobile World Congress in Barcelona in February 2019. Photo: Sergio Perez/ Reuters.
Xiaomi boss 'very happy'
Lei Jun, the founder, chairman and CEO of Xiaomi Group, announced on Weibo that the Xiaomi 11 will be the world's first to use theSnapdragon 888 processor.
"Snapdragon 888 is Qualcomm's most powerful mobile platform ever. In addition to industry-leading 5G connectivity, it also brings breakthroughs and innovations in AI, games and cameras. I'm very happy our new flagship smartphone Mi 11 will be one of the first devices equipped with the Snapdragon 888. This is another cutting-edge product of ours, which will be equipped with various hard-core technologies," Lei Jun said.
Wu Qiang, vice-president of OPPO and president of the group's global sales, also announced: "OPPO will launch the first batch of flagship smartphones equipped with Snapdragon 888 in the first quarter of 2021. We are extremely looking forward to this. We believe that the next generation of Find X series will be used by global users. Bringing an unparalleled new experience."
Hu Baishan, executive vice president and chief operating officer of vivo, told China Economic Weekly: "The vivo brand and the iQOO brand will soon launch mobile phones equipped with the new Qualcomm Snapdragon 888 5G mobile platform. With the support of the new Snapdragon 888, vivo and iQOO's flagship will bring consumers better image and camera capabilities, a more powerful gaming experience, as well as high-speed 5G connections and more intelligent functions."
And Li Bingzhong, founder and CEO of realme, said: "Realme will launch flagship 5G products equipped with the Qualcomm Snapdragon 888 mobile platform as soon as possible. With powerful performance and top 5G capabilities, Snapdragon 888 has become a powerful engine for the new flagship. It also provides more imagination for product development."
China's tech giant Huawei has been blocked from having its Kirin chips produced because of restrictions imposed by the Trump administration. But Qualcomm, which is based in California, got permission recently to sell its 4G chips to Huawei instead. 
These, however, don't compare to the Snapdragon 888, which has a 5G modem built into the chip. How long the US ban will stay in place is a matter of speculation, as it is still not known what stance the incoming Biden administration will take in regard to Huawei.
Enhanced photo capacity
Other features that led to the warm reception for the Snapdragon 888 include Qualcomm's first integrated flagship 5G SoC, the performance of the chip's AI engine, GPU, and its ISP image processor, all of which have been greatly improved.
It has a sixth-generation Qualcomm AI engine integrated on the chip, and a newly designed Qualcomm Hexagon processor, which can do an amazing 26 trillion operations per second (26 TOPS).
According to Qualcomm, in terms of computational photography, the Spectra ISP of Snapdragon 888 supports a faster billion-pixel-level processing speed. Users can take photos and videos at a speed of 2.7 billion pixels per second – that is, 120 frames per second and each frame is 1200 megapixels, while the processing speed is up to 35% higher than the previous generation platform.
In terms of games, Snapdragon 888 integrates the third-generation Snapdragon Elite Gaming function. Qualcomm claims that it has brought the most significant performance improvement ever made by a Qualcomm Adreno GPU.
So, the 888 may a clever marketing ploy that brings considerable wealth to the US chip designer, as well as the companies that use it.
ALSO SEE: