(ATF) Bonds of China's state-owned enterprises (SOEs) and financial companies dropped on Wednesday as data showed commercial banks' profits had been depressed in the first half by the coronavirus lockdown.
The benchmark ATF China Bond 50 Index was little changed as investors weighed the significance of recent central bank actions and what they might mean for further monetary easing. Returns on the bonds of Shenzhen Energy Group fell on concern a plan to sell bonds to plug a shortfall in subsidy payments would not be enough. China Everbright debt slid after its unit Everbright Water reported a slump in first-half profit.
The ATF ALLINDEX Financials gauge fell for a third day, declining 0.05%. The Corporates index also dropped for a third consecutive session, losing 0.04%. The ATF CB50 retreated 0.01%, while the ALLINDEX Local Governments measure lost 0.01% and Corporates were flat.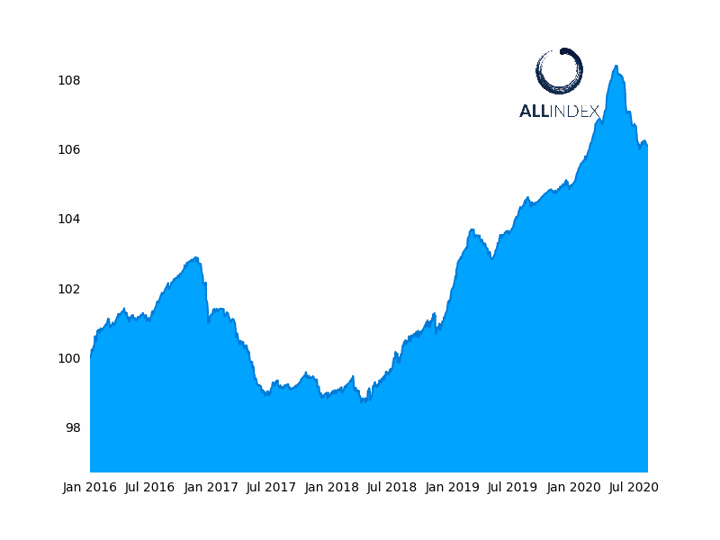 The ATF China Bond 50 Index was little changed
Bonds on the ATF CB50 have fallen to January levels from record highs in the spring, when the central bank increased debt sales to stimulate the coronavirus-shattered economy. A slowdown in issuance and stimulus purchases in early summer prompted a selloff that was exacerbated by surging Chinese equities, which proved a stronger lure than China's relatively high-yield bonds.
Investors are watching the central bank after the People's Bank of China (PBoC) governor Yi Gang said policymakers would in future direct stimulus towards projects that benefit smaller businesses. Earlier bond issues tended to be snapped up by banks, repackaged and sold on at better rates to help bolster their own balance sheets instead of the real economy. 
A 3.75 trillion yuan package of special bond sales is expected to benefit local municipalities who will be charged with identifying and managing suitable reconstruction projects. But signs that the PBoC had begun buying debt in a form of quantitative easing raised the prospect that it might lower its dovish approach. 
FOREX COMMENT: "I see no convincing evidence anywhere that vast US virus containment and economic underperformance is going to be over any time soon." Uwe Parpart
Hua Xia Bank and Xiamen International Bank were the biggest losers on the Financials index. The China Banking and Insurance Regulatory Commission said commercial banks achieved a cumulative net profit of one trillion yuan in the first six months of 2020, a year-on-year decline of 9.4%.
Shenzhen Energy Group helped drag down the Enterprise gauge. The PBoC, Ministry of Finance and National Development and Reform Commission said power distributors would be required to sell 140bn yuan of bonds to fund backdated payments of subsidies to renewables generators. With more than 300bn yuan of subsidies still outstanding, it is unlikely the bond sales will close the gap.