(ATF) China's corporate bonds plummeted Wednesday on growing concern that Chinese private credits pose greater risks to investors following a garment firm's double default.
Financial bonds also slid as investors withdrew from the nation's credit markets amid a bribery and fraud scandal at one of the domestic credit ratings agencies.  
The benchmark ATF China Bond 50 Index slid 0.09%, the steepest drop in two months. Declines were led by the Corporates sub-index, which fell 0.08% for the second time in two weeks.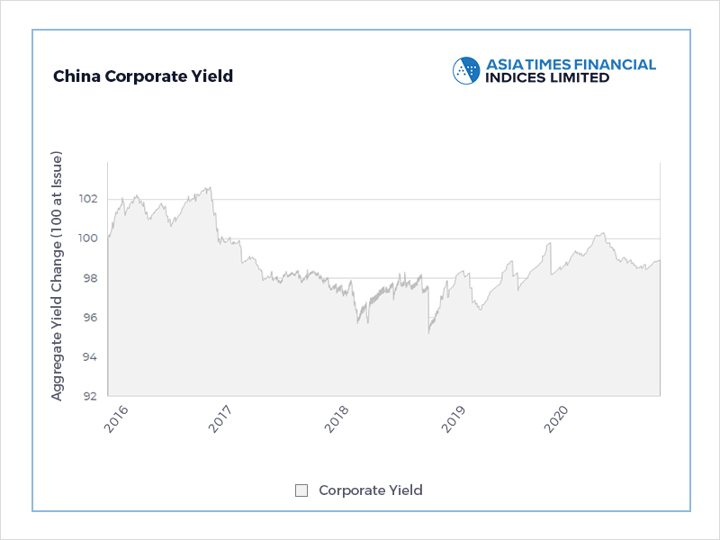 Apparel company Shandong Ruyi Technology Group failed to pay back investors on a $153m bond on Monday and another Wednesday. The company is behind The Lycra Company and Gieves & Hawkes.
It's the latest Chinese firm to default on its bond payments in 2020, which has seen more than 100 billion yuan of non-payments for the third consecutive year. 
State-owned enterprises have been particularly vulnerable and a slew of defaults earlier this year sparked a selloff in the sector amid concern the contagion would spread to other parts of the economy. 
The string of payment failures has raised questions about China's domestic ratings agencies. Earlier in the week the China Securities Regulatory Commission suspended the licence of Golden Credit Rating and forbid it from taking on new business for three months, accusing it of taking "massive" bribes.
The move sent a chill through the ratings industry and led to speculation that the profiles of the most indebted issuers, especially highly leveraged local governments, would be weakened by any further action.
That concern has now spread to financials, which were already reeling after a central bank liquidity injection sparked worries that China's financial institutions will be unable to finance the economy's continued growth. The Financials sub-index slid 0.05% for the second time this week, taking its three-day drop to 0.09%.