Shares of India's Adani Group companies fell sharply on Friday as investor sentiment continued to worsen in the aftermath of a damning research report by US short-seller Hindenburg.
Shares of flagship company, Adani Enterprises, plunged 35% to their lowest level since March 2021 in early trade. That was after S&P Dow Jones Indices said it would drop the stock from its widely used sustainability indices on February 7.
While shares of Adani Enterprises ended 2.19% down at the close of market trading (10am GMT), ripples of the ongoing market rout disrupted Indian parliament for a second day.
"We want a joint parliamentary committee (to investigate)," some politicians shouted in parliament on Friday. "Stop looting the poor."
Lawmakers have called for a wider investigation of the matter, and sources told Reuters the central bank has asked lenders for details of exposure to the group.
Seven listed Adani companies have lost more than half their market capitalisation in a week, shrivelling to less than $100 billion, versus $218 billion before the Hindenburg report.
Today's low in share prices of Adani Enterprises took its losses to nearly $33.6 billion since last week, marking a decline of 70%.
The market rout in the conglomerate's companies started last week after the Hindenburg Research report raised questions about the its 'precarious' debt levels and 'improper' use of tax havens. Adani has called the Hindenburg report baseless and said its financials remain strong, but investor sentiment has withered.
Sentiment was jolted further after the group shelved its fully-subscribed $2.5-billion share sale on Wednesday.
Chairman @gautam_adani's address to investors after withdrawal of the fully subscribed AEL FPO#GrowthWithGoodness #NationBuilding #AdaniGroup pic.twitter.com/f9yaYrxCzx

— Adani Group (@AdaniOnline) February 2, 2023
The Hindenburg fallout is one of the biggest setbacks for billionaire Gautam Adani, an associate of Prime Minister Narendra Modi, whose fortunes have risen rapidly in recent years.
Adani, 60, in recent years forged partnerships with, and attracted investment from, foreign giants as he pursued global expansion in industries from ports to power.
However, the Indian tycoon has ceded the crown of Asia's richest person to Indian rival Mukesh Ambani of Reliance Industries. He has slid to the 17th spot, down from the 3rd place he held before the Hindenburg report, in Forbes' ranking of the world's wealthiest people.
Adani contagion fears
The sharp market sell-off has also fanned fears of systemic risk stemming from exposure to Adani companies.
"Contagion concerns are widening, but still limited to the banking sector," said Charu Chanana, a market strategist with Saxo Markets in Singapore. "The focus remains on further risks of index exclusions."
Market experts say the exclusion of Adani Enterprises from Dow Jones's sustainability index would blunt its appeal for environment-conscious investors.
"One of the big risk factors to watch for now is if more indices remove Adani stocks," said Chanana. "This can result in foreign outflows as funds sell Adani stocks, further aggravating confidence issues."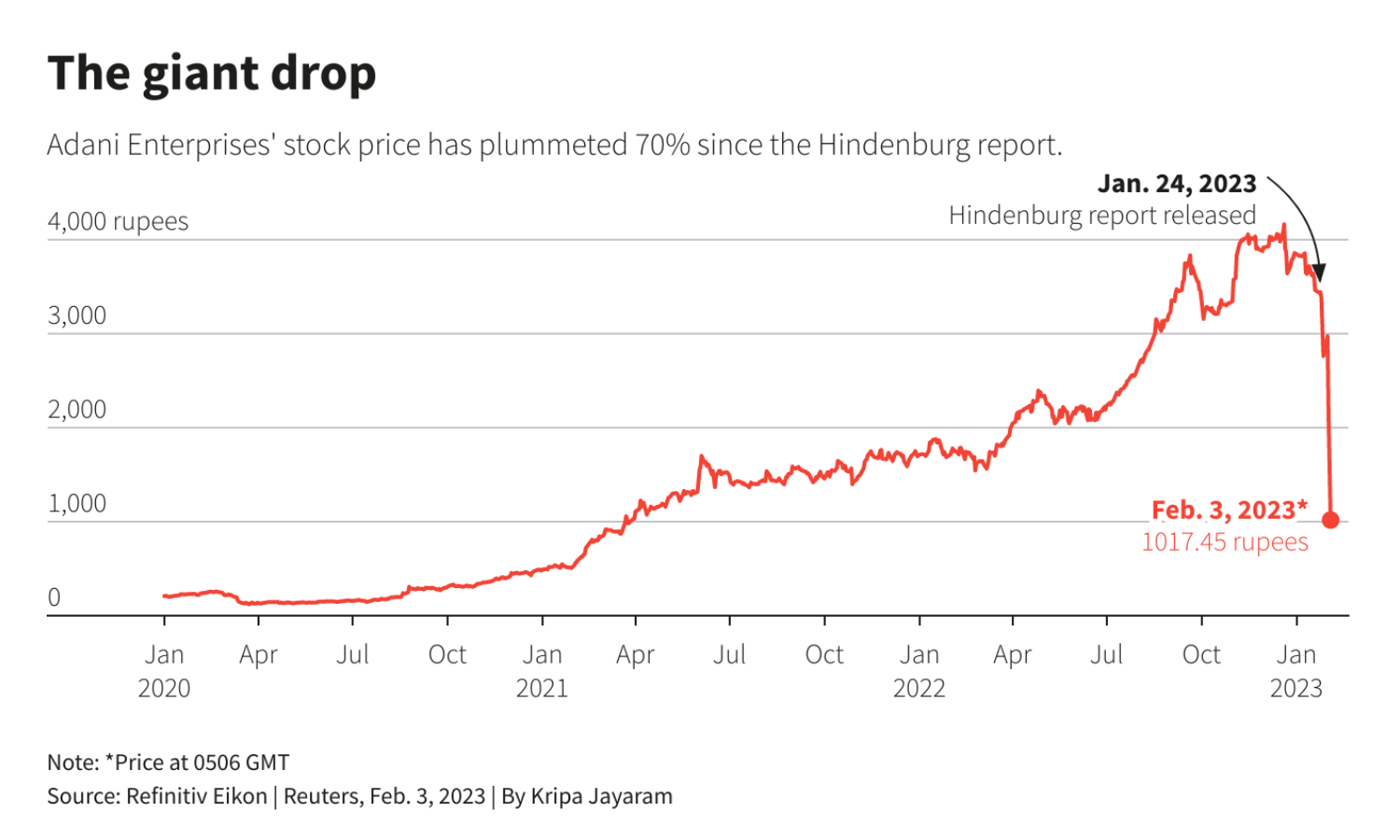 Foreign investors cut exposure
Foreign investors, many already underweight on India as they consider its stock market overpriced, are reducing exposure. Adani's wipeout could spread if it triggers a bigger mood shift.
Credit ratings agency Moody's warned on Friday that the recent sell-off in Adani group's shares after a short-seller's report could reduce the Indian conglomerate's ability to raise capital. However, its peer Fitch saw no immediate impact on its ratings.
Meanwhile, some of India's leading public sector banks said last week their exposure to the Adani Group was within the limits prescribed by the central bank.
India's National Stock Exchange (NSE) put Adani Enterprises and Adani Ports under an additional surveillance measure (ASM) framework on Thursday. The move is aimed at protecting investors "from market volatility," the Indian Express reported.
Hindenburg in its report said shares in seven Adani listed firms have an 85% downside due to what it called sky-high valuations. It also alleged stock manipulation.
Sources at India's capital markets regulator said last week it was studying the Hindenburg report as it may help its own probe into offshore fund holdings of Adani Group.
Reuters, with additional editing by Vishakha Saxena
Also read: