(ATF) Losses from the energy, utilities and industrial sector weighed on the China Bond 50 index on Thursday, and dragged down the ATF ALLINDEX Corporates and Enterprise indices.
The flagship index retreated 0.01, closing the day at 106.06, while the ATF sub-gauges retreated 0.18% and 0.02%. The ATF Local Governments index closed positive, inching up 0.01%, while the ATF ALLINDEX Financial lost 0.01%.
The ATF ALLINDEX Local Governments recorded no significant moves.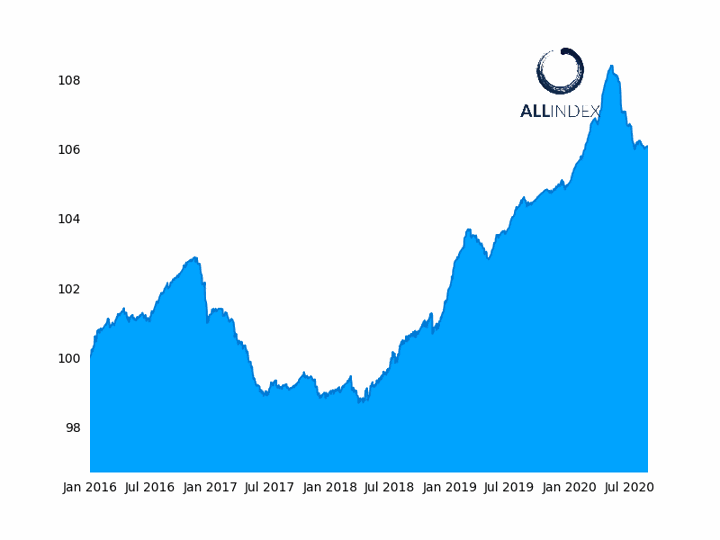 The China Bond 50 Index fell 0.01% 
Zhejiang Provincial Energy, Petrochina and Xi'An Hi-tech recorded losses of 0.44%, 0.41% and 0.18% respectively, pulling down the flagship China Bond 50 index.
Losses were seen in the bonds of Shaanxi Coal and Chemical (-0.49%), a constituent of both the ATF ALLINDEX Corporates and Enterprise,  while a coupon payment by Wuxi Construction further further weighed on the ATF ALLINDEX Corporates, causing its bonds to drop 4.65%.
The ATF ALLINDEX Enterprise recorded losses in the bonds of Petrochina (-0.41%) and Xi'An Hi-tech (-0.18%), which are also a constituent of this index, and retreats in the paper of Qingdao City Construction (-0.15%), and Zijin Mining Group (-0.12%).
Meanwhile, the financial sector posted gains from Shanghai Pudong Development Bank (0.19%) and China Minsheng Banking (0.2%) in the ATF ALLINDEX Financial. Within the China Bond 50, China Development Bank climbed 0.14% and the Export-Import Bank of China retreated 0.07%. Shanghai Pudong Development is also a constituent of this index.
On Thursday, the National Bureau of Statistics announced that profits at China's industrial firms grew for the third consecutive month, rising 19.6% year-on-year to 589.5 billion yuan ($85bn) . However, industrial output growth was slower than expected with analysts citing floods and torrential rain as the reason for dampened activity and demand for electricity, according to Reuters.
Industrial profits fell 8.1% in the January-July period, an improvement on the 12.8% drop in the first six months of the year. 
The mining and raw materials industries posted the largest profit declines. Cash flow pressures are high, according to Zhu Hong, an official at the statistics bureau, who cautioned a degree of uncertainty around future profit growth due to a complex and severe environment at home and abroad.