The worst China power shortages in decades hit many parts of the country as energy demand surged amid a post-pandemic recovery, and as coal supply shortages hit under Beijing's emissions-reduction campaign.
In Zhejiang province, 161 textile and dyeing businesses were ordered to immediately halt production on September 21, 2021, until the end of the month.
On September 30, local authorities in Liaoning province warned of the risks of temporary power cuts as State Grid projected a maximum power shortage of 5.39 million kilowatts, or 15% of the province's demand during the 2020 winter peak. 
The power crunch disrupted manufacturing of all kinds of products from textiles and toys to machine parts and construction materials in the world's second-largest economy, raising global supply chain risks and inflationary pressures that rippled through the rest of the world.
The China export boom, a shortfall in coal supplies, and local government efforts to reduce carbon emissions all contributed to the wave of electricity cuts.
Several leading economists expected China's economic growth to slow in the following months as power shortages hit industrial output and Beijing's zero-Covid strategy and property sector curbs further reduced activity.
Nomura revised down its China growth forecast for the fourth quarter to 3.0% from 4.4% while Oxford Economics cut its quarterly growth forecast to 3.6% from 5%.
Beijing scrambled to ease the national power crunch by raising its coal output quota, lifting the ceiling on coal-fired power prices, and expediting coal imports from Russia, Indonesia and Mongolia. 
The National Development and Reform Commission, China's top economic planner, looked for ways to intervene in the record high coal prices.

China also turned to Australian coal to combat the power shortages despite an unofficial import ban on the fuel for nearly a year.
However, floods in Shanxi province, which accounts for about 30% of China's coal output, added to supply challenges. 
The demand for fuel eased in October in Guangdong province, southern China's export hub, as air-conditioning usage decreased.
What Were The Reasons Behind The China Energy Crisis?
The key reasons behind the China power shortages were an export boom, coal supply shortages, and government efforts to curtail emissions. And, as 'green China' transforms to non-fossil-fuel power generation, power grids faced challenges dealing with the wildly uneven supply of power from renewable sources.
1 China Export Boom
As China's Covid-19 containment was relatively more effective in 2021, the nation assumed manufacturing orders from other countries that were still in pandemic shutdowns. Spending on goods also rose when lockdowns stifled activities such as travel and dining out.
"China's manufacturing sector is booming – exports to the US are nearly two thirds higher than they were before the pandemic. The power network is struggling to keep up," Mark Williams, chief Asia economist of Capital Economics, told Asia Financial.
Electricity consumption in industry was substantially higher in both August and September than a year before, he observed.
China's total export value in the first three quarters of 2021 grew by 33% year-over-year to $2.4 trillion, according to data from the General Administration of Customs. The figure in September reached $305.7 billion, up 28.1% from a year earlier and exceeding analyst expectations.
2 China Coal Supply Shortages and the Power Crisis
While demand surged, coal stations in China were struggling to keep up amid declining coal supplies and rising prices. Coal-fired power generation accounts for nearly 70% of China's electricity, according to first-half data from the National Bureau of Statistics.
Although China has ample reserves, efforts to curb industrial overcapacity, improve safety, and reduce emissions have slashed its coal output since 2016. 
Coal prices skyrocketed amid the widening gap between supply and demand. The most-traded thermal coal futures contract on the Zhengzhou Commodity Exchange more than doubled over the nine months up until the crisis. 
3 Government Efforts To Curtail Emissions
As Beijing aims for carbon emissions to peak by 2030, local authorities must meet specific goals to reduce power consumption. Some provinces that have missed their targets in 2021 – such as Jiangsu and Zhejiang – resorted to aggressive measures such as ordering production halts, and some, such as Liaoning and Jilin, even imposed power rationing on residents.
Beijing set goals in its 14th Five-Year Plan to reduce national energy consumption per unit of gross domestic product by 13.5% and carbon emissions by 18% by 2025, from 2020 levels. 
Lu Ting, Nomura's chief China economist, said Beijing would "undoubtedly" order the suspension of many polluting factories in north China to ensure blue skies for the Winter Olympic Games in February 2022. It issued similar edicts before and during the summer Beijing Olympic Games in 2008.
4 China Renewable Energy Limitations
Although China had stepped up its expansion of renewable energy supplies, non-fossil-fuel power generation such as hydroelectricity and nuclear power is prone to the weather.
The previous winter, Hunan province suffered a power blackout because 45% of electricity produced in the region was from hydropower plants – but the water levels had dropped.
"Europe has been a world leader in the transformation to green energy. However, in a year of pandemic and frequent natural disasters, risks of Europe's transformation were exposed. While storage technologies are not yet mature, renewable power generation could not provide the reliability needed in the case of a natural disaster," Ming Ming from CITIC Securities said.
Non-fossil-fuel power generation was set to account for 47.3% of China's installed power capacity by the end of 2021, surpassing that of coal-fired power generation for the first time, according to China Electricity Council.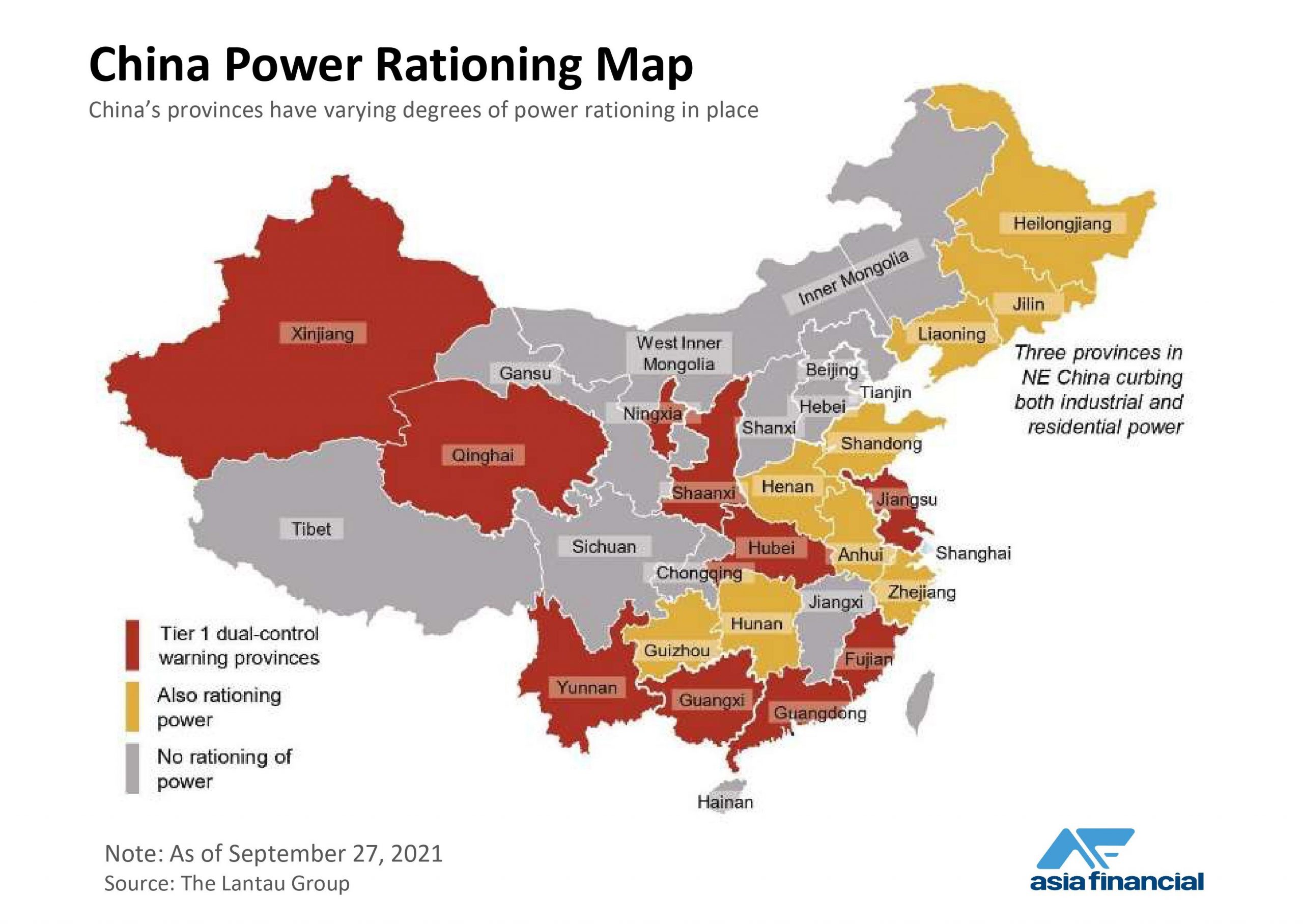 Which regions have suffered in the China energy crisis?
The affected regions included Liaoning and Jilin provinces in northeastern China, Jiangsu and Zhejiang provinces in southeastern China, Guangdong province in southern China, and Hunan province in central China, according to reports by state-owned Xinhua news agency and the business magazine Caixin.
Liaoning, Jilin, Jiangsu, and Hunan are industrial hubs, while Zhejiang is China's largest textile-producing province. Guangdong is an export hub that manufactures all kinds of products from clothing to appliances. 
Also, Hebei, Shandong and Inner Mongolia, which did not miss targets but are known for being highly energy intensive, were expected to face severe restrictions as the Winter Olympic Games approached, Lu from Nomura said.
What Sectors Were Most Impacted by the China Energy Crisis?
Sectors directly impacted by power shortages included mining, chemicals, steel, non-ferrous metals and non-metallic building materials, Lu Shengbin, a researcher from Suning Institute of Finance, said in a note.
The impacts spread downstream to include product manufacturing, textiles and construction, he added.
What Were The Economic Consequences?
Morningstar saw the power cuts in China as a short-term hindrance with largely limited impact, but some economists expected a more severe impact.
Supply shocks caused by the power crunch would likely push raw material prices to soar, which would squeeze the profit margins of downstream companies and depress demand, Lu from Nomura said. 
This would add to other demand shocks such as property sector curbs, Covid-related disruptions, and slowing export growth, he noted.
To stabilise growth, Beijing would step up easing measures, speed up construction of infrastructure projects and encourage investment in hard-tech and alternative sectors, according to Lu. "But we believe these measures will fall far short of what is required to deliver stable growth," he said.
What Measures Were Taken To Ease The Power Crisis?
Beijing scrambled to ease the national power crunch by raising the coal output quota, lifting the ceiling on coal-fired power prices, and expediting coal imports.
An official from China's National Mine Safety Administration said China increased coal output by 220 million tonnes per year, or 55 million tonnes in Q4, to ease supply shortages.
The 220 million tonnes of the new annual quota was equivalent to about 5.7% of China's annual coal output in 2020.
On October 8, the Chinese cabinet decided to raise the ceiling on coal-fired power prices up 10 percentage points to 20%. Moreover, prices for high energy consumption industries would be set by the market and exempted from the price ceiling.
Li Xiang, chief environmental analyst of CITIC Securities, said the move would help coal-fired power companies pass on fuel costs downstream and improve their profit margins.
Jilin's provincial government said in September it would secure a long-term coal supply contract with Inner Mongolia and promote coal imports from Russia, Indonesia and Mongolia.
How Long Did The China Energy Crisis Last?
China's state-owned Xinhua news agency shrugged off the power crunch, calling it a "blip" in an editorial published on October 1.
"As decisive and prompt moves show effect gradually, the power crunch would be short-lived. The implications of the power shortage to the economy will be reduced to the minimum," the editorial said.
However, analysts were not as optimistic. "While the energy crunch could ease slightly in October due to a seasonal decline in demand and the new power pricing scheme, the floods in Shanxi represent yet another challenge. The power crunch could also return in winter, as power demand rises again," Lu from Nomura said.
Read more:
China Coal Prices Surge to Record Again Despite Policy Shift
China Calls For Huge Boost in Coal Output to Fight Power Crunch