Many countries – notably emerging markets and developing economies – could sink into recession this year, the World Bank has warned in its latest report.
Rate hikes by central banks, plus Russia's war in Ukraine were causing a major economic slowdown, the global financial body said on Tuesday (US time), when it slashed its 2023 growth forecasts.
The development lender expects global GDP growth of 1.7% in 2023, the slowest pace outside the 2009 and 2020 recessions since 1993. In its previous Global Economic Prospects report in June 2022, the bank had forecast 2023 global growth at 3%.
It forecast global growth in 2024 to pick up to 2.7% – below the 2.9% estimate for 2022 – and said average growth for the 2020-2024 period would be under 2% – the slowest five-year pace since 1960.
ALSO SEE: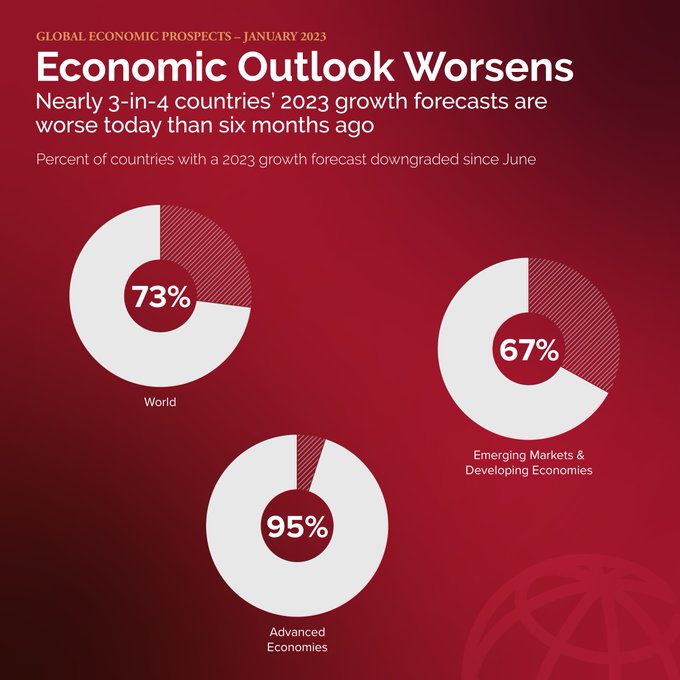 'Fragile economic conditions'
The bank said major slowdowns in advanced economies, including sharp cuts to its forecast to 0.5% for both the United States and the euro zone, could foreshadow a new global recession less than three years after the last one.
"Given fragile economic conditions, any new adverse development – such as higher-than-expected inflation, abrupt rises in interest rates to contain it, a resurgence of the Covid-19 pandemic or escalating geopolitical tensions – could push the global economy into recession," the bank said in a statement accompanying the report.
The bleak outlook will be especially hard on emerging market and developing economies, the World Bank said, as they struggle with heavy debt burdens, weak currencies and income growth, and slowing business investment that is now forecast at a 3.5% annual growth rate over the next two years – less than half the pace of the past two decades.
"Weakness in growth and business investment will compound the already devastating reversals in education, health, poverty and infrastructure and the increasing demands from climate change," World Bank President David Malpass said in a statement.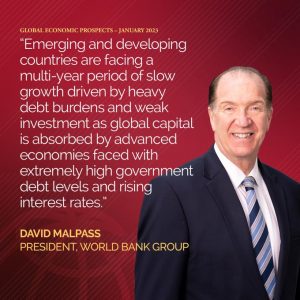 China growth slowest since 1970s
China's growth in 2022 slumped to 2.7%, its second slowest pace since the mid-1970s after 2020, as zero-Covid restrictions, property market turmoil and drought hit consumption, production and investment, the World Bank report said.
It predicted a rebound to 4.3% for 2023, but that is 0.9 percentage-point below the June forecast due to the severity of Covid disruptions and weakening external demand.
The World Bank noted that some inflationary pressures started to abate as 2022 drew to a close, with lower energy and commodity prices, but warned that risks of new supply disruptions were high, and elevated core inflation may persist.
This could cause central banks to respond by raising policy rates by more than currently expected, worsening the global slowdown, it added.
Bank to revamp business model
The bank called for increased support from the international community to help low-income countries deal with food and energy shocks, people displaced by conflicts, and a growing risk of debt crises.
It said new concessional financing and grants are needed along with the leveraging of private capital and domestic resources to help boost investment in climate adaptation, human capital and health, the report said.
The report comes as the World Bank's board this week is expected to consider a new "evolution road map" for the institution to vastly expand its lending capacity to address climate change and other global crises.
The plan will guide negotiations with shareholders, led by the United States, for the biggest revamp in the bank's business model since its creation at the end of World War Two.
Reuters with additional editing by Jim Pollard
ALSO SEE: