With its smartphone business hit hard by a US-led campaign, the Chinese tech giant is pivoting to other devices running on Wi-Fi to get around the sanctions related to chips for 5G equipment
(AF) Chinese tech giant Huawei launched its homegrown mobile operating system on Wednesday, in a response to the US blocking it from using Google's Android.
The company said its new HarmonyOS system is packed with special features and capitalises on growing demand to seamlessly link devices – known as the Internet of Things (IoT).
But analysts said Huawei faces an uphill climb getting enough app developers to devise software and content to keep consumers buying the company's phones in a world dominated by Android and Apple's iOS.
"Huawei will be hoping that it can follow Apple's lead, by having a single software platform that extends in all directions, providing a seamless experience to customers that buy into its ecosystem of products," Ben Wood, chief analyst at CCS Insight, said.
Experts who have analysed HarmonyOS said it is based on elements of the Android Open Source Project, the source code that makes up Android and which Huawei and other companies remain free to use.
However, a spokesperson from Huawei told Asia Financial that the source codes of the HarmonyOS are completely different from those of the Android operating system, stressing that "not even one line is the same."
"The HarmonyOS is based on the OpenHarmony Project managed by the OpenAtom Foundation, not the Android Open Source Project," the spokesperson said. The OpenHarmony Project is an open source community set up by Huawei and six other companies, and now has over 240 contributors, he added.
The company unveiled the first mobile devices pre-loaded with the system in an online launch.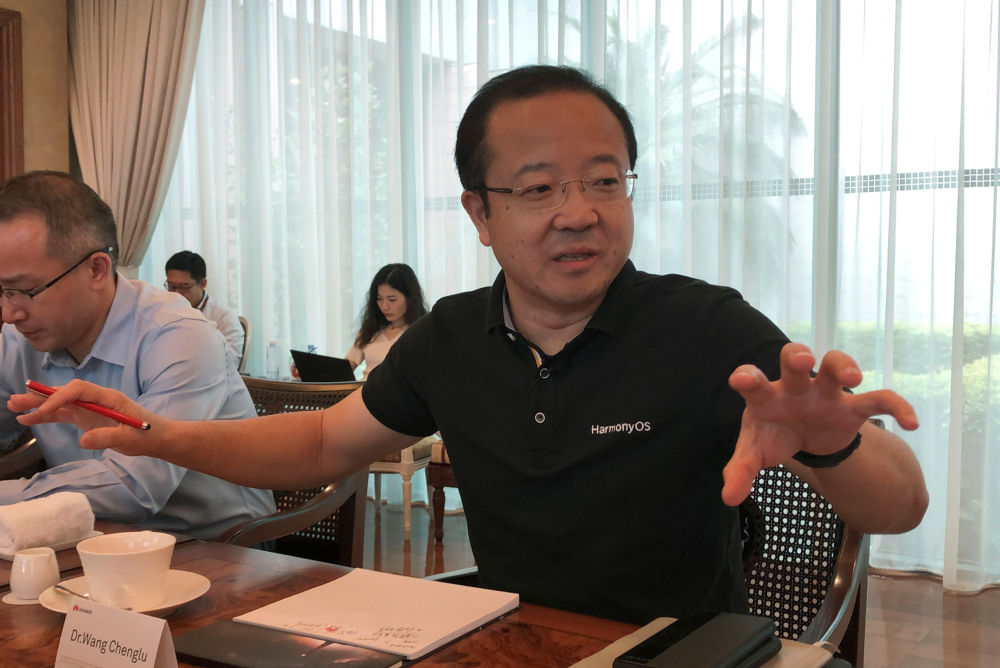 Huawei first unveiled the HarmonyOS in August 2019, and is now extending it to smartphones.
The company is aiming to have HarmonyOS rolled out on 200 million smartphones and 100 million third-party smart devices by the year-end, said Wang Chenglu, president of Huawei Consumer Business Group's software department, who has led Huawei's efforts to develop HarmonyOS since 2016.
China's leading telecommunications equipment maker was placed on a US trade blacklist by former US president Donald Trump in May 2019 due to national security concerns. Huawei has repeatedly denied it is a risk
Wang said the OS will see Huawei get ahead of the curve as IoT development accelerates, spurred by new technologies like intelligent vehicles and the coming advent of super-fast 5G connections.
"With HarmonyOS, we weren't going to just produce another Android or iOS. It would be the same and have no consumer value," Wang told reporters ahead of the launch. "Our special features are what Android and iOS lack."
ACCESS TO FILES
HarmonyOS smartphone users will, for example, be able to access files, documents and other content on everything from computers to wearables and other linked devices, Wang said.
But Wang said the company was looking beyond smartphones with HarmonyOS. He said the smartphone market had plateaued and that smartphones remain the dominant device in people's lives largely because most developers have few other platforms to develop for.
HarmonyOS would provide more points for developers to connect with consumers, and would allow apps to use more hardware resources, the company said in a statement.
"The problem with existing operating systems is that devices can't be connected easily," with users often having to download separate apps to get things to connect, Wang said.
"But Harmony can enable devices to be connected to form a super device. It will work as one file system, literally one device," Wang said.
For example, a sports and health app running on HarmonyOS can use the capabilities of a mobile phone, a watch, and a treadmill.
BIG OPPORTUNITIES
Wang said he would welcome other smartphone makers adopting HarmonyOS, but added that Huawei sees big opportunities in working with makers of non-smartphone devices.
Will Wong, an analyst at IDC, said it was not essential for Huawei that other smartphone makers adopt HarmonyOS.
"But for Huawei to achieve its ambition, it will be important to get other electronics brands and even automakers onboard for the OS, and China provides a favourable market ecosystem to achieve this," said Wong.
The system will also be able to accept a wide range of apps even if they weren't specifically coded for HarmonyOS – an effort to quell concerns that users' options will be limited.
"Huawei's announcements reflect its need to pivot away from a reliance on smartphones to other hardware categories such as tablets, smart speakers, headphones, wearables, displays and more," Wood said.
"Many of these devices are able to use Wi-Fi rather than a cellular connection making it easier to get around the sanctions related to 5G chips."
With reporting by Agence France-Presse
ALSO SEE: