Asian giant needs capital to create essential energy storage systems while British firms offer infrastructure solutions
(AF) In the wake of Brexit, India and the UK are seeking closer ties in the energy and cleantech sector, with the hydrogen economy, energy storage and green financing coming to the fore as potential key growth areas for India-UK partnerships.
While Indian firms stand to benefit from London's market positioning as a venue of choice for investors looking to buy green bonds, India offers a sizeable market for UK cleantech SMEs looking to scale. And with Prime Minister Narendra Modi aiming to put India on the map as the world's third-largest economy by 2030, and the UK in search of key post-Brexit partnerships, the transition to a carbon-free economy presents a significant commercial opportunity for both parties.
Also on AF
In 2018, the two countries launched a $700m Green Growth Equity Fund, structured as a joint venture between the UK-based Lightsource and Indian private equity firm Everstone Capital. The fund has supported the growth of India's renewable energy sector, through investments in Ayana Renewable Power, Radiance Renewables, GreenCell Mobility and EverEnviro. India now produces some of the cheapest solar energy in the world, and according to government estimates, it will require 27 GW of grid‐connected battery storage by 2030. However, only one sodium-ion battery energy storage power station exists in Asia, and that's in China.
This is why Pratik Dattani, Economic Policy Group Managing Director and adviser to think tank Bridge India, says energy storage is "especially significant for India."
Soaring solar
Much of its installed energy capacity is expected to come from solar power, an energy source with a clear split in day-night output. To make the most of its soaring solar sector, India urgently needs to increase its renewable energy storage capacity to return energy to the grid to sustain peak demand levels and minimise power wastage.
British companies Faradion and AMTE Power are seeking to meet the vast demand by setting up a sodium-ion battery plant in India and one of Tesla's main battery suppliers, CATL from China, announced it would start releasing sodium-ion batteries from July this year.
Green hydrogen is a new sector for both the UK and India; and while the UK's hydrogen market is developing at a great pace, India's hydrogen policy is yet to be announced later this year.
Also on AF
However, India's vast solar PV and wind industry are on the radar for investors and project sponsors looking at India's hydrogen potential; renewable energies could catalyse electrolyser manufacturing and green hydrogen production.
Dattani says "there is a tremendous need for hydrogen – generated from renewable energy – in climate change plans of the EU, Japan and other key economies. It's clear that this volume demand will support rapid cost reductions, which will further increase demand, just as we have seen with solar in the past 10 years".
Green hydrogen
He believes green hydrogen demand will come from transport, shipping, manufacturing and fertiliser industries.
"Investors are looking closely at this sector and funds are flowing; but they are still looking for risk to be offset by offtake agreements, as with solar," says Dattani. "This is an area where governments can help. India's hydrogen strategy should take note of these investor requirements."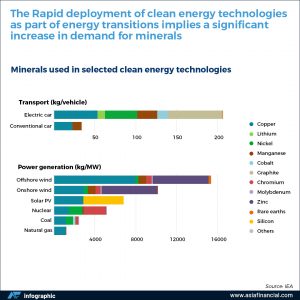 Attracting international investment could be key to India achieving its ambitious infrastructure and cleantech goals. After the first Covid lockdown left India's economy struggling, the Second Wave from April this year further added to the economic downturn. And as the government pours resources into Covid vaccines and fiscal stimulus, India has been left with minimal fiscal room for manoeuvre to support its transition to a green economy.
"That is where London's bond issuance market, the largest in the world, can help India's government and corporates, especially after Covid accelerated the relocation of many of India's key CEOs to London," says Dattani.
"London has a deep pool of liquidity, and investees can diversify their investor base by tapping into London's climate-aligned ESG investors."
London exchange
In 2020, 39 bonds that raised £13 billion were listed on the London Stock Exchange's Sustainable Bond Market; the world's first green bond was listed by Indian energy company NTPC in 2016.
London-based Elara Capital's India Opportunities Fund is invested in green energy, gas, transmission and infrastructure, and has seen a fivefold increase in net worth in the last year. And PRP Group services for investors has been growing under the radar from India to the UK amidst the pandemic.
However, despite the vast, largely untapped potential for UK-India partnerships in cleantech, significant obstacles remain to both Indian companies' ability to successfully raise funds abroad, and to the unhindered expansion of UK cleantech in India.
Dattani explains that "the Cairn Energy and Vodafone retrospective tax rulings have hurt India's image abroad badly. Investors will think twice before putting money into India if a reliable tax environment is not available. Taking money out of India can also be a headache."
Indian-origin VC funds like Unicorn Ascension Fund failed to get the UK market interested in small-ticket investment into consumer and SaaS startups looking at the Indian market.
With significant upside opportunities already available in markets like the US, China and the UK, and faced with an uncertain regulatory, tax and subsidy environment in India, only the most experienced foreign investors and businesses may feel comfortable stepping into the cleantech market in India today, analysts warn.
As a result of these challenges, Dattani says, "investment managers that have the most success, have been ones with a deep understanding of both the Indian and European landscape"