Days after wrapping up her high-stakes visit to China, US Commerce Secretary Gina Raimondo has warned Beijing that the patience of US businesses was "wearing thin" in the face of an "unpredictable" regulatory environment.
"China is making it more difficult," Raimondo told CBS's Face the Nation in an interview broadcast on Sunday.
"I was very clear with China – patience is wearing thin among American business. They need and deserve a predictable environment and a level playing field. And hopefully China will heed that message so we can have a stable growing commercial relationship."
Speaking to CNN in another interview, Raimondo said: "I was very clear, direct and firm in all of my conversations with my Chinese counterparts. I didn't pull any punches. I didn't sugarcoat anything."
Raimondo's remarks follow an intense four-day trip during which she discussed a range of sensitive bilateral issues with Chinese leaders, and even referred to the US's once largest trade partner as "uninvestible".
Raimondo had said US firms faced new challenges in China, including unexplained large fines, raids on businesses and changes to a counterespionage law.
Yet, at the same time, she had also encouraged US businesses to "continue to do" what they were doing. "We want you here investing, growing," she had said.
While the two countries used to be each other's largest trade partners, bilateral trade between them has slumped 20% so far this year.
Souring ties have meant that Washington now trades more with neighbouring Canada and Mexico, while Beijing trades more with Southeast Asia.
China economy worse due to opacity
China is also grappling with its own set of challenges. The world's second-largest economy has struggled to recover from pandemic-era lockdowns that brought the factory floor of the world to a standstill.
Meanwhile, the crisis in the country's massive real estate sector, which contributes to roughly a quarter of the economy, is continuing to worsen.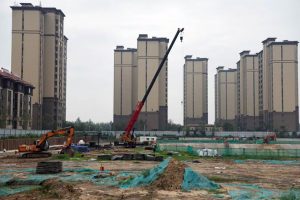 The spotlight right now is firmly focused on troubled developer Country Garden – the country's biggest private developer – which warned it faces default risks after reporting a $6.7 billion first half loss.
"I think there's no question that [China's economy] is slowing down. And certainly they're having real, real significant challenges in the real estate sector," Raimondo told Face the Nation.
China's economy did better when it was more transparent and market-oriented, she added.
"As they have closed down and become more arbitrary in the way they administer regulations, the economy is quite challenged," she said.
Addressing email-hack
Raimondo also said that she had brought up to Chinese officials that her email was hacked in advance of her late August trip to China.
"They suggested that they didn't know about it and they suggested that it wasn't intentional," she told CNN. "But I think it was important that I put it on the table and let them know and let them know that it's hard to build trust when you have actions like that."
The world's two biggest economies have seen ties spiral amid a bitter trade and tech war, in which the US has taken multiple measures to deter China's progress in developing sensitive technologies.
China has responded with various tit-for-tat measures including export controls on two key chipmaking metals whicb came into force last month, and restrictions on some sales by US chipmaker Micron.
Top Chinese leaders have warned that Beijing will retaliate further if the US takes further steps to cut China's access to advanced technologies.
Reuters, with additional editing by Vishakha Saxena
Also read: