(ATF) Falling battery prices, environmental concern and electrification of transportation by crude-dependent countries like India and China could bring the oil era to an end, a strategist at financial think tank Carbon Tracker told
Asia Times Financial
on Friday.
China's has set a target for 20% of all cars on its road to be electric vehicles (EVs) by 2025 and the Indian government's 30% goal could deal a crippling blow to International Energy Agency's (IEA) transport demand projections from emerging market oil importers, the firm said in a report.
This comes at a time when battery prices are about to cross the key threshold of $100 per KWh, which empowers electric vehicles to compete directly on purchase price with internal combustion engine (ICE) vehicles. Prices are seen plunging to $50 per KWh by 2030, increasing their competitiveness significantly.
"The future of oil demand growth rests with countries which do not produce much oil and now that they have an alternative in electric transport they will seize it and take advantage of the opportunity to use local energy sources," said Carbon Tracker strategist Kingsmill Bond told ATF.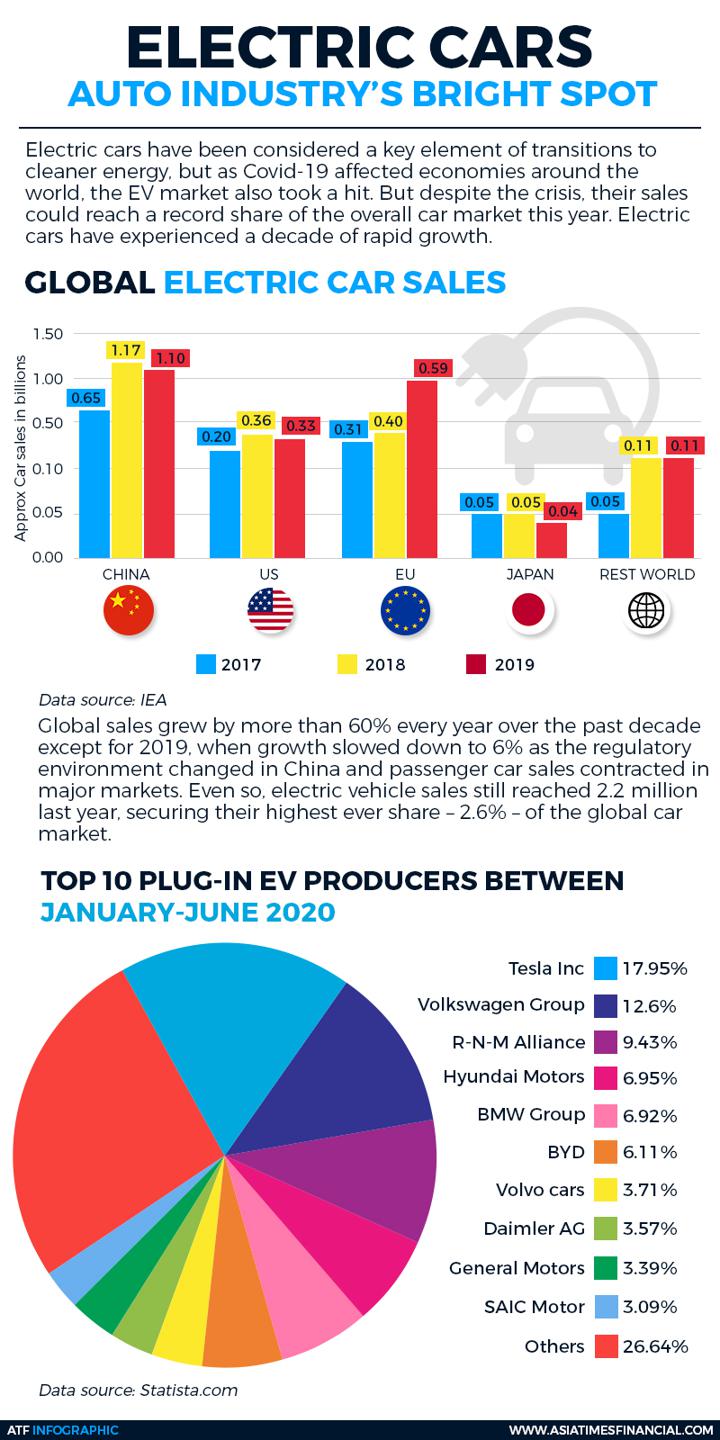 "This development is supremely important for Asia, the world's largest oil-importing region, as it creates an opportunity to escape oil import dependency and build their own transport energy source."
Public health has become a major issue in this year's devastating coronavirus pandemic and pollution linked to transport is in focus as emerging markets suffer premature deaths of 285,000 people a year from transport-linked smog.
Lower costs
Electrifying transport reduces the cost of energy imports per vehicle by at least 90%, cuts by 75% the number of premature deaths from exhaust pollution, and reduces the cost to consumers by at least two thirds, said the report. It added that purchase of an ICE car involves importing $10,000 of gasoline over its lifetime while the solar equipment to power an EV costs less than $1,000.
That would translate into considerable savings for emerging markets, which the think tank estimates would rack up to $250 billion a year by 2030.
"The annual cost per car of imported gasoline is about the same as the total cost of local EV charging infrastructure," it said.
China's EV sales accounted for 59% of buses and 61% of two-wheelers in 2019. Beijing is targeting 20% of cars to be EV by 2025 and following President Xi Jinping's pledge that the country of 1.4 billion people will become carbon neutral by 2060, the implication is that all Chinese cars will have EV drive trains by 2035.
Read More ATF Energy Stories
In India, EV sales have been very limited, amid huge scepticism but Carbon Tracker analysts say this is due to the fact that EV costs have not hit purchase price parity.
"In 2000, few people thought that India would adopt mobile phones because they were so expensive, and indeed India was late to the mobile phone revolution, with only 4 million subscriptions in 2000," the report continued, drawing an analogy. "And yet by 2008 India had overtaken the US, and today there are over a billion mobile phone subscriptions in India."
According to the IEA, transport demand from emerging-market oil importers is significant and under normal circumstances would account for more than 80% of the growth in the increase.
"An emerging-market transport leapfrog would reduce expected 2030 demand by 3.8 million barrels per day (mbpd), which is over 70% of total expected oil demand growth under business as usual. Factor in the war on plastics, and it becomes ever more likely that oil demand has peaked," said the report.
"Emerging market oil importers are the key driver of the expected growth in global oil demand. As battery prices fall, they will electrify their transport systems, liberate themselves from rising oil import dependency and bring the oil era to an end."