(ATF) The bonds of Chinese state-owned enterprises (SOEs) plummeted Thursday when another high-profile missed a debt payment.
The Enterprise sub-index of the ATF China Bond Index fell 0.09%, its biggest drop since a selloff last month. The declines capped gains on the benchmark, which was little changed.
Guangzhou-based chemicals producer Hongda Xingye Group failed to pay 950 million yuan ($145 million) of bonds that were due Monday, according to Chinese media Caixin. However, the non-payment narrowly avoided being classed as a default on a technicality, Caixin reported.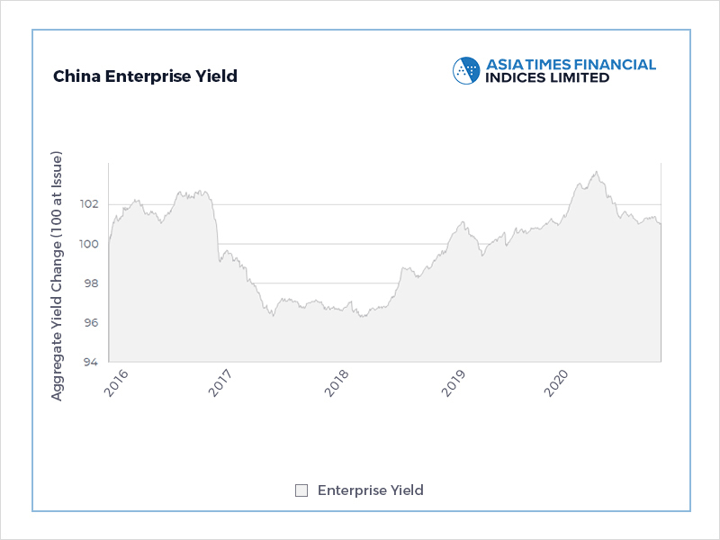 Hongda Xingye is not a component of the ATF CB50 Indexes.
Hongda is under investigation after its chairman Zhou Yifeng was questioned in relation to a corruption case in Inner Mongolia. The probe has caused investors to pull out of the company, tightening its access to credit, Caixin said. 
The Enterprise subindex suffered a two-week selloff after a spate of defaults among SOEs caused investors to panic. The market settled when officials announced high-level probes of mismanagement of the defaulting companies and this week suspended the licence of a large domestic credit ratings firm.
Data shows Chinese companies defaulted on more than 100 billion yuan of debt in 2020 for the third year in succession. The problem has rattled China's 3 trillion-yuan bonds market at a time when authorities are trying to promote the nation's capital markets to foreign investors.