China's tech giants are finding the call of the metaverse just as irresistible as their US counterparts. 
Companies such as Tencent, ByteDance, NetEase and Alibaba are racing to build devices and software to shape a virtual market that Morgan Stanley estimates will eventually be worth $8 trillion in China alone.
"Yuan yu zhou," the Chinese translation of metaverse, has become a buzzword with the China National Intellectual Property Administration (CNIPA) receiving at least 16,000 trademark applications containing the term as of February. 
Also on AF: China EV Giants Revved Up For European Sales Drive

While the full realisation of the metaverse, pitched as an ever present interconnected ecosystem of virtual worlds that replicate real life, is years away, aspects of it are already in use, such as augmented reality (AR) and virtual reality (VR) devices.
Karin Kong, chief analyst of global technologies at TF Securities in Shanghai, sees social networking and gaming as the top applications in the first stage of the metaverse, which she says will run until 2030.
So, who are the key players shaping China's metaverse?
Beijing
Enthusiasm for China's metaverse is building against an unpredictable regulatory backdrop.
Beijing has cracked down on the tech sector, tightened oversight of the gaming industry and banned transactions in cryptocurrencies – all vital components of the virtual realm. The metaverse is also viewed as a national security risk.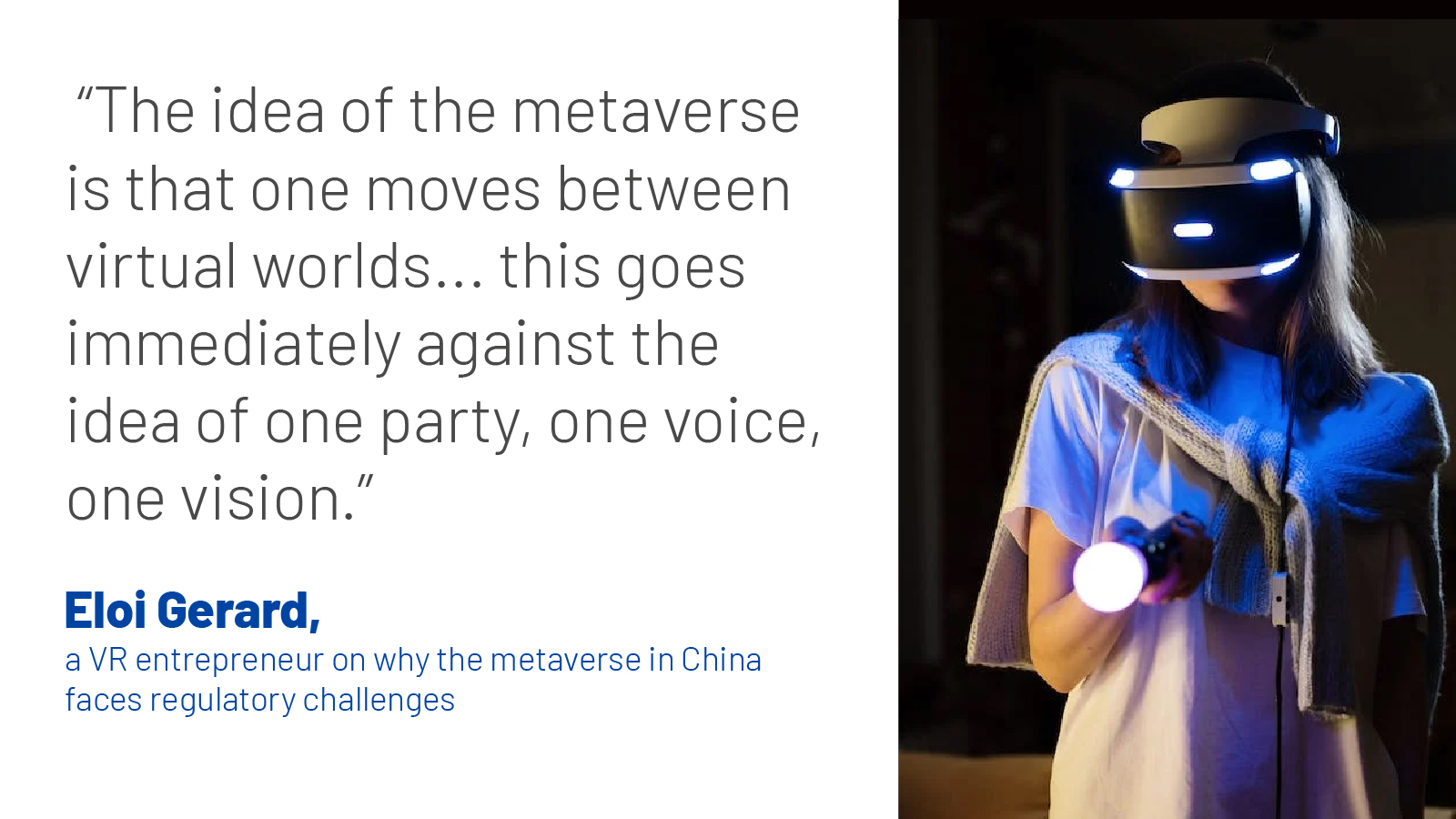 Still, recent moves suggest that Beijing is not going to miss out on the next big thing in tech – it just wants its own regulated, sanitised version. 
Government officials, both at the central and local level, have blessed metaverse applications in the manufacturing, education, cultural and tourism industries with their approval. 
On April 11, the authorities lifted a seven-month freeze on publishing licences for new video games, although titles by industry giants Tencent and Netease were conspicuously absent from the list of approvals.
A Metaverse Industry Committee set up in October by the China Mobile Communications Association to set standards now has 145 members.
Ivan Su, an equity analyst at Morningstar, says companies are bound to be more cautious and that could slow the pace of monetisation and limit the creator economy. 
According to Rupantar Guha, principal analyst at GlobalData's thematic research, firms may rely heavily on content that's already been cleared rather than wait for fresh approval. The pace of foreign investments will be slow, he said.
Tencent
Tencent's grip on the digital interactions of more than a billion people in China via WeChat gives it a clear advantage over domestic peers in China's metaverse race.
In January, the internet giant took a major step towards virtual reality when it embedded Unreal Engine, the world's second-largest video game engine, into its messaging platform QQ. 
It has since rolled out Super QQ Show featuring an interactive space that allows users to customise 3D avatars to socialise, play games and buy goods such as VR gear. 
Tencent's 40% interest in Epic Games, developer of Unreal Engine, which is used by blockbuster titles such as Fortnite and Bioshock, gives the Chinese company an edge in the 3D design capability needed for the metaverse, said Morningstar's Su. 
Tencent also has stakes in numerous domestic and foreign companies, including Snap, Roblox, and Activision Blizzard that have metaverse potential.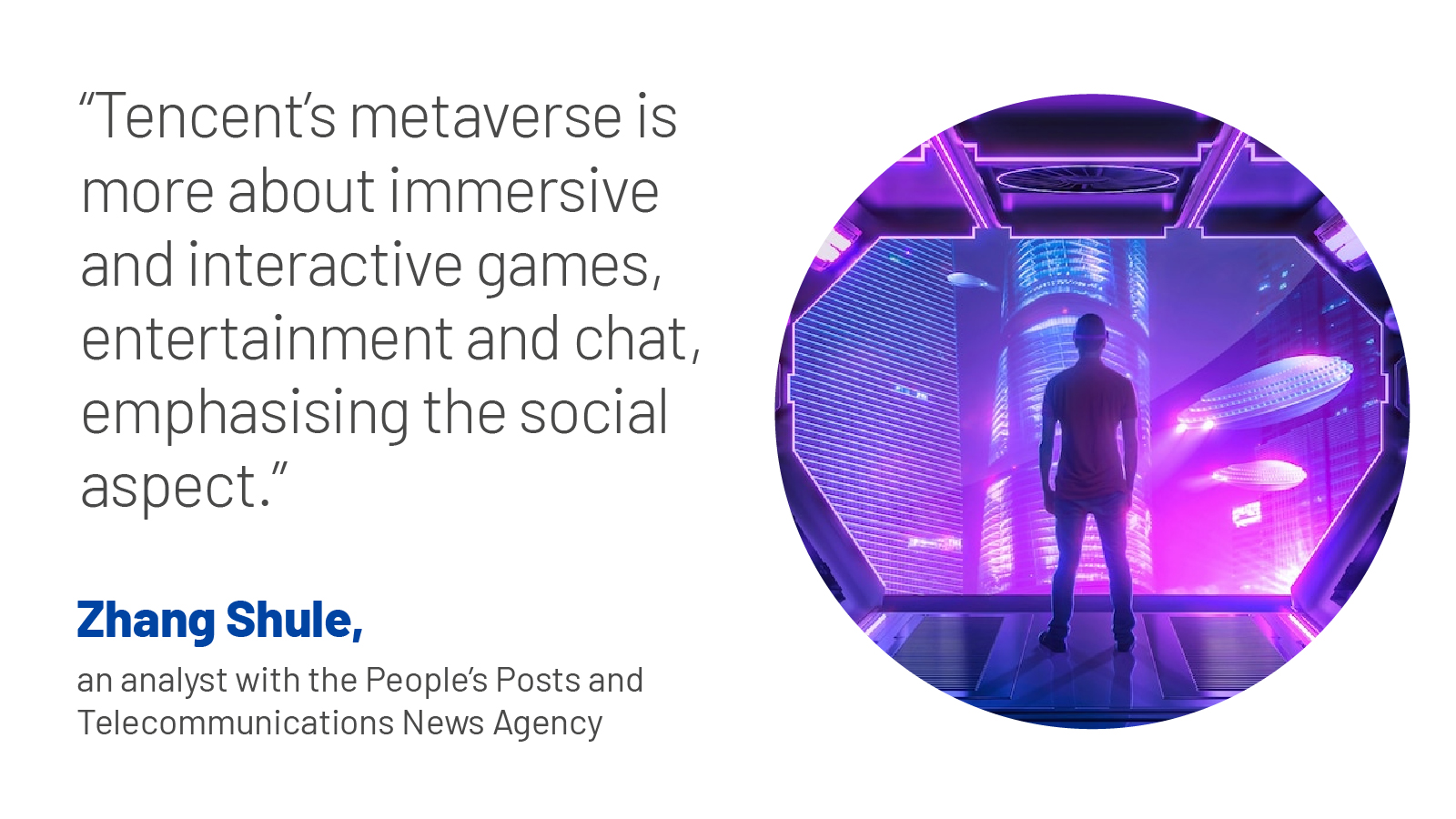 Once vocal about its prowess, Tencent has become more cautious and reticent with regulatory headwinds building since last year. In August, it lost out to ByteDance on a bid for Chinese startup Pico, a major maker of VR hardware. 
Senior Tencent executives have played up the importance of content and software rather than devices to build the metaverse, although a January agreement to purchase Xiaomi-backed gaming smartphone maker Black Shark Gaming for 2.6 billion yuan ($410 million) suggests the company is covering its bases. 
In November, Tencent President Liu Chiping was quoted by Shanghai-based news portal The Paper as saying that hardware is of secondary importance because most smartphones and gadgets are already loaded with chips and computing capability sufficient to support virtual interactions.
"Facebook's Meta rebranding has a clear hardware focus and ByteDance is buying up hardware firms. But Tencent's metaverse is more about immersive and interactive games, entertainment and chat, emphasising the social aspect, said Zhang Shule, an analyst with the People's Posts and Telecommunications News Agency, affiliated with the Ministry of Industry and Information Technology.
ByteDance
ByteDance, owner of TikTok, pivoted to metaverse-related hardware last August when it paid 9 billion yuan ($1.4 billion) for Pico, China's No1 and the world's third-largest virtual reality headset maker. 
The move, compared to Meta's acquisition of Oculus in 2014, gives ByteDance a good shot at nailing the access to China's metaverse social world and challenging Tencent. 
Both companies have a vast user base – TikTok has 1 billion global monthly active users. But ByteDance still trails Tencent in content, design capabilities and cloud storage infrastructure, said Su from Morningstar.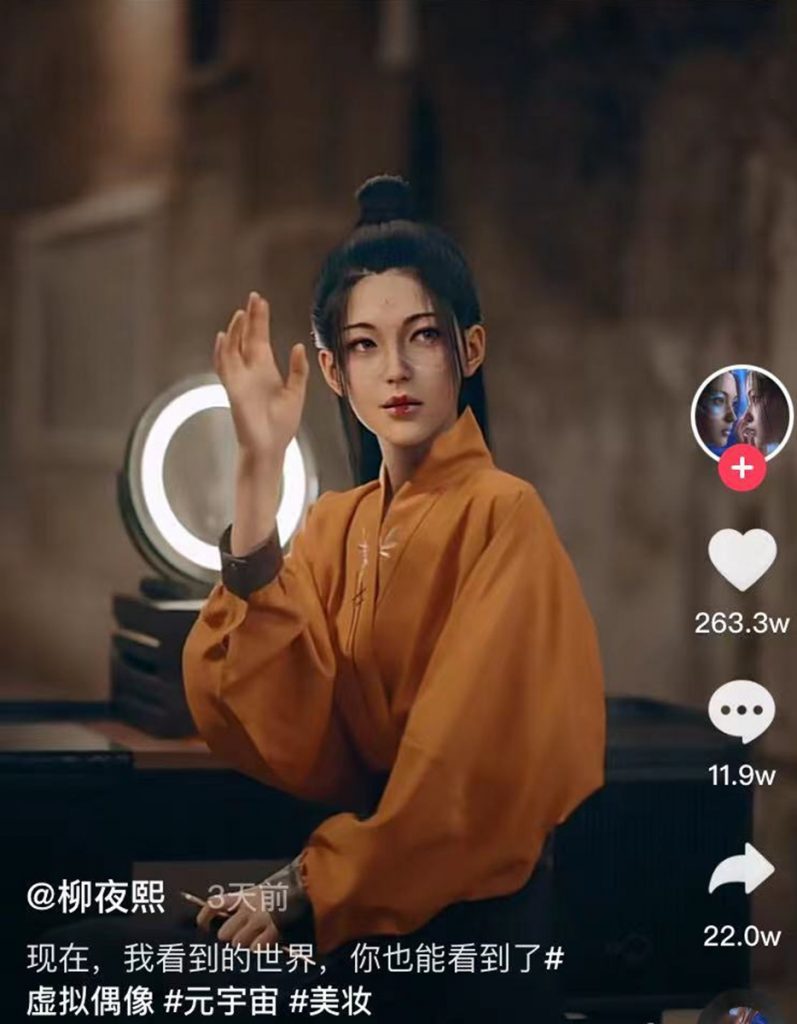 In January, ByteDance launched a beta version of a social media app called Party Island, or Paiduidao in Chinese, allowing users to create personal avatars, chat and schedule real-world events.
Short videos teasing out China's metaverse have become hugely popular on Douyin, the domestic name for TikTok. For instance, Liu Yexi, a virtual beauty idol with superhuman powers, gained 1.5 million followers within a day of her debut last year. 
According to Morgan Stanley analysts, ByteDance will become a leading social network player in the metaverse by leveraging TikTok while Tencent will lead in gaming. 
NetEase
NetEase, China's second largest gaming company after Tencent, has invested widely in VR technology, trademarks, and virtual identity.
In a conference call in November, NetEase founder and CEO William Ding said the company is ready for metaverse technology and is planning its moves. 
When the time is ripe "NetEase may run faster than anyone," Ding was reported as saying by the Chinese digital newspaper The Paper. 
Last December, the firm set up a base in Sanya city in the southern province of Hainan to focus on developing metaverse applications, according to a statement by the Sanya government. 
Alibaba
China's e-commerce behemoth Alibaba led a $60-million investment round into AR glasses maker Nreal late in March as its eyes its metaverse move. The investment could lead to a collaboration given that Nreal and Nio, its other strategic investor, have jointly developed AR glasses for electric vehicles. 
Last September, Alibaba launched the "Yuanjing" brand for its cloud gaming service, and in February introduced a virtual influencer named Dong Dong for the Winter Olympics in Beijing. 
Baidu
An app called Xirang, which means Land of Hope, gives a glimpse of Baidu's metaverse. 
Described by the search giant as "the first Chinese-made metaverse product" in the press release, the app, launched in December, allows up to 100,000 users to interact, participate in conferences, and even engage in virtual tourism through avatars. 
The company went on to hold its annual developer conference in this virtual world but downplayed expectations. Ma Jie, a vice president at Baidu, said many aspects of the app were not yet up to par and it could be another six years before a full launch. Xirang is now open to the public.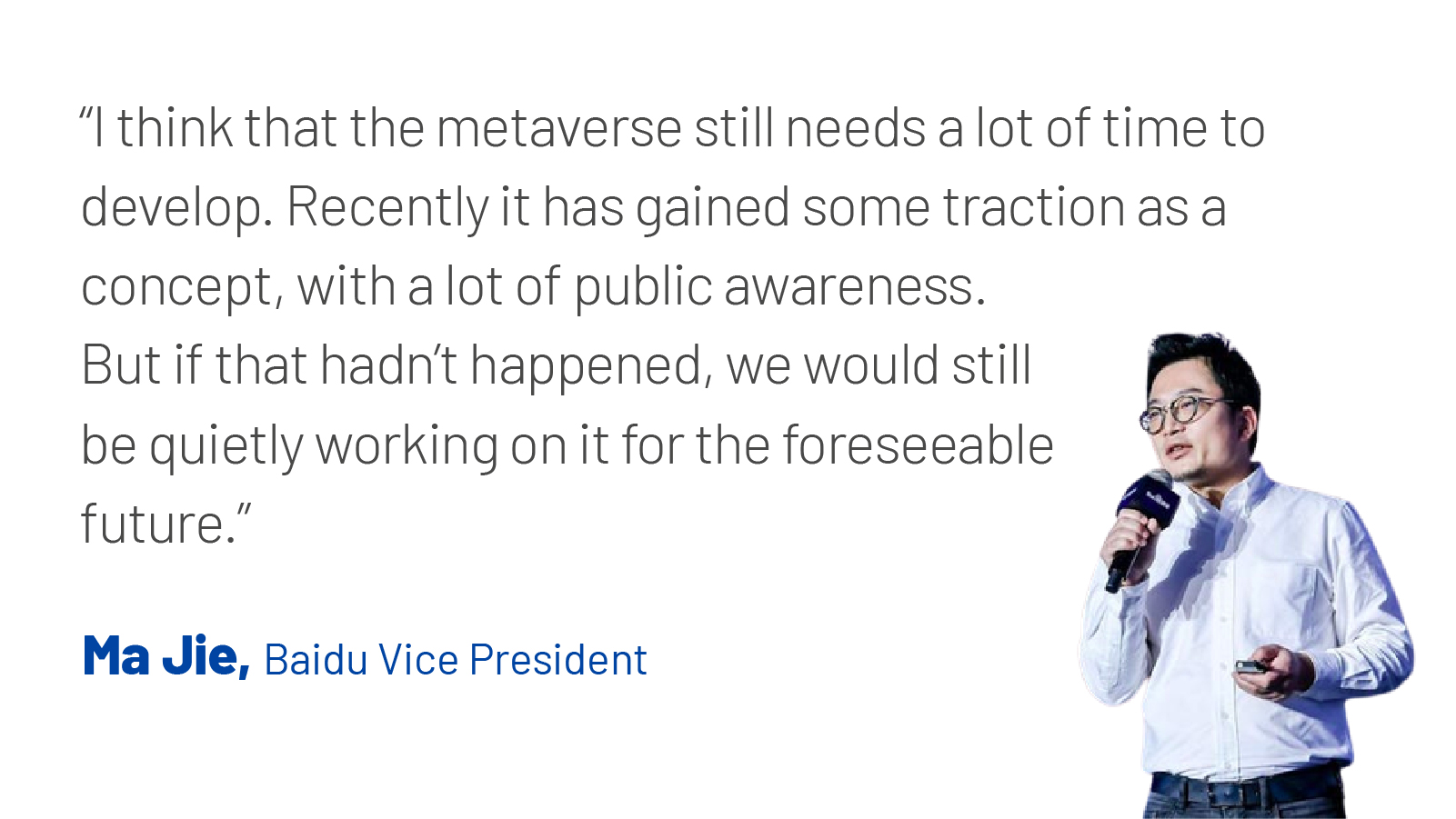 Kuaishou, Bilibili
Beijing Kuaishou Technology Co, maker of Kuaishou, TikTok's short video nemesis, has invested extensively in smart glasses, AI technology, metaverse trademarks, and content. 
Kuaishou's virtual influencer Guan Xiaofang held her first live streaming e-commerce show last November with the one-hour session drawing over a million viewers.
Bilibili, which runs an online video sharing platform, focuses on anime, comics and gaming content. 
It has ventured into blockchain, the technology underlying the metaverse, and in December started testing a solution called UPowerchain, which provides ownership certificates for digitised works and offers a lookup tool for on-chain information.  
Bilibili has also released digital art avatars called "Gede" with a subscription quota of about 2,000. Gedes, which have no monetary value, can be used as icons on the platform. 
Its "Virtual Cinderella Project" together with Sony Music Entertainment aims to promote virtual idols globally for music distribution and online performance. 
By Iris Hong & Frank Chen
Read more:
Hang Seng Launches Metaverse, Medical Stock Indices
Metaverse Land is `Dumbest' Buy Ever, Mark Cuban Says – Insider
Sony Ready for Metaverse Revolution Across Platforms