The United States' plan to develop Vietnam as a chip hub, and as a hedge against China, faces a key threat — an acute lack of engineers in the Southeast Asian nation.
The 100-million-people country has only 5,000 to 6,000 trained hardware engineers for the chip sector, against expected demand of 20,000 in five years and 50,000 in a decade, said Vu Tu Thanh, head of the Vietnam office of the US-ASEAN Business Council.
Semiconductors are expected to be a focal point when US President Joe Biden visits Hanoi later this month with the goal of formally elevating ties between the two countries.
Biden, landing in Vietnam on September 10, will offer support to boost its chips production, US administration officials said.
He also intends to discuss with Vietnam's leaders workforce development programs, the White House said in a statement, that could expand the country's existing training initiatives.
"Friendshoring" segments of the strategic semiconductors industry has been one of Washington's key inducements to persuade Vietnam's communist leaders to agree to formally upgrade relations. Hanoi was initially reluctant about the move over fears of an adverse reaction from China.
The boost to formal ties could bring billions of dollars of new private investment and some public funds to Vietnam's semiconductor industry.
Lack of skilled labour
Industry officials, analysts and investors said that the small pool of trained experts will be a crucial hurdle for the rapid development of the chip industry.
"The number of available hardware engineers is way below what is needed to support multi-billion-dollar investments," about one-tenth of expected demand over the next 10 years, said Thanh.
There's also a risk of inadequate supply of trained chips software engineers, said Hung Nguyen, senior program manager on supply chains at RMIT University Vietnam.
Vietnam's semiconductor exports to the US are worth more than half a billion dollars annually, according to government figures.
The country's semiconductor industry is currently focused on the back-end manufacturing stage of the supply chain – that is assembling, packaging and testing of chips – though it is slowing broadening out into areas such as designing.
China in the lead
The White House has not specified which segments of the chips industry in Vietnam will be prioritised, but US industry executives have indicated that the back-end is a key growth sector.
And China has played an important role in these considerations.
Nearly 40% of the global back-end manufacturing was in China in 2019, according to Boston Consulting Group, against just 2% in the United States. Another 27% was in Taiwan, around which China has stepped up military activity, fanning fears of conflict.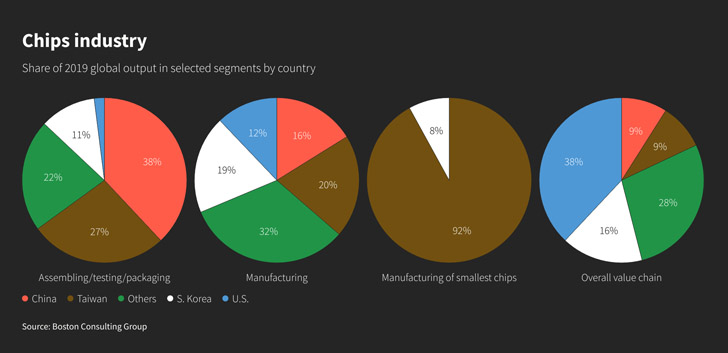 That makes the assembling segment one of the most concentrated in the industry, after chipmaking. In no other segment has Beijing had such a commanding position.
That is despite Intel having operated in southern Vietnam for about 15 years its world's biggest factory for assembling, packaging and testing chips.
Investments pouring into Vietnam
In a sign of growing interest in Vietnam, Intel rival Amkor is building "a state-of-the-art mega factory for semiconductor assembly and testing" near Hanoi, US Treasury Secretary Janet Yellen said on a visit to the Vietnamese capital last month.
More private investment could come, especially if a significant share of the $500 million available under the US CHIPS Act for global semiconductor supply chains ends up in Vietnam.
The US may also be interested in boosting Vietnam's supply of raw materials for chips, especially rare earths, of which the country is estimated to have the world's second largest deposits after China, said Hung at RMIT University Vietnam.
The country is also making inroads in the smaller segment of chip designing.
US chip design software company Synopsys has operations there, rival Marvell plans to build a "world-class" centre, and local firms are expanding.
Vietnam is also attracting interest from manufacturers of chip-making machines and has flagged ambitions to build its first semiconductor manufacturing plant, or fab, by the end of the decade.
Vacancies on the rise
Intel has repeatedly urged Vietnamese authorities to broaden the pool of skilled workers, officials said.
It has considered nearly doubling its $1.5 billion operation in Vietnam, sources said earlier this year, but it is unclear whether that is still the plan after the US chipmaker announced massive investments in Europe in June.
Amkor has about 60 job openings on its Vietnam website, mostly for engineers and managers.
A workaround could be to ease Vietnam's rules to issue work permits for overseas engineers, which currently "are very hard to get quickly," Thanh of the US-ASEAN Business Council said.
That would, however, require legislative changes and faster administrative procedures – no easy feat, according to several Vietnam-based diplomats and entrepreneurs.
But until Vietnam manages to sufficiently boost its domestic skilled workforce, the country will remain more vulnerable to regional competitors such as Malaysia and India.
Reuters, with additional editing by Vishakha Saxena
Also read: