Adani Group's port operation arm said on Monday it was planning to prepay loans worth $120.8 million as the conglomerate's market value dropped below $100 billion in the ongoing sell-off triggered by the Hindenburg report.
Adani Ports and Special Economic Zone is looking to prepay 10 billion rupees in commercial papers (CPs) maturing in March, a company spokesperson said.
"This part prepayment is from the existing cash balance and funds generated from the business operations," the spokesperson said in an email.
The company has also paid 15 billion rupees ($181 million) to SBI Mutual Fund on commercial papers that matured on Monday, as scheduled, it said.
On Monday, local media reported that Adani Ports has repaid 5 billion rupees to Aditya Birla Sun Life Mutual Fund against maturing commercial papers.
Both the fund houses did not immediately respond to a request for comment.
Media reports also said on Tuesday the group's billionaire founder Gautam Adani has decided against bidding for a stake in electricity trader PTC India Ltd in order to conserve cash.
The group was said to be eyeing a 16% stake in the company, which would have been worth $52 million, according to latest prices.
Market value more than halved
Seven listed companies of the posts-to-power conglomerate have lost a whopping 57% in market value since the release of the Hindenburg report less than a month ago, The Economic Times said on Tuesday.
That meant the group's market value, which was $218 billion before the Hindenburg report, fell below the $100 billion mark.
Released on January 24, the US short seller report raised concerns about the group's high debt levels and accused it of committing a 'corporate con'. The Hindenburg report said Adani had been improperly using offshore tax havens and manipulating its stock.
Adani, meanwhile, denied all accusations and threatened to sue Hindenburg.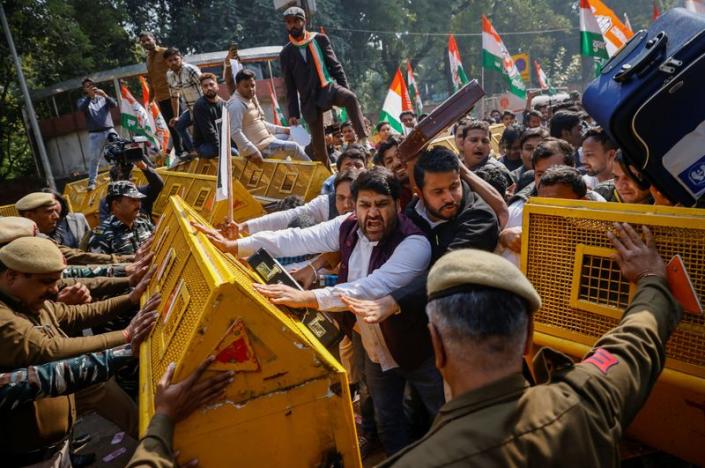 More prepayment possible
Adani Enterprises and Adani Ports and Special Economic Zone regularly raise funds by issuing CPs – short-term debt instruments issued to meet working capital requirements.
A banker, who advises the conglomerate on local borrowings, told Reuters earlier this month the group had not reached out to its bankers asking for a rollover, amid scrutiny following the Hindenburg report.
"The Adani group generally gets in touch with bankers some days prior to the maturing CPs but has stopped any sort of intimation, hinting that they may look to repay the existing CP holders," the banker said.
Adani Ports said in an analysts' call earlier this month that it is considering repaying debt of about 50 billion rupees in fiscal 24, without specifying which bonds it would repay.
This, it said, would improve its net debt to EBITDA (earnings before interest, taxes, depreciation, and amortisation) ratio to about 2.5 from more than 3 currently.
" … Our main objective is that we are generating cash. We want to use that money to repay the debt after meeting all the growth capex," D Muthukumaran, chief financial officer of Adani Ports, had said in the call on February 7.
Reuters, with additional editing by Vishakha Saxena
Also read: