(ATF) The ATF indexes inched higher Tuesday ahead of the release of China's PMI data for September, which is widely expected to confirm the country's continued economic recovery.
The benchmark China Bond 50 index led the gains, rising 0.02%, while the ATF ALLINDEX Corporates, Enterprise, Financial and Local Governments index sub-gauges each climbed 0.01%.
Although September's industrial production growth is likely to have slowed due to fading activity from recent flooding, HSBC economists for Greater China Shan Shan Song and Erin Xi expect growth to remain steady.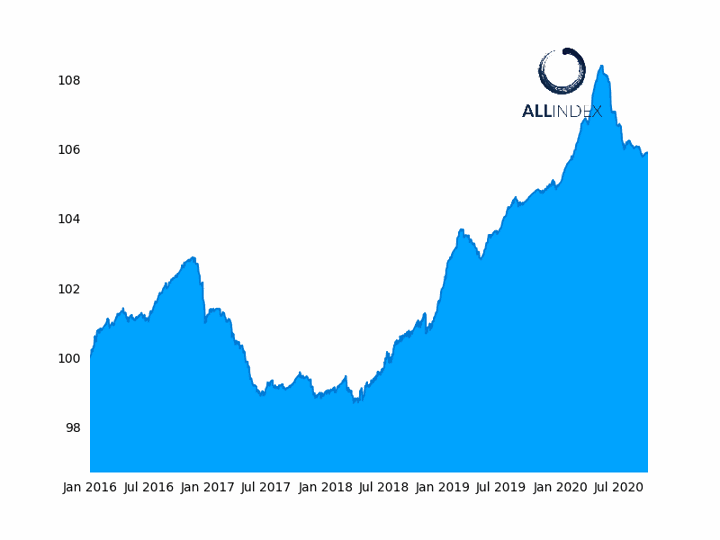 The benchmark CB50 Index rose 0.02%
Industrial names posted some of the biggest price gains across the indexes, with transportation provider Guangzhou Metro Group bonds rising 0.18%, and those of Xi'An Hi-tech climbing 0.02%. Yields on the bonds dropped 1.03% and 0.04% respectively. Guangzhou Metro Group is a constituent of the China Bond 50 index, and the ATF ALLINDEX Corporates and Enterprise, and boosted all three indexes.
The profits of industrial firms grew 19.1% year-on-year in August to 612.8 billion yuan ($89.9bn), according to data released by the National Bureau of Statistics on Sunday. This represents the fourth straight months of gains amid the recovery from the COVID-19 pandemic. For the period of January-August 2020, profits dropped at the softer rate of 4.4% year-on-year to 3.7 trillion yuan ($540bn), versus 8.1% in the period January-July 2020.