(ATF) The benchmark China Bond 50 index rose Monday, climbing 0.01% along with the ATF ALLINDEX Corporates, Enterprise, Financial and Local Governments sub-gauges, as China printed above-consensus PMI figures for September. 
While almost all the bonds of the indexes climbed, the biggest price increases were posted by Datong Coal Mine (0.02%), Xi'An Hi-tech (0.02%) and Jizhong Energy (0,01). Only the bonds of China Development Bank fell, sliding 0.09%.
The official manufacturing PMI came in at 51.5 for the month, from 51.0 in August, while the non-manufacturing PMI climbed to an eight-year high of 55.9 from 55.2 in the previous month. Furthermore, the Caixin manufacturing PMI, although softening slightly from August's 53.1, posted a robust performance, coming in at 53.0.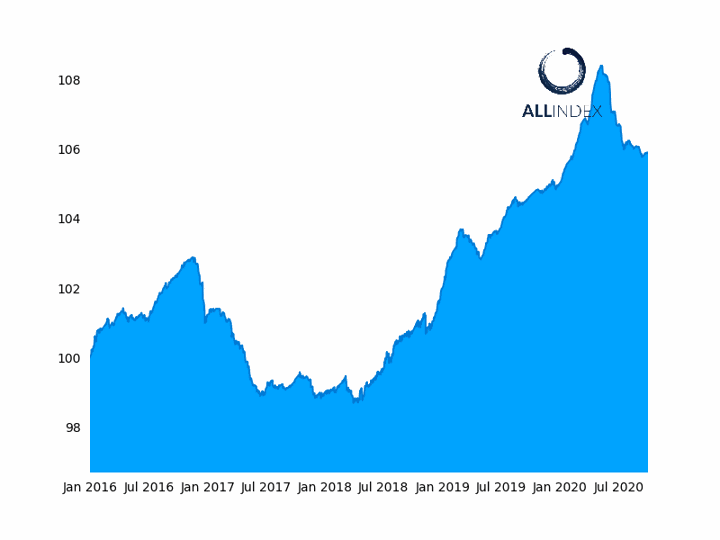 The ATF China Bond 50 Index climbed 0.01%
"The higher official PMIs for both manufacturing and non-manufacturing, together with the still-solid Caixin manufacturing PMI, suggest China's growth recovery is on track (…)," stated Ting Lu, Chief China Economist at Nomura in Hong Kong, in a research note.
Improved global demand was a major driver of the official and Caixin manufacturing PMI as new orders and new exports orders increased across both indexes. Meanwhile, a continued recovery in services driven by a surge of activity in transportation, accomodation, catering and telecommunications drove the rise of the non-manufacturing PMI. 
FOREX COMMENT: "Assuming that greater political calm returns prior to year-end, the dollar will resume its decline. The currency's fundamentals are only getting worse."  
However, the labour market remains under pressure, wrote Erin Xin in a research note. "While the (…) employment sub-indices edged up in September for both the manufacturing and non-manufacturing sectors, the readings still showed contraction as they remained below the water line. The Caixin manufacturing employment index just barely showed contraction."