The Reserve Bank of Australia (RBA) on Friday gave up its control of bonds, with yields on Australian sovereigns surging to more than seven times the intended level.
The RBA declined to defend its 0.1% target for the key April 2024 bond and speculators sent the yield soaring to 0.75% while yields on three-year bonds recorded their biggest monthly increase since 1994. Yields move inversely to bond prices.
In July, RBA governor Philip Lowe said the central bank's board had decided to retain the April 2024 bond at the yield target of 10 basis points and continue buying government bonds after the completion of the current purchase programme in early September.
"These purchases will be at the rate of $4 billion a week until at least mid November," Lowe said.
Economists say RBA could drop its yield targeting programme as early as November 2, when the central bank's monetary policy board is scheduled to meet again.
"Given that the RBA refrained from intervening this week to prevent the yield on the April 2024 bond from surging far above its 0.1% target, we now expect the bank to signal that rates will rise before 2024 at next week's meeting," Marcel Thieliant, senior Japan, Australia and New Zealand economist at Capital Economics, said.
"That means that the yield target will no longer be fit for purpose and we expect it to be ditched altogether."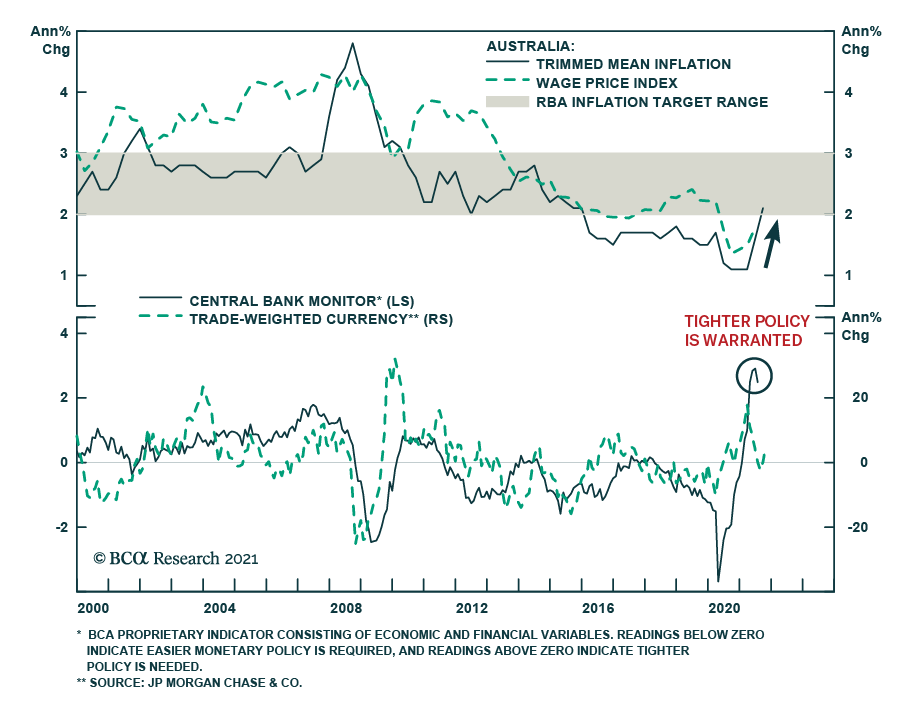 Meanwhile, the RBA's preferred measure of underlying inflation rose to 2.1% in the third quarter.
"While we don't expect the bank to take immediate action following these data, its forecasts for inflation are likely to be upgraded," Micaela Fuchila, a Bank of America economist in Sydney, said.
"This will likely challenge the RBA's view that rates will remain unchanged until 2024," she added.
The RBA is keeping a close eye on wage growth to determine whether a hawkish shift is warranted, according to analysts at BCA Research.
"The RBA's decision not to defend its yield target this week is a form of monetary tightening," they said. "Our foreign exchange strategists are bullish on the outlook for the Aussie dollar which would benefit from a hawkish surprise."
READ MORE: