Amazon founder Jeff Bezos reclaimed his number one position as the world's richest person this week, ousting Tesla's Elon Musk who held the title for just one month.
With a net worth of $190.3 billion, $16.9 billion more than Musk, Bezos retook the top spot – which he'd held for more than three years until last month – on the Forbes Real-Time Billionaires List, just as he's about to step down as CEO of Amazon.com Inc to focus on other projects.
Not only was Musk knocked off top spot but shares in Tesla Inc. slid 2.4% on Tuesday, erasing $4.6 billion from its chief executive officer's fortune.
Amazon shares have climbed 53% in the past 12 months despite Bezos not only focusing on his space exploration company Blue Origin but also stepping up his philanthropic giving. It may not be long before Musk leapfrogs Bezos once again.
Musk's SpaceX, a rival to Bezos's Blue Origin, has been in talks to raise funds that would significantly increase its valuation. SpaceX completed the $850 million funding round last week at a $74 billion valuation, about 60% higher than its prior round, according to CNBC.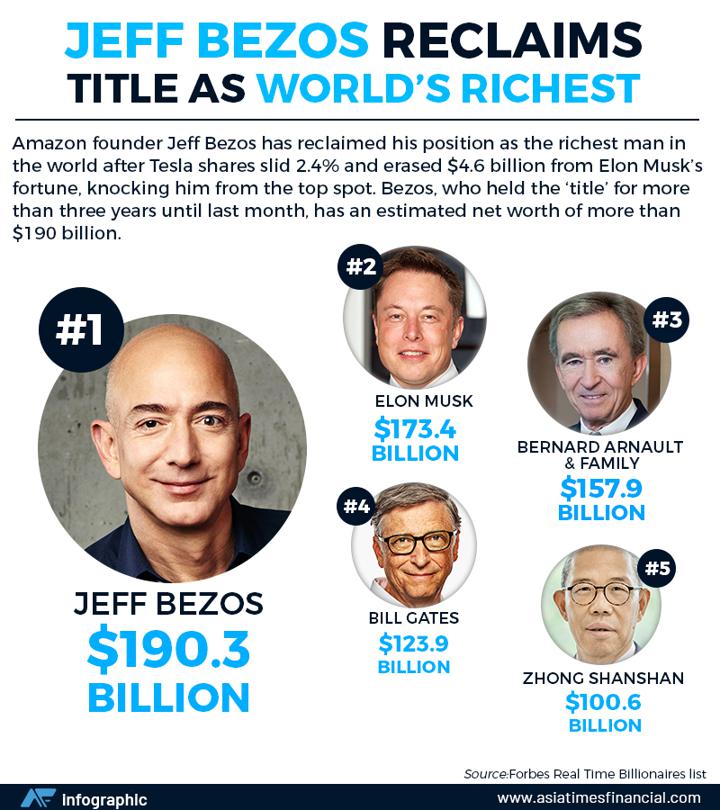 Bezos ended 2020 as the world's wealthiest person for the third year in a row, despite giving $36 billion worth of his Amazon stock to his ex-wife as part of their divorce settlement last summer. 
The biggest mover in dollar terms on the list last year was Qin Yinglin, the world's richest pig breeder. He was ranked No.43 and was worth $18.5 billion – a $14.2 billion jump since the 2019 list.
Also on ATF: