The United States' top diplomat Antony Blinken will fly to Papua New Guinea early next week to meet with leaders of the Pacific Islands Forum.
The US Secretary of State will sign bilateral defence and maritime security agreements during the two-day trip, which starts on Monday May 21.
The State Department announced the change of plans on Thursday after President Joe Biden was forced to cancel his planned visit because of 'crisis talks' with Republican politicians on the US debt limit.
Biden announced the decision to postpone his trip to Papua New Guinea, which would have been the first ever by a US leader, on Tuesday.
Biden phoned his Papua New Guinea counterpart James Marape on Thursday to tell him Secretary of State Antony Blinken would travel in his place.
ALSO SEE:
Pacific leaders to meet Modi, US delegation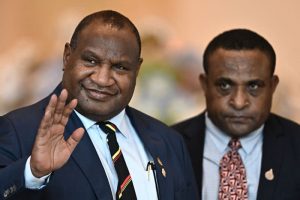 Pacific island leaders will meet Indian Prime Minister Narendra Modi and a high-level US delegation in Port Moresby, the PNG capital, on Monday.
Biden's withdrawal has been seen by some as a blow to US diplomacy in the region. He had been expected to meet 18 leaders from the region's main bloc, the Pacific Islands Forum, and sign a defence co-operation pact with PNG on Monday.
Marape told a press conference on Thursday that Biden had called him and invited him to a US- Pacific island summit in Washington in September.
"I was privileged on behalf of the people that (Biden) placed a call directly to my cell phone … he conveyed his sincerest apologies that he cannot make it to our country," Marape said.
Biden said Blinken would travel to PNG in his place, the PM added.
"The President emphasised continued US commitment to the renewed partnership with the Pacific Islands," a White House statement said.
Marape said a defence co-operation agreement with the United States had been scrutinised by the PNG government solicitor and would be signed on Monday, before being presented in parliament.
Framework pact
Despite criticism from some opposition politicians that the deal could upset PNG's trade with China, Marape said the US pact would not compromise the country's foreign policy of "friends to all, enemies to none".
A framework pact would be signed, and the details of "how we deal with boots on the ground, how we deal with contractors on the ground, how we deal with airport-related issues, port-related issues, those will be worked upon", he said.
Meanwhile, Fiji's Prime Minister Sitiveni Rabuka arrived in PNG on Thursday, ahead of the Pacific leaders' meeting with Modi on regional co-operation.
Fiji officials said Monday's talks on "areas of cooperation and challenges critical to the region and the US."
Action on climate change, protection of maritime resources and economic growth were priorities, it added.
The chairman of the Pacific Islands Forum, Cook Islands Prime Minister Mark Brown, said he welcomed increased engagement by the larger countries in the Pacific as an opportunity to discuss and articulate regional challenges.
Analysts said the cancellation of Biden's visit could damage US credibility amid competition for influence with China in the strategic region.
"The Chinese are at least happy for now," the PNG Post Courier wrote in an editorial on Thursday.
The US is trying to counter-balance China's rising influence in the Indo-Pacific region, and the visit by Mr Biden was seen as part of that effort.
Mr Blinken "plans to discuss a range of issues with Pacific Islands leaders, including shared priorities such as tackling the climate crisis (and) advancing inclusive economic growth for the people of the Pacific Islands…", the State Department said.
Reuters with additional editing by Jim Pollard
ALSO SEE: