Buyers in China have vowed to continue protests over Tesla's recent price cuts in the country, claiming the US automaker forced and misled them to close orders.
"I haven't been able to eat or sleep," said a Tesla owner who only identified herself by her last name, Feng. She said had bought her Model 3 in December after Tesla sales staff came to her house to finalise loan documents and pressured her to close. "I cannot accept this," Feng said.
Several of Tesla owners in Shanghai also said they felt misled by Tesla sales staff who had urged them to close orders and told them that they would face higher prices in the new year.
"We trusted the brand so much that we cancelled our orders for other brands for Tesla," said Yu, who stayed with a group of about 25 protesters at the Tesla Shanghai facility late into Tuesday evening.
Protests by Tesla owners have spread across several Chinese cities including Beijing, Shenzhen, Chengdu, Xi'an, Henan, Wuxi and Hangzhou, according to owners and social media posts.
Tesla has faced online backlash over previous price cuts in China before but nothing as widespread as the current spontaneous protests.
Angry Tesla customers in China have started storming $TSLA stores, demanding refundspic.twitter.com/CQALimsox7

— William LeGate (@williamlegate) January 9, 2023
Tesla's Shanghai Gigafactory had also been a target of a spontaneous protest on Saturday, a day after Tesla moved to slash prices for the second time in three months on its Model Y and Model 3 vehicles in China.
The groups protesting across China were in touch with each other and would continue to press Tesla to offer them some compensation, said Damon Yu, 29, who bought a Model Y in September.
Tesla says no compensation
Owners staking out a waiting area at a delivery centre in Shanghai said Tesla had told them in a group chat on Monday that they would not be compensated. The company told Reuters on Saturday it had no plans to offer compensation.
They demanded the company reverse the decision to not offer compensation.
A third Tesla buyer, who gave his surname as Gu, said he picked up his new electric vehicle on Monday and brought his three-year-old daughter with him to camp out at the Tesla facility all day on Tuesday in an attempt to get some of his money back.
"I lost 20,000 yuan ($2,948) in a matter of hours," he said.
Tesla's latest discounts, an effort to drive sales in the world's biggest electric car market, took buyers by surprise.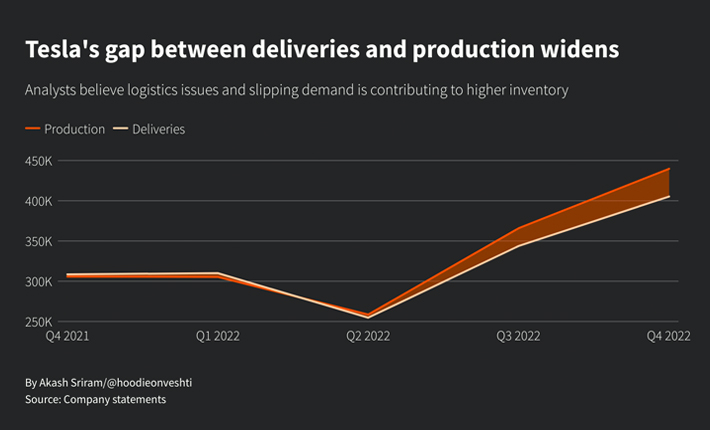 While established automakers often discount to manage inventory when demand weakens, Tesla operates without dealerships and transparent pricing has been part of its brand image.
But Tesla's move came after signs last year that consumption was softening and inventory was piling up for the EV-maker.
Analysts have said Tesla's price cuts were almost certain to boost China sales, which tumbled in December. They would also force other EV-makers, like rival BYD, to cut prices too.
Local media outlets have claimed Tesla sold 30,000 cars in the three days after January 6, when it announced the price cuts.
Tesla has also offered discounts in Singapore, South Korea, Japan and Australia.
As of Monday, delivery waiting times of some versions of the Model Y Tesla had increased for Chinese customers, indicating the discounts were working to boost demand.
Reuters, with additional editing by Vishakha Saxena
Also read: