Cryptocurrencies plunged Thursday as stablecoins – digital assets pegged to an existing currency – became untethered in volatile trading.
Bitcoin, the most actively traded cryptocurrency, shed almost 8% in early European trading, falling to $26,250, the lowest level since December 2020. It subsequently recovered to trade at $27,599, down 44% in the past year.
Asia Financial's Future of Money index, a basket of 10 leading cryptocurrencies, has slumped 19% this week alone and is down about 27% over the past month.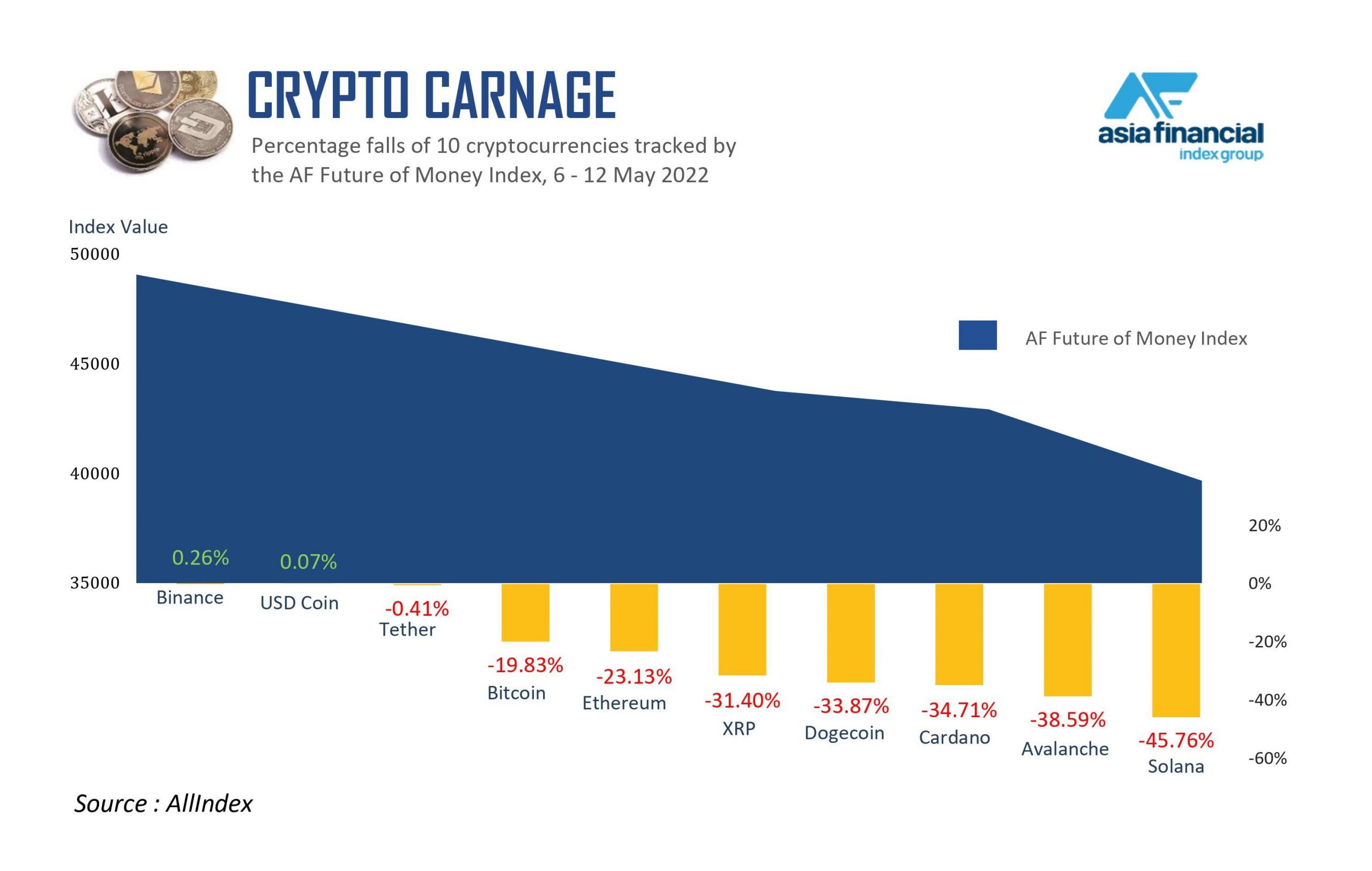 Tether, a stablecoin with an asset base of $80 billion, fell to 96.29 cents from its 1:1 ratio, according to CryptoCompare.
A stablecoin is pegged to a "stable" reserve asset like the US dollar or gold. Stablecoins are designed to reduce volatility relative to unpegged cryptocurrencies like Bitcoin.
However, Tether's drop follows the snapping of the link between the dollar and TerraUSD, a much smaller stablecoin now trading at little more than 60 cents.
The fate of TerraUSD is a blow to promoters of stablecoins.
Tether, USDCoin and Binance USD, make up a combined 80% of the $180 billion stablecoin market, according to US Federal Reserve data.
"Cryptocurrencies are underperforming on the depegging of the [TerraUSD] stablecoin, though we believe risks are still mainly sentiment-driven," Carlton Lai and Steven Nie of Daiwa Capital Markets wrote in a commentary, reaffirming their long-term positive view on the sector. "We think there's an attractive risk-reward of Coinbase after the drop in its share price."
Today's plunge follows leading crypto exchange Coinbase's announcement that its trading volumes fell more than 40% in the first quarter, as its earnings fell short of expectations. Its shares plummeted more than 26% in US trading Thursday.
READ MORE: