(ATF) The cryptocurrency market is now worth a staggering $2 trillion as it increasingly attracts interest from big names on Wall Street despite widespread scepticism in mainstream financial services.
The sector enters a new phase from Wednesday as digital currency exchange Coinbase prepares to list in New York, another landmark in crypto's short but intense history.
Despite bitcoin's volatility and limitations as a means of payment, it is being seen as a store of value to rival and even one day potentially surpass gold as a haven investment, in the face of high inflation, for example.
After bitcoin's value crashed in 2018 it rebounded, and has smashed records since late last year – rocketing from around $12,000 in October to more than $62,000 on Tuesday.
"The cryptocurrency market value tentatively rose above $2 trillion, but has since pulled back slightly," Edward Moya, a senior market analyst at the OANDA foreign exchange brokerage in New York, said.
Nonetheless, scepticism abounds. According to a Bank of America survey, 74% of fund managers believe bitcoin – the most significant cryptocurrency – is a bubble.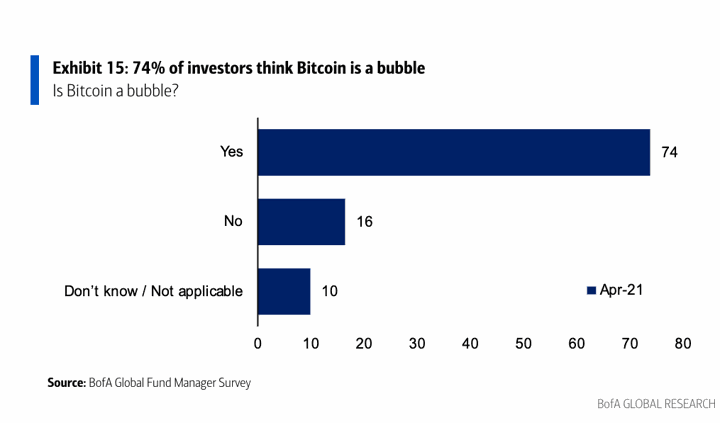 The surge was mainly attributed to record gains in Ether and after the cryptocurrency XRP recaptured the $1 level for the first time in three years, Moya said.
On October 31, 2008, in the wake of the global financial crisis, one or more anonymous people, hidden behind the pseudonym Satoshi Nakamoto, published the founding white paper of bitcoin.
The goal was to create a means of payment, the security of which would not be overseen by a central bank or financial organisations, but instead regulated by software with rules almost impossible to alter. 
While anybody can "mine" for new bitcoins, to do so requires giant data centres – which has led to platforms such as Coinbase providing a way of trading in cryptocurrencies.
Now, some banks and payment services such as PayPal allow transactions in certain digital currencies.
Almost 18.7 million bitcoins have been created since the first block of 50 in early 2009. A limit of 21 million bitcoins has been set. 
With reporting by Agence France-Presse
ALSO SEE: