(ATF) Chinese corporate bonds fell the most in a month as warnings of over-indebtedness among private companies and local governments deterred investors from the world's second-largest debt market.
The broadest gauge of Chinese credits was unchanged as a bond of the local government of Guizhou defaulted on a 255 million yuan ($39.4m) debt payment. The first Chinese bond default of the year added to concern that the nation's corporate balance sheets are dangerously unbalanced.
The ATF China Bond 50 Index remained at 106.9 for a second day. The Corporates sub-index fell 0.0$5, the most since a 0.08% drop on December 22.
Also on ATF
Chinese credits had rallied through the Christmas and New Year period as data showed the economy looked to be growing robustly from the pandemic downturn. But recent weak data and a resurgence of coronavirus outbreaks threatening more commerce-sapping lockdowns have weighed on investors.
China will probably avoid setting a 2021 growth target, dropping the closely watched measure for a second straight year on concern that maintaining one could encourage provincial economies to ramp up debt.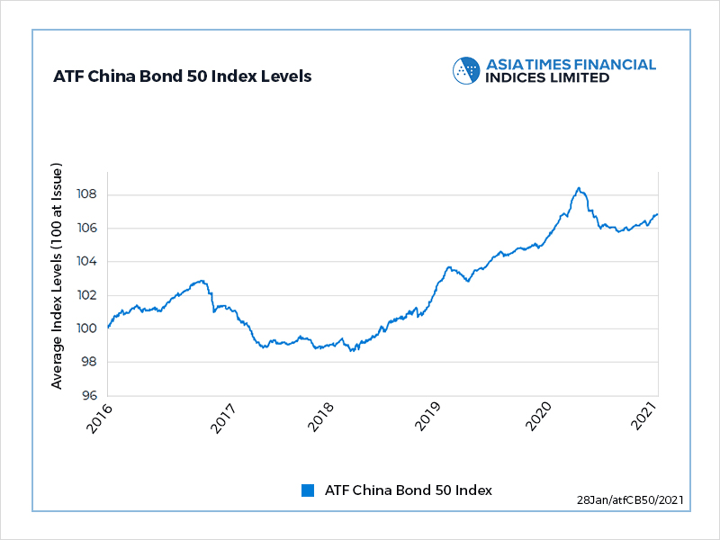 The world's second-biggest economy eked out 2.3 per cent growth last year despite the ravages of the coronavirus which was first detected in the central city of Wuhan, and will rebound a sharp 8.4 per cent this year, thanks to Beijing's aggressive Covid-19 response and global recovery, according to a Reuters poll of economists.
But policymakers fear that pegging official ambitions to a specific rate of growth could encourage regional governments to pursue even higher growth, in turn prompting an unhealthy rise in debt to hit the target, two sources told Reuters. 
Zunyi Bozhou District State-Owned Assets Investment and Management Group has yet to come up with the cash to honour repayment of a bond that matured two weeks ago, according to Yicai Global. The report said China had 10.65 trillion yuan in outstanding municipal bonds by December 31.