Tuesday August 22 was a day of extraordinary political and criminal drama in Thailand, and one which many suspect was long planned and tightly choregraphed.
It started with Thaksin Shinawatra, the billionaire former prime minister of Thailand, returning to his homeland after 15 years in exile – heading to court for several serious criminal convictions, then going to jail and hearing, hours later, that his political party had won power in a coalition with the military.
After flying in on a private jet to Don Mueang Airport, the fugitive ex-PM was whisked away by police and taken to the Supreme Court to hear its rulings on several criminal cases held while he has been abroad. That resulted in him being given an eight-year jail term for abuse of power and other offences.
Within a few hours the Corrections Department confirmed that the 74-year-old Thaksin was taken to Bangkok Remand Prison, to a private room in the jail's hospital section, where he will begin his sentence.
But he is not expected to stay there long.
There is widespread belief that Thaksin, who has been anxious to return to Thailand, did a deal to end his feud with powerful conservatives who blame him for multiple scandals during his time in office from 2001 till late 2006, and riots in 2009-10 and 2013-14 that claimed over 100 lives.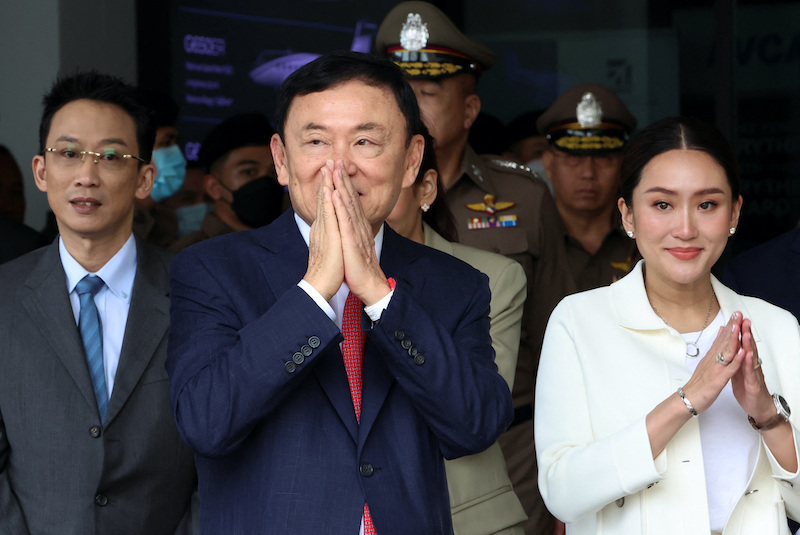 The Thai election in May delivered a stunning result that upended the political landscape, a victory by the Move Forward party, because of their policies to radically reduce the military's role in politics and to reform the monarchy. That suddenly made them the number-one foe of Thailand's conservative elite.
That looks to have inspired an extraordinary turnaround, and spurred the military and political rivals who removed Thaksin, then his sister Yingluck from power in 2014, to form a coalition to retain a share of power in the country's new government.
On Tuesday afternoon, dozens of military-appointed senators, who recently voted against a coalition set up by Move Forward, opted to support a coalition led by Pheu Thai, founded by Thaksin's family after his two earlier parties were disbanded.
Votes endorses Srettha as new Thai PM
Pheu Thai Party's Srettha Thavisin will become Thailand's prime minister after winning the backing of lawmakers.
Srettha, a real estate mogul thrust into politics just a few months before the general election, passed the threshold of 375 votes needed from both house of parliament to become premier and form the next government.
For the Shinawatras, it was a day they have long dreamed of.
Thaksin's daughter, Paetongtarn, confirmed her dad posted images on Facebook of a smiling Thaksin with his family, including seven grandchildren.
"Dad has returned to Thailand and has entered the legal process," she said.
The vaunted arrival of Thailand's most famous politician came as the lower house and military-appointed Senate convened ahead of a vote later on Tuesday on Pheu Thai's prime ministerial candidate Srettha.
Thailand has been led by a caretaker government since March and its new parliament has been deadlocked for weeks after the anti-establishment winner of a May election, Move Forward, was blocked by conservative lawmakers, leaving heavyweight Pheu Thai to lead a new effort.
'We had to team up with military parties,' Pheu Thai claims
Pheu Thai had agreed a contentious alliance including two parties backed by a military that overthrew governments led by Thaksin and sister Yingluck Shinawatra.
Srettha, 60, said on Monday that Pheu Thai had no choice but to partner with some rivals that it had earlier vowed not to work with.
"We are not lying to the people, but we have to be realistic," said Srettha, who has the support of 317 lawmakers and needs 58 votes from the Senate to secure the requisite backing of half of the legislature.
The return of Thaksin, who is loved and loathed in equal measure in Thailand, is almost certain to overshadow that vote.
Hundreds of red-shirted supporters carrying banners gathered at the airport, outside the court and the prison to greet him, some chanting "PM Thaksin".
A former policeman, telecoms tycoon and English Premier League football club owner, Thaksin won the hearts of millions of working-class Thais with populist giveaways ranging from cash handouts and village loans to farm subsidies and universal healthcare.
But his popularity and support for a new wave of capitalist upstarts put him at odds with a nexus of royalists, military and "old money" families, triggering an intractable power struggle that is still being played out.
Thaksin maintains all charges and allegations against him were trumped up to keep him from power and has over the years repeatedly reneged on promises to return home.
Pheu Thai has denied Thaksin's involvement in its bid to form a government and the former leader has for months denied conspiring with the generals who toppled him and sister Yingluck.
Economy hit by global slowdown, all eyes on new regime
The impact of these moves on business could depend on how quickly the new government finds its feet. The Thai baht edged up on Tuesday, while the Bank of Thailand said non-performing loans had dipped to 2.67% of outstanding loans at the end of June.
The National Economic and Social Development Council has downgraded its forecast for this year's economic growth to 2.5-3% from 2.7-3.7% due to the the global slowdown, with exports contracting in recent quarters and a lower-than-expected number of Chinese tourists arriving in the Kingdom.
Delays in forming a new government also appear likely to hold up disbursement of the government's investment budget in the fourth quarter of 2023.
The key concern is whether formation of a coalition government headed by Pheu Thai and including military parties – and the Army-appointed Senate's earlier move to block election winner Move Forward from taking power – will spur protests and political violence.
We will soon see.
NOTE: This report was updated on August 22, 2023, to add details on Srettha winning the parliamentary vote to become Thailand's new prime minister.
ALSO SEE: