Global government bond losses are on course for the worst year since 1949, Bank of America (BofA) said in a note on Friday.
And this year's bond 'crash' threatens credit events and a liquidation of the world's most crowded trades, the bank warned.
Bond funds recorded outflows of $6.9 billion during the week to Wednesday, while $7.8 billion was removed from equity funds and investors ploughed $30.3 billion into cash, it said in a research note citing EPFR data.
BofA added that investors face more inflation, interest rates and recession shocks, adding that a bond crash meant that a high in credit spreads and low in stocks has not been reached yet.
Investor sentiment was the worst it has been since the 2008 global financial crash, the note said.
Aggressive rate hikes from major central banks to contain inflation, even as growth slows, has unnerved world markets and sparked a fresh surge in bond yields this week.
Exodus Prior to Fed Hike
Investors withdrew money from global bond and equity funds in the week to Wednesday September 21, with caution creeping in ahead of the US Federal Reserve meeting in which further rate hikes were expected to tame soaring inflation.
Investors exited a net $7.32 billion of global bond funds, marking their biggest weekly net selling since August 31, data from Refinitiv Lipper showed.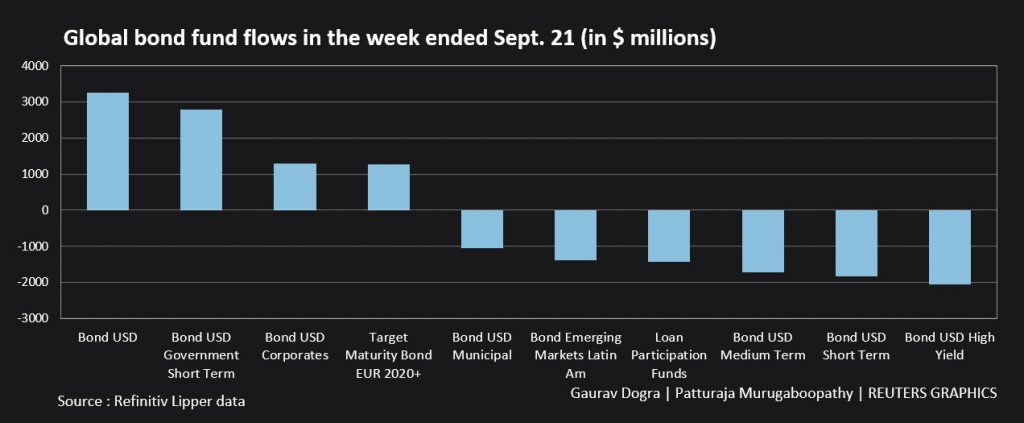 The Federal Reserve raised its benchmark rate by 75 basis points on Wednesday, the third such rise in a row, and officials project rates hitting 4.4% this year, which was 100 bps higher than what the Fed had projected three months ago.
"Sooner or later bond yields will peak, though timing this precisely is difficult. The market is currently expecting the terminal US fed funds rate to be reached by around March-June 2023," Bimal Patel, senior fund manager at Canada Life Asset Management, said.
Global short- and medium-term bond funds saw their biggest weekly outflow in 11 weeks, amounting to a net $4.98 billion, while investors also exited a net $3.29 billion in high yield funds.
Meanwhile, global equity funds witnessed disposals worth $1.86 billion in a fifth straight week of net selling. Financials and consumer staples lost $1.55 billion and $687 million respectively in outflows, but utilities and tech both obtained about $300 million worth of inflows.
Safer money market funds attracted investor interest as they obtained a net $28.2 billion, the biggest weekly inflow since July 6.
Data for commodities funds showed precious metal funds remained out of favour for a 13th week with net disposals worth $474 million. Investors also exited energy funds of $60 million.
An analysis of 24,559 emerging market funds showed investors sold $2.4 billion worth of equity funds, marking a 10th weekly outflow in a row, while also exiting $2.78 billion worth of bond funds.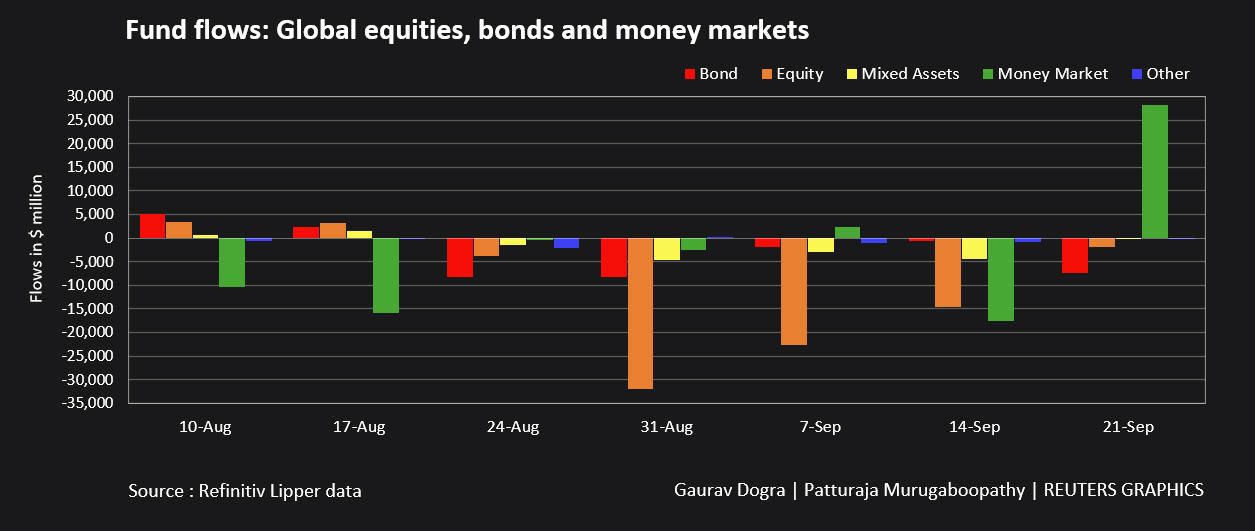 Pakistan Bonds Plunge
The BoA warning came as Pakistan's bonds slumped to just half their face value on Friday, after the Financial Times said a United Nations development agency was urging the cash-strapped South Asian nation to restructure its debt.
Devastating floods engulfed large swathes of the country this month, affecting 33 million people, causing damage estimated at $30 billion, and killing more than 1,500, fanning fears that Pakistan will not meet its debts.
A memorandum the United Nations Development Programme is set to hand Pakistan's government this week says its creditors should consider debt relief in the wake of the floods, according to the Financial Times.
The memorandum further proposed debt restructuring or swaps, in which creditors would let go of repayments in exchange for Pakistan's agreement to invest in climate change-resilient infrastructure, the paper said.
The foreign office in Islamabad did not immediately respond to a request for comment on the memorandum. The finance and information ministers could not be immediately reached for comment.
A UNDP spokesperson in Pakistan did not respond to a request for comment.
Friday's signals strengthened fears of a default, hammering Pakistan's international government debt.
One of the main sovereign bonds due for repayment in 2024 slumped more than 9 cents to about 50 cents on the dollar, while another due in 2027 fell to about 45 cents..
Reuters with additional editing by Jim Pollard
NOTE: Further details and graphs were added to this report on September 23, 2022.
ALSO SEE: