South Korea's Hyundai has vowed to stop its excavators from being used for illegal mining in the Amazon, according to Greenpeace.
The move, also reported by UPI, follows an investigation by Greenpeace activists that revealed widespread use of Hyundai equipment for illegal gold mining on indigenous land in Brazil.
HD Hyundai Construction Equipment said last week that it would stop selling heavy machinery in the Brazilian states of Amazonas, Roraima and Para until it can toughen its compliance system.
The company said it would do "as much as possible to protect the Amazon environment and indigenous people, and cooperate with the Brazilian government to the extent necessary for this purpose". And it would end its contract with BMG, a local dealership, which allowed sales to illegal miners.
ALSO SEE:
'An environmental & humanitarian crisis'
Greenpeace issued a report last month that revealed Hyundai machines were playing a key role in the destruction of tribal lands in the Amazon and a humanitarian crisis in the Yanomami territory.
"The Amazon rainforest is being poisoned by small-scale and often illegal gold mining, which Brazilians refer to as garimpo. Garimpo is a highly visible and fast-increasing threat to Indigenous territories and peoples, having grown nearly 500% in Indigenous Lands over the last 12 years," it explained in a statement on April 12.
"Besides contributing to the elevated level of deforestation in the Brazilian Amazon, illegal gold mining devastates the environment and livelihoods of Indigenous Peoples.
"Runoff into rivers and water contamination by toxic mercury – direct consequences of this activity – pollute waterways, aggravate multi-generational and often irreversible health problems, and fundamentally disrupt traditional food sources.
"Driven in large part by organized crime syndicates, illegal mining is dividing Indigenous communities, bringing conflict and social disorder into Indigenous Lands, and perpetuating high levels of violence in the Amazon."
On late January, the Brazilian government declared a medical emergency after hundreds of Indigenous Yanomami children died from malnutrition, the environmental group said.
The Yanomami crisis was "a direct consequence of illegal mining in the region – carried out by more than 20,000 individuals who invaded the sacred territory of the Yanomami in pursuit of profits from the illegal extraction of gold or diamonds".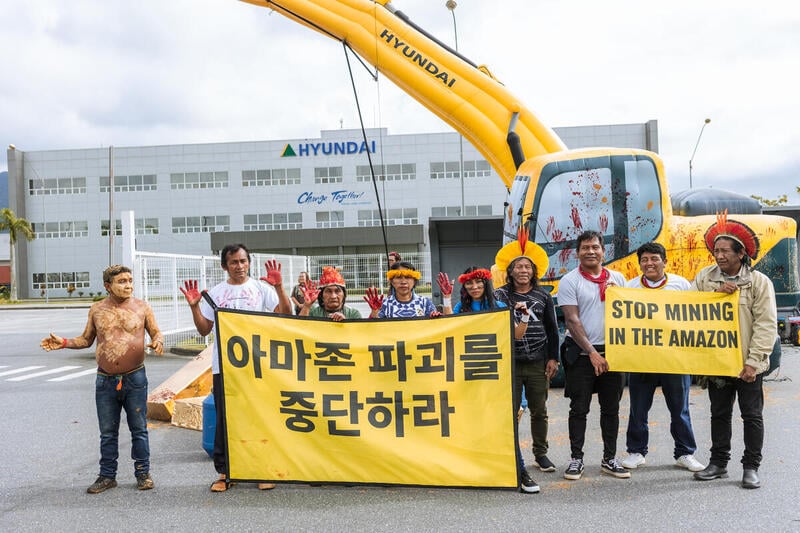 Flyovers revealed 'favoured excavators'
Meanwhile, aerial flyovers had "found that HD Hyundai Construction Equipment's excavators, produced by its subsidiary Hyundai Construction Equipment Brasil, were apparently the favoured brand of heavy machinery used in the destruction of Indigenous Peoples' Lands in the Amazon rainforest," the group's report said.
"Out of the 176 excavators within the Yanomami, Munduruku, and Kayapó Indigenous Lands between 2021 and 2023, no less than 75 were produced by the South Korean company."
Greenpeace said Doto Takak Ire, an indigenous leader from the Kayapó people, spoke at a press conference in Seoul to publicize the situation.
And activists from Greenpeace Brazil and other indigenous leaders demonstrated in front of Hyundai Construction Equipments factory in Rio de Janeiro, to demand that the company be part of the solution and prevent their excavators from being sold to illegal miners in the Amazon.
Last week, Greenpeace hailed Hyundai's response as a victory.
"In a local TV interview, a representative from an HD HCE authorized dealership said that he "had convinced 'the Koreans' to invest" in a region renowned for its informal or illegal gold mining," it said last week.
"HCE recognized that the destruction of the Amazon and the violation of Indigenous peoples' way of life is a serious problem and pledged to make efforts to protect the Amazon," it added.
"This is a huge victory for the Indigenous people who have been struggling to keep miners out of their territories for decades and only saw their lands being more and more devastated. It shows that public pressure works."
The environmental group hopes Hyundai's decisions will spur other equipment manufacturers to follow suit, because it believes a resolution to the Amazon's problems requires a wide-ranging collaborative effort.
Brazilian President Luiz Inácio Lula da Silva has also been recognized as part of the solution, given his support for Indigenous people – in contrast to his predecessor Jair Bolsonaro. The latter was known for undermining environmental protections and efforts to legalize mining in parts of the Amazon rainforest.
ALSO SEE: