Lithium prices surged by over 10% this week for the first time in a five-month slump, but the longer-term outlook for the mineral – sought after for electric vehicle batteries – looks mixed.
Analysts say the move by Chile, one of the world's top producers, to nationalise its lithium sector, which could potentially curb long-term supply, may be negated by growing supply from other sources.
Data from Fastmarkets on Refinitiv Eikon showed battery-grade lithium carbonate prices rose 10.6% in China from a week earlier to 182,500 yuan ($26,380) a tonne, the first weekly increase since November 2022.
"The market eyed limited scope for further price falls after it sank below 200,000 yuan, hence they started buying," Yang Yaohua, an analyst at Guosen Futures, said.
The price had surged 10-fold in less than two years to 605,000 yuan a tonne by November as supply failed to keep up with soaring demand due to robust EV sales.
But prices tumbled 72% after China curbed EV subsidies in January, demand faltered and inventories rose.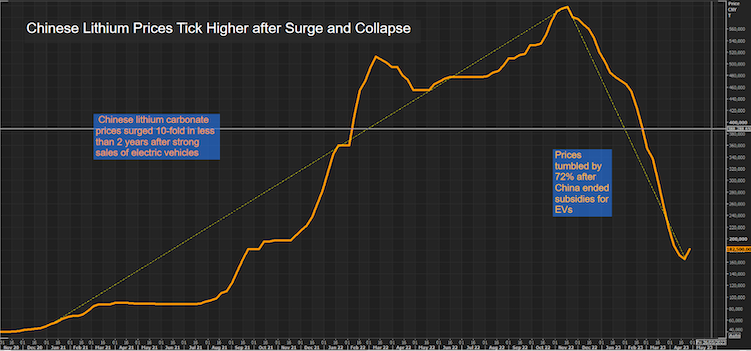 Global EV sales up 55% in 2022
"Demand was showing softness early in the year, but we're still expecting a relatively tight market for the year on average and that's because of much stronger demand from EV sales later in the year," said Martin Jackson, head of battery raw materials at consultancy CRU.
Global EV sales jumped 55% last year to 10 million and are expected to climb another 35% this year.
The biggest EV market China has been volatile, with new sales of new energy cars slipping 6.3% in January, partly due to the end of EV subsidies, after 90% growth in 2022. Sales have picked up since then, and EV production rose 27.7% year-on-year in the first quarter.
Price gains for lithium this year, however, are likely to be limited.
Chinese state-backed research house Antaike expects lithium carbonate prices to average 220,000 yuan a tonne this year, down 54% from 2022, it said at a conference last week.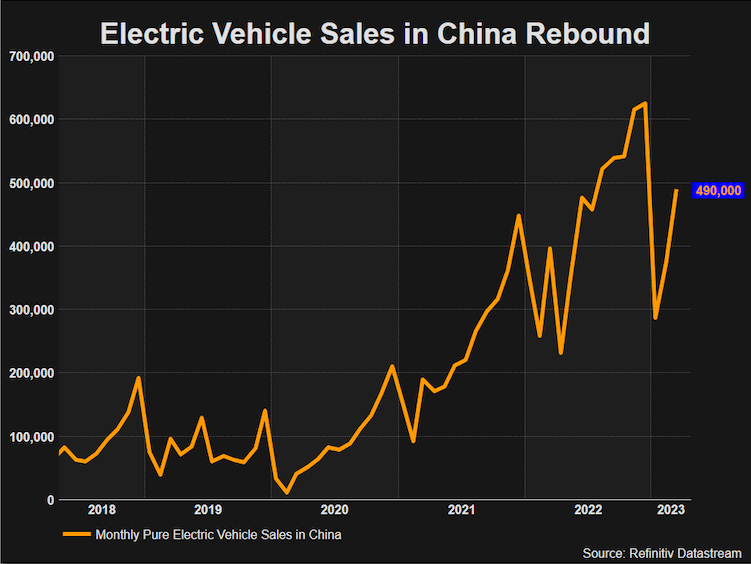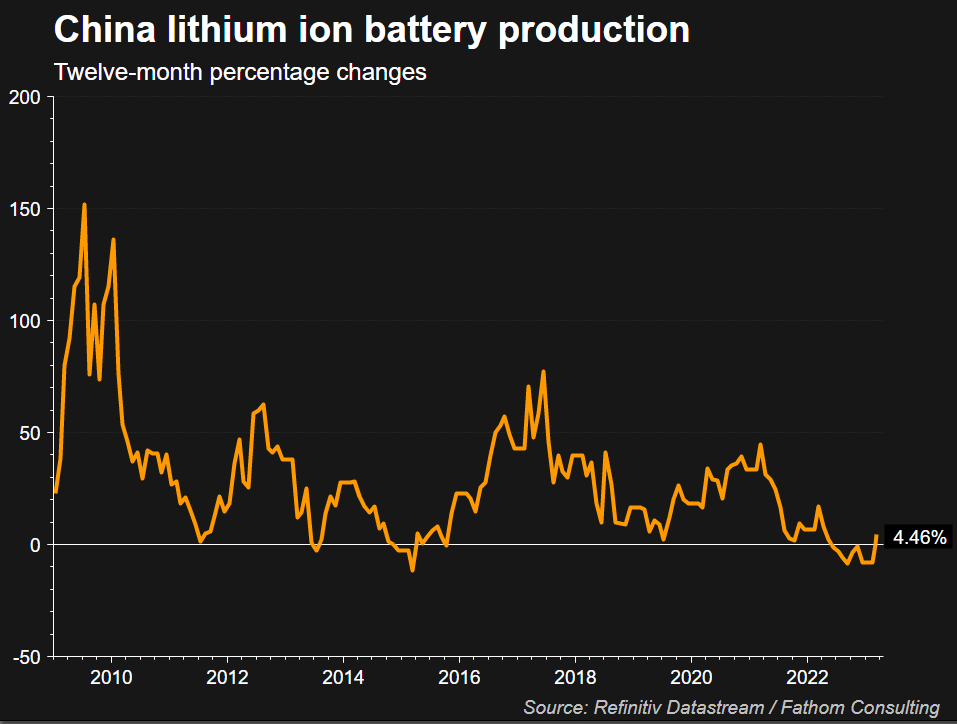 A global market deficit is expected for 2023 as a whole, but surpluses are likely from next year, rising to 145,693 tonnes by 2027, before sinking into a deficit again from 2029, Caspar Rawles, at Benchmark Mineral Intelligence, said.
"There will be a few years when there should be enough supply, and that's a function of some of the investments that have happened in the last few years," he said.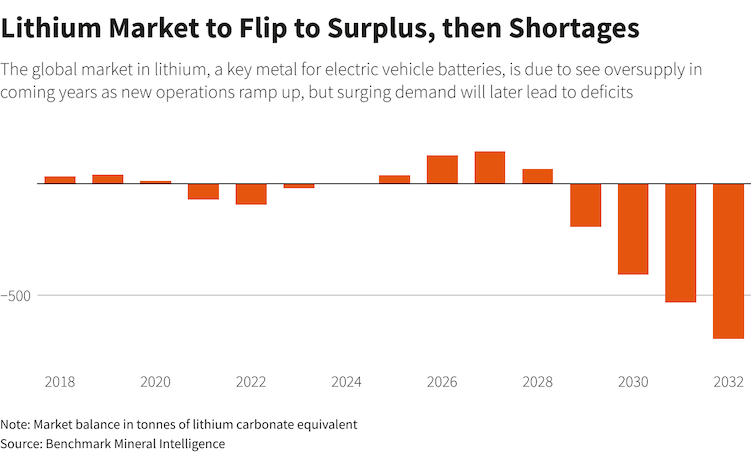 Reuters with additional editing by Jim Pollard
ALSO SEE: