The world's poorest countries have become heavily reliant on China for credit and that will make future debt restructurings "more complex,' ' says a study by International Monetary Fund (IMF) staff.
Although debt ratios are lower than in the mid-1990s, debt has been creeping up for the past decade and the composition of creditors has changed from mostly western nations to China.
Spurred by low interest rates, high investment needs, limited progress raising additional domestic revenue and stretched systems for managing public finances, the debt ratios of countries covered by the G20 Debt Service Suspension Initiative (DSSI) have increased, partly reversing a decline seen in the early 2000s.
Now, the economic shocks from Covid-19 and the war in Ukraine are adding to the debt challenges faced by the lowest-income countries, even as central banks start to raise interest rates.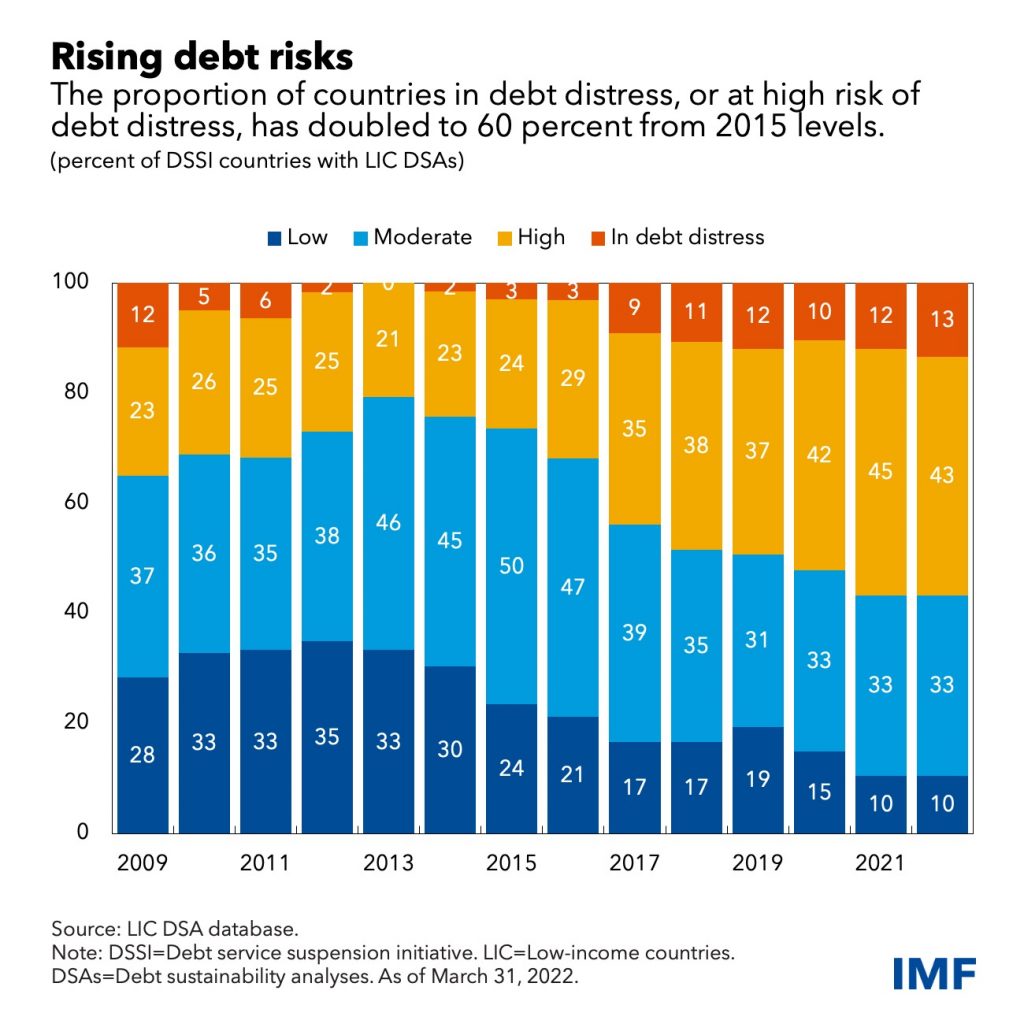 In past decades, the poorest countries borrowed mainly from the 22 Paris Club nations – Australia, Austria, Belgium, Brazil, Canada, Denmark, Finland, France, Germany, Ireland, Israel, Italy, Japan, South Korea, Netherlands, Norway, Russia, Spain, Sweden, Switzerland, the UK and the US.
Today, China and private bondholders play a much larger lending role, according to IMF researchers Guillaume Chabert, Martin Cerisola and Dalia Hakura.
The share of DSSI countries' external debt owed to Paris Club creditors fell to 11% in 2020 from 28% in 2006.
Over the same period, the share owed to China rose to 18% from 2%. The share of eurobonds sold to private creditors increased to 11% from 3%.
"The changing composition of creditors will make restructurings more complex," they wrote, without specifying the nature of the complexity.
"Beijing would therefore play a key role in most DSSI countries' debt restructurings that would involve official bilateral creditors," they wrote.
China is now the largest official bilateral creditor in more than half of DSSI countries, including when counting all 22 Paris Club creditors as a single pool.
"While the diversity of creditor compositions calls for greater attention to country specificities, appropriate coordination mechanisms will be key in all cases," the IMF trio wrote.
Most of the highly indebted countries are in Africa. Among the 41 DSSI countries at high risk of or in debt distress, Chad, Ethiopia, Somalia and Zambia have already requested a debt treatment.
Around 20 others exhibit significant breaches of applicable high-risk thresholds, half of which also have low reserves, rising gross financing needs, or a combination of the two in 2022.
READ MORE: