The Indonesian government has imposed tough measures in a bid to contain the worst coronavirus outbreak in Southeast Asia; hospitals on the main island of Java were hit with a record surge of patients this week; the 'lockdown' will run until at least July 20; AirAsia Indonesia to stop flights for a month
(AF) The Indonesian capital Jakarta was deadly quiet on Saturday – with streets usually choked with traffic deserted, because of police road blocks and orders for tens of millions of people to stay at home.
Indonesia has the worst outbreak of Covid-19 in Southeast Asia, having reported more than a week of record daily cases, with close to 26,000 new cases on Friday and a new high of 539 deaths.
This is the first day of stricter controls to limit people's movement and quell the spread of the coronavirus. Police set up more than 400 checkpoints on the islands of Java and Bali to ensure citizens adhered to the government's orders.
Thousands of police will patrol more than 20 locations that are usually crowded and have said street stalls and cafes shut down overnight from around 6pm till 4am.
As well as tighter travel restrictions – until July 2o at least, there is a ban on outdoor sports, dining at restaurants and non-essential workplaces have been told to close.
But travellers who have been vaccinated and can show they had a negative swab test will be able to make long-distance trips.
However, the Indonesian unit of AirAsia Group Bhd will temporarily stop all flights for a month from Tuesday to support the government's effort to limit the spike in cases, the company said on Saturday.
In a statement on Twitter, the budget airline advised passengers to reschedule, turn their tickets into credits or apply for a refund.
The highly infectious Delta variant, found initially in India, is believed to have caused the spike in infections, in Indonesia and countries throughout the region, including Australia, which also has millions of citizens under lockdown orders.
Indonesia has the world's fourth largest population, with more than 276 million people spread over 17,000 islands. Its infection count stands at 2.2 million, with a Covid death toll now close to 60,000.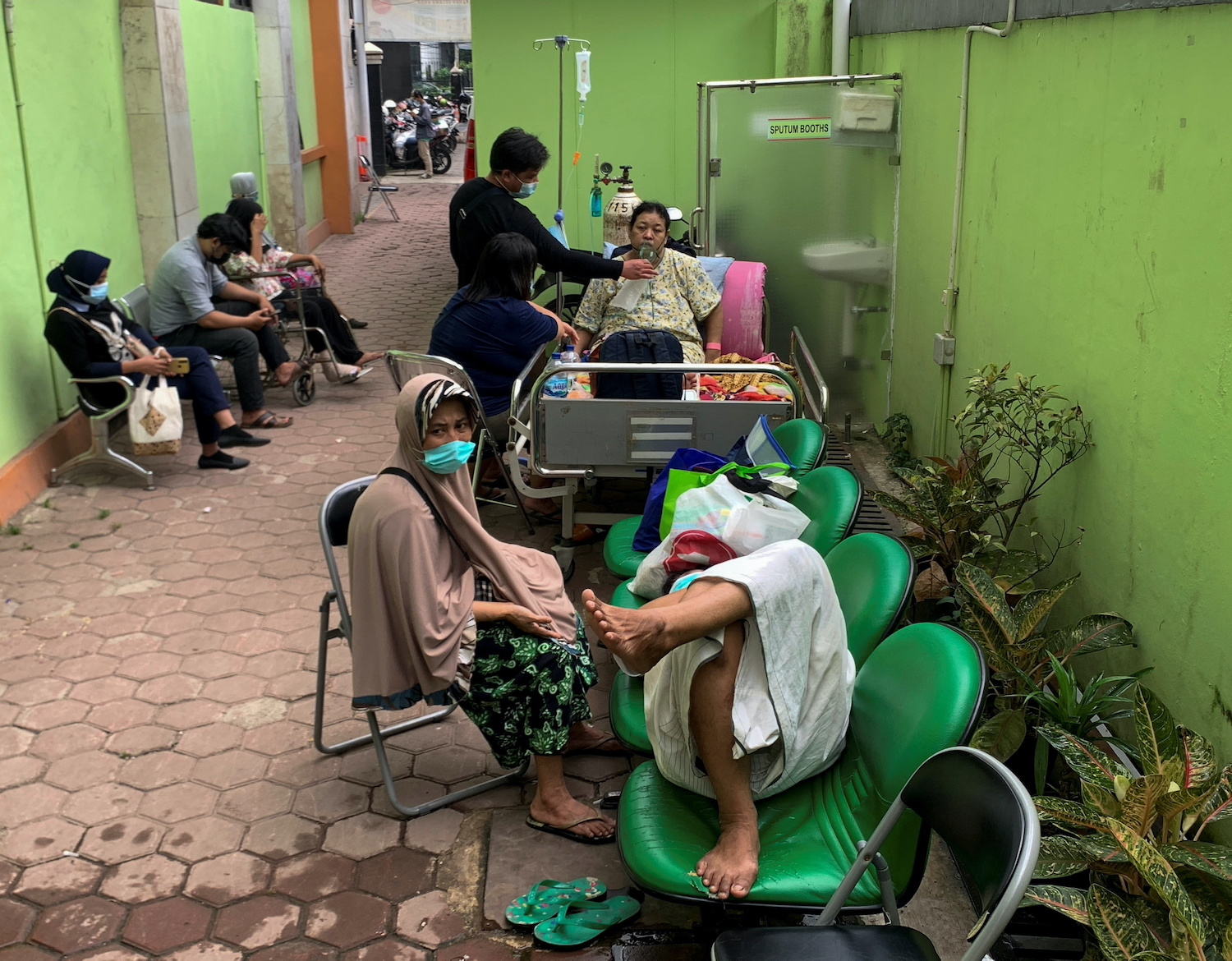 Hospitals on Java, the most densely populated island, were nearly full this week and medical staff struggling to cope.
The government is set to receive vaccines donated by foreign countries to help boost its vaccination drive, which had covered just 7.6% of a target of 181.5 million people by January. Until recently it has relied mainly on a vaccine from China's Sinovac Biotech.
US sending 4m doses of Moderna vaccine
The United States said on Friday it will ship 4 million doses of Moderna's Covid vaccine to help Jakarta cope with the outbreak.
US national security adviser Jake Sullivan spoke to Indonesian Foreign Minister Retno Marsudi, and said the vaccines would be shipped via the Covax global sharing program "as soon as possible," a White House statement said.
Meanwhile, Terry Gou, the billionaire founder of Taiwan's Foxconn, and TSMC – the world's biggest manufacturer of computer chips – reached initial agreements to buy 5 million doses each of BioNTech SE's Covid-19 vaccine on Friday, three sources told Reuters.
Taiwan's government has tried for months to buy the shots directly from Germany's BioNTech and has blamed China, which claims the self-ruled island as its own territory, for nixing a deal the two sides were due to sign earlier this year. China denies the accusations.
Last month, facing public pressure about the slow pace of Taiwan's inoculation programme, the government agreed to allow Gou and TSMC to negotiate on its behalf for the vaccines, which would be donated to Taiwan's government for distribution.
With reporting by Reuters.
ALSO SEE: