Japan has forced the cancellation of a coal-fired electricity plant in Bangladesh by withdrawing financing, the two countries  announced.
The axing of the proposed Matarbari-2 plant in Bangladesh came in response to international and domestic criticism of Japan's funding of coal-fired power, a major source of greenhouse gas emissions.
Bangladesh's Power Minister Nasrul Hamid told local media the decision was taken by Japan "to reduce its carbon footprint".
Hamid met Keiichiro Nakazawa, senior vice-president of the Japan International Cooperation Agency, which was coordinating the Matarbari-2 funding, last week to discuss renewable energy collaboration, he wrote on Twitter.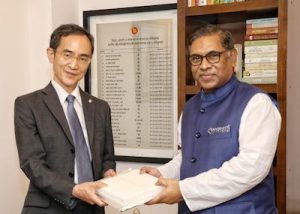 The power plant in southeastern Bangladesh would have had an output of about 1,200 megawatts. Dhaka said it would also pursue liquefied natural gas as a source of power instead of coal.
The under-construction Matarbari-1 plant is scheduled to be operational by January 2024.
Last year, Bangladesh cancelled plans to build 10 coal-fired power plants, amid rising costs and increasing calls from activists. About 8% of the country's electrical power comes from coal.
Critics argued that a lack of funding rather than climate concern forced the Dhaka government's hand.
Climate activists welcomed Japan's decision, announced on Wednesday by the foreign ministry.
"We celebrate that Bangladeshis will not have to suffer from the burden of air pollution, toxic mercury pollution and increased debt this plant would have caused," Roger Smith, Japan director for environmental group Mighty Earth, said.
"This is an inspiring victory that brings Japan's era of overseas coal finance to an end."
Japan had previously maintained the plant was exempt from a G7 agreement last year to end new aid for coal-burning power stations because deals had already been signed.
A coal plant in Indonesia was also cancelled, Japan's Kyodo news agency reported.
George Russell, with Reuters
READ MORE: