Mohammed ben Sulayem, who on Friday became the first non-European to be elected president of the International Automobile Federation (FIA) on Friday, has committed "to develop motorsport" in China and India.
The 60-year-old Emirati gained 61.62% of the votes cast compared with 36.62% for his sole rival Britain's Graham Stoker. The former rally driver replaces Jean Todt, who stands down after 12 years at the helm.
"It is also important to develop motorsport," he said.
"I always take, as an example, the two largest countries in the world, China and India. We are talking about fewer than 8,000 competition licences for 2.8 billion (people). And you have places like Finland that have over 11,000."
In his manifesto, ben Sulayem promised an outside audit of FIA's governance, an evaluation of finances and budget reports and transparency over the group's fiscal standing.
"We can never say that our governance is sufficient, we must always improve, otherwise we are lost," he said in a press conference after the vote.  "Our rules can always be improved."
Ben Sulayem, 14 times the Middle East rally champion, was supported by most of his region, which is becoming increasingly influential in motor sport.
Arab States Break Ranks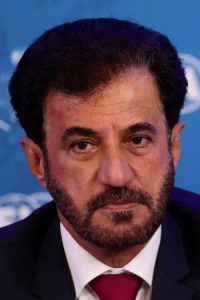 The United Arab Emirates, Saudi Arabia, Bahrain and Qatar – who broke ranks to vote for Stoker – all hosted Formula One Grand Prix in 2021.
"No one can come to the Gulf and ignore motorsport," said ben Sulayem, pictured at left. "It is a good thing for sport, for Formula 1 and rally-raid. It will help the FIA to develop but it does not mean that we will forget the other regions."
Todt, his predecessor, has completed three four-year mandates with the 75-year-old Frenchman and former Ferrari boss proud of his legacy, especially his belief that they have made the sport safer.
"We created the Formula E championship, an endurance world championship with a new elite category and a rally-raid world championship which begins next year in Dakar," he told AFP.
On Thursday, FIA announced the 2022 season of the world's first all-electric, multi-brand touring car series, FIA ETCR – eTouring Car World Cup.
The seven-event schedule comprises races at Pau-Arnos E-Circuit in Pau, France, a new street circuit in Istanbul, Budapest's Hungaroring, the Jarama course in Madrid, the venerable race track at Zolder in Belgium, Italy's first dedicated electric mobility hub of Autodromo Vallelunga and the Inje Speedium, 75km east of Seoul.
The new chief's first challenge might be how to punish seven-time Formula One champion driver Lewis Hamilton, who broke FIA rules by not attending the sport's gala awards.
The Formula One season ended in uproar in Abu Dhabi last Sunday after a change to the safety car procedure led to Red Bull's Max Verstappen taking the title on the last lap.
FIA race director Michael Masi has been at the centre of the controversy, with Mercedes-Benz team boss Toto Wolff saying the Australian official had "robbed" Hamilton of a record eighth championship.
READ MORE: