The head of pharmaceutical giant Pfizer clarified details on Monday about talks with China over the company's Covid-19 drug Paxlovid.
Chief executive Albert Bourla said the group was discussing the price for Pfizer's branded product – not a licence for a generic version of its medicine Paxlovid for use there.
Initial reports on Friday said that China was in talks with Pfizer to secure a licence that would allow domestic drugmakers to manufacture and distribute a generic version of the US firm's antiviral drug in China.
But Bourla, speaking at JP Morgan's healthcare conference in San Francisco, said: "We are not in discussions. We have an agreement already for local manufacturing of Paxlovid in China. So we have a local partner that will make Paxlovid for us, and then we will sell it to the Chinese market."
Bourla said the company had shipped thousands of courses of the treatment in 2022 to China and in the past couple of weeks, had increased that to millions.
ALSO SEE: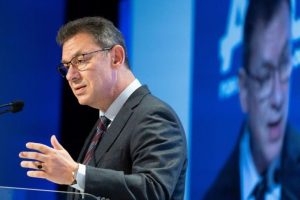 Talks broke off over price
On Sunday, China's Healthcare Security Administration (NHSA) said that the country would not include Paxlovid in an update to its list of medicines covered by basic medical insurance schemes as the US firm quoted a high price for the Covid-19 drug.
The drug is currently covered by China's broad healthcare insurance scheme under temporary measures until the end of March.
Bourla said that talks with China on future pricing for the treatment had broken off after China had asked for a lower price than Pfizer is charging for most lower middle income countries.
"They are the second highest economy in the world and I don't think that they should pay less than El Salvador," Bourla said.
Infections have spiralled since China pivoted away from its strict "zero-Covid" policy last month, prompting a shortage of flu medicines and Covid drugs.
A box of Paxlovid, used for a single course of treatment, is changing hands for as much as 50,000 yuan ($7,313), according to local media reports and social media posts, more than 20 times the original price of around 2,000 yuan.
The failure of the talks to include Pfizer in the list of medicines covered by basic state health insurance generated heated discussions on Chinese social media on Monday.
Fierce debate over price negotiations
Some Chinese media reported that Pfizer had lowered the price of Paxlovid to 600 yuan in the negotiations, triggering a wave of criticism and questions on social media as to why Chinese regulators had not accepted that price.
A separate report by financial magazine Caixin on Monday cited unnamed sources as saying that Pfizer had not lowered its price significantly beyond the 1,890 yuan it currently charges Chinese hospitals.
Pfizer declined to comment on the Chinese media reports about the price it quoted during the negotiations. NHSA did not immediately reply to a request for comment on the negotiations.
China's state media Global Times accused Pfizer of trying to profiteer from China's Covid battle in an opinion piece on Monday.
"It is not a secret that US capital forces have already accumulated quite a fortune from the world via selling vaccines and drugs, and the US government has been coordinating all along. There is no so-called human right, but monopoly," it said.
"If they do care about it (epidemic in China), why don't Pfizer drop some pursuit of the profit, and cooperate with China with a little more sincerity?"
Bourla said the removal from the list would not have an effect on the company's business there until April and the company could end up selling only to the private market in China.
Pfizer signed a deal in August for Chinese drugmaker Zhejiang Huahai to produce Paxlovid in mainland China solely for patients there.
Bourla said production is gearing up in China and progress has been made that may allow it to start manufacturing in the first half of the year, ahead of its year-end internal estimate.
Reuters with additional editing by Jim Pollard
ALSO SEE: